Monica Gupta: Creating a Beehive of Success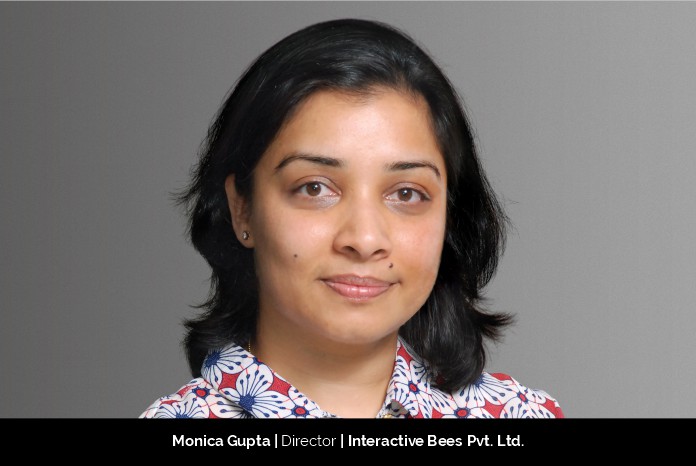 As a child she always wanted to something different in her life; something unique that you'd be remembered for. She struggled with reading, writing, and expressing herself when she was a kid, yet she conquered her mental blocks and rose above her challenges. She spent over a decade working at various driving positions and gained appreciation for her work. Following this, she chose the oblivious path of starting her own company. Amidst all the struggles and doubts, she established a named for her and shouldered her company towards success. Meet Monica Gupta, a leading businesswoman who has gained excellence through her unwavering attitude and relentless hard work.
The Initial Years
Monica was born in a family of doctors, with her elder sibling being a doctor as well. She was a dyslexic child who struggled with her studies. However, her life started to change when she learnt meditation, the art of empowering self by connecting with the supreme soul or in other words started talking to God the almighty father.
She says "I had a deep realization that I am the energy within who is driving this costume, I am the eternal, immortal, and imperishable being of pure and positive energy. This really helped me overcoming my mental blocks and my concentration started improving tremendously. They say it's all in your mind, and hence a non-performer slowly started performing, because no more I had any mental blocks. I had a creative and logical bent of the mind which I started putting in my studies and later in my profession."
Soon her hard work was replaced with smart and consistent work, which lead to the natural progression of her career, one leading to another. For the next decade or so, she worked across in the industry at various driving positions delivering solutions and services to her customers successfully by innovating and outsmarting every time her own set standards. "Clients had developed a liking and appreciation for my work and they started moving with us wherever I moved in the industry," she recalls.
The Big Decision
She was having a fruitful career as an employee; however, her goals and aspirations were big. The time had come to take a call, on whether to keep working for someone or to work for her own self and establish a company where people actually enjoy working.
"It was tough decision to make because position and power was something that I had always enjoyed but the bigger learning and attainment was in letting it go and creating a new drawing all together on a fresh canvas."
The Inception
On 17th December 2008, Interactive Bees was formed! A company which strives to make a difference. It offered a complete range of brand communication solutions to its customers. A group of professionals who are passionate about their work, came together from either traditional or digital media and were totally game for delivering integrated solutions to the customers.
Interactive Bees is a complete brand communication agency, providing all sorts of marketing communication solutions for its clients. From Offline (Brand identity creation, Communication style and design creation, print designs, Films) to BTL (events, designs, etc.) to Digital Marketing (own media to earned media to bought media).
Speaking about interacting and engaging with her team, Monica mentions "I enjoy spending quality time with my people interacting and empowering them and also deliver talks on stress-management, self-management, work life balance, easy meditation for busy professionals, digital detoxification etc., with various groups in the society at large whenever possible. I firmly believe that wherever your attention goes the energy flows, wherever the energy goes the life grows and hence for me it started working positively."
The Hard Way of Learning
Speaking about challenges during her journey as a leader, Monica exclaims "Well I have always learnt the things the hard way, but then the process has made me strong every time and helped me shape my future much better."
For Monica, her biggest strength lies in her approach of taking every problem as a steppingstone in her life and, according to her, it really proved to teach her lot and help her become a better person.
She transformed her inability to communicate into creative expressions, which she then extrapolated professionally in marketing communication.
"So, the lesson I had learnt growing up is that, "There really isn't any mountain, that's too high to scale" all you need to have is the zeal and enthusiasm," a sound advice indeed.
The Success
"Vision has to be straight and focused then the success comes automatically to you, that's what I experienced. We have been around for a decade now, our efforts are getting recognized and appreciated, as is evident by the many awards that have been coming our way."
The company won the title of 'India 5000 Best MSME Awards 2017', for its quality excellence and the 'Red Herring Top 100 Award for Asia's most exciting companies' for providing disrupting solutions in the industry and gaining substantive traction in 2016. Interactive Bees was also listed in the "Top 10 Best Startups in Website Development Companies in India" by Silicon India Magazine and "Consultants of the Year 2016: Digital Marketing," by Industry decision makers at CIO Review Magazine.
Most recently, two of its digital campaigns got recognized by the industry and the company won; Drivers of Digital Awards 2018, for a Special Mention for Content in a Video Marketing Campaign and Outstanding Campaign of the Month by 91 Mobiles.
However, what truly makes Monica happy is when she, alongside her company, can bring about a positive change in the lives of people and the organizations associated with it. "When I see that our customers become a spokesperson for us, the whole effort gets repaid and is the most satisfying. At the end of the day, that's what really makes me think that I am playing my role well and mission is thus accomplished."
The Future Ahead
"We have been around for 10 years, growing and evolving the whole while, though slow but sturdy, we are here to stay and will make it big and unique in the corporate world. I vision Interactive Bees as an agency of choice for the brands. I want to keep it an exciting workplace, a beehive that is buzzing with novel ideas every day. Managing stress in the corporate world is quite a challenge. I want IBees to maintain this equilibrium where there is just enough stress that pushes us to expand our boundaries to allow each person to perform their best, not that its required, but because they are all performers willfully. A place where they want to be in everyday, an organization with a difference!"
Personally, Monica, believes in celebrating life and for that one has to have a heart full of love, peace and joy for everyone, the one who is pure and un-affected by the ups and downs of the society, each day moving towards empowering herself and her team mentally as that's the need of the hour – to face these turbulent times strongly!
"I donot like when youngsters are unable to perform, succumbing under the situations and finding an easy escape of quitting the job! Powerful personalities who can think and deliver in all kinds of situations; is my vision of them and that's how I see Interactive Bees, the company with a difference," concludes Monica.