Dr. Maky Zanganeh: A Courageous & Inspiring Biotech Leader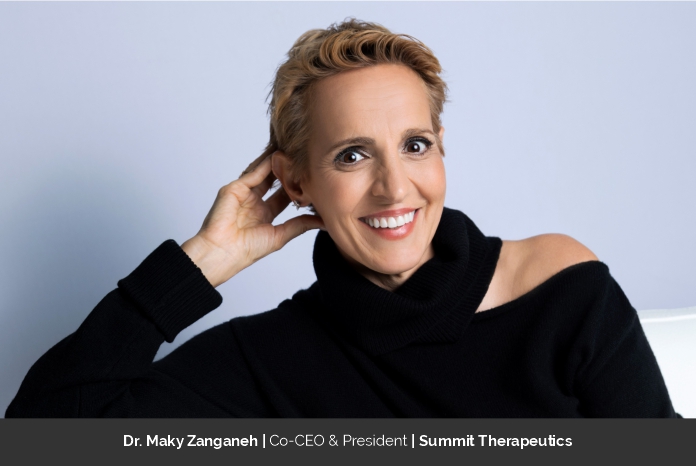 Dr. Maky Zanganeh, Co-CEO & President at Summit Therapeutics firmly believes in the concept of "taking responsibility and the ability will follow." She is a recognized leader in the healthcare industry. She is also a member of the Board of Directors at Summit Therapeutics (SMMT), Pulse Biosciences, Inc. (PLSE), and Serra High School.
Dr. Zanganeh was recognized in the "CEO appointments – 21 women who made CEO in 2022" article published in Business Chief Leadership & Strategy, August 2022. It was noted in this article that "…women represent just 15% of chief executives employed by Fortune 500 companies, equaling 74 female chiefs, while globally, just 5% of chiefs are female."
Dr. Zanganeh was named one of the Top Women in Biotech in 2013, and was a finalist for the EY Entrepreneur of the Year award in 2013. In addition, she was recognized as one of the Top 10 Influential Chief Operating Officers of 2021.
From minimally invasive surgical robotics to a patient-friendly small molecule drug for blood cancer patients, Dr. Zanganeh has led, contributed to, and inspired many industry transformations.
Before joining Summit Therapeutics in 2021, she founded Maky Zanganeh and Associates (MZA), a consulting company to help start up companies. Before MZA, She was Chief Operating Officer at Pharmacyclics, Inc., a patient-friendly oncology company. She has an MBA from Schiller International University, and a Dental Degree of Surgery from Louis Pasteur University in France. She is fluent in French, German, Farsi, and English.
A life spread over three continents & four countries
Born in Iran in 1970, Dr. Zanganeh has overcome tremendous personal challenges after a life spread over three continents and four countries. She had a mixed Franco-Iranian education at Jeanne d' Arc School in Tehran, until its closure after the 1979 revolution.
Dr. Zanganeh lived through the war in Iran, an experience that changed her life and her way of thinking. "I became a survivor in life, and I would never accept being a victim, no matter how many challenges I would have to face in the years ahead. The challenges I lived through during that time changed who I was and would become forever," she recalls.
Dr. Zanganeh had the privilege of being able to immigrate to Germany to continue her schooling, and spend her adolescence in a country at peace, but at the price of being separated from her sisters and her parents. "At that moment of time, living in Germany was not easy. I went through a lot of cultural changes (Iranian culture vs. Western culture). Germany helped me build my character. It made me tough," she observes.
After obtaining her German high school diploma, Dr. Zanganeh joined her sisters in Strasbourg, France, where she received her Dental Degree of Surgery (DDS) from the Louis Pasteur University, France. As a pediatric dentist, she spent a lot of time with children with cancer, autism, and mental or physical disabilities.
During this period, Dr. Zanganeh became more aware that massive action was required to improve conditions for all levels of society. She also realized she needed a project that would have a bigger impact on the world, so she left dentistry for the healthcare business.
The World's First Transatlantic Telesurgery via Surgical Robotics
In 1998, Dr. Zanganeh became the President of EMEA / Global VP of Training and Education for Computer Motion, Inc. (Pioneers in Robotic Surgery. In 2003, the company merged with Intuitive Surgical Inc. (ISRG) for one-third interest.
Dr. Zanganeh's biggest accomplishment at Computer Motion occurred in September 2001, when Professor Jacques Marescaux, Chairman of Digestive and Endocrine Surgery at the University of Strasbourg, and President and Founder of the Research Institute Against Digestive Cancer (IRCAD), performed the first transatlantic telesurgery operation – "Operation Lindbergh" – from New York, on a patient in France, via the Zeus Robotic System.
"It was the perfect blend of digital information, technology, and minimally invasive surgery. The team showed the world that surgery can be performed from a distance of over 10,000 miles via robotics, and showed the possibility of collapsing the barriers of space, distance, and time" she declares.
After Computer Motion, Dr. Zanganeh worked as Vice President of Business Development, with Bob Duggan, a courageous visionary and inspiring innovator, at his investment company, Duggan Investments.
Turning a Brush with Cancer Into a Game-changing Mission
In 2003, Dr. Zanganeh decided to transition from robotic surgery into medical oncology. Dr. Maky Zanganeh, along with Bob Duggan, decided to invest in Pharmacyclics in 2004, and she joined Pharmacyclics in 2008.
One of her greatest leadership accomplishments as Chief Operating officer at Pharmacyclics, in collaboration with Bob Duggan, CEO, and their world-class team, was developing and commercializing ibrutinib (Imbruvica®), a game-changer treatment for a wide range of blood cancers.
This drug was a patient-friendly small molecule drug for blood cancer patients which became a blockbuster drug, helping many patients return to their normal life (The Magic of Normal).
In 2015, Pharmacyclics was awarded the prestigious Prix Galien for "Best Pharmaceutical Agent". This award is the biomedical industry's highest accolade and recognizes outstanding achievements in the development of new therapies.
Dr. Zanganeh was instrumental in the 2015 sale of Pharmacyclics to AbbVie Inc. for $21 billion USD, which was the second-largest Biopharma sale ever in the industry at that time.
Over her career, she has learned a great deal about cancer patients and their will to live. In 2019, Dr. Zanganeh was diagnosed with breast cancer; she mentioned that: "to fight cancer we have to aim high and go for a cure as long as the body can handle it." In other words, fighting until the end, and never giving up.
As her favorite quote from Bob Marley states, "You never know how strong you are until being strong is the only choice you have."
"After all those years being part of an oncology biotech company and trying to help so many patients, I realized that we may have invented, innovated, and created anti-cancer drugs, but it is a combination of everything else that is occurring in the body that impacts the patient's prognosis, and we must give that our consideration. Cancer changed my life, my way of thinking, my perception of time, and the value of each minute, every day," she reveals.
"It takes courage to do things that others consider impossible." – Dr. Maky Zanganeh
An Indigenious Leadership
Dr. Zanganeh's ability is innate, inherent, and manifested in her style of leadership. Her optimism is contagious; her rigor, hard work, courage, tenacity, and honesty are exemplary. She is known by her colleagues as a leader who has a proven track record of bringing unmistakable intensity and clarity to a company's vision and mission.
Dr. Zanganeh has an enthusiasm that's hard to match in the industry. She constantly strives to surpass herself and advises others to do the same. She seeks to build and be a mentor; to be a leader, not a boss. She believes that to mentor people, you must have the ability to perceive in others their potential; and the ability to transfer knowledge.
One of her keys to success lies in seeking the shortest path between understanding ideas and their application. As a rapid decision maker, Dr. Zanganeh will reach a conclusion and decision and then communicate it with enthusiasm, while others are still at the beginning of the thought process. She's always looking at how to "collapse time"; to attain the end goal more efficiently, and in the shortest time possible.
"Curiosity and caring about life and its forward progress, hard work and willingness to sacrifice are required to achieve our goals and purpose." – Dr. Maky Zanganeh
Building a Viable, Long-lasting Health Care organization
Dr. Zanganeh is determined to ensure that Summit Therapeutics will make a positive impact on the medical world, improve quality of life, and help save lives.
Summit Therapeudics' mission is: To build a viable, long-lasting health care organization that assumes full responsibility for designing, developing, trial execution and enrollment, regulatory submission and approval, and successful commercialization of patient, physician, caregiver, and societal-friendly medical therapy intended to: improve quality of life, increase potential duration of life, and resolve serious medical healthcare needs.
Summit identifies and controls promising product candidates based on exceptional scientific development and administrational expertise, develops their products in a rapid, cost-efficient manner, and engages commercialization and/or development partners when appropriate.
They accomplish this by building a team of world-class professional scientists and business administrators that apply their experience and knowledge to this mission.
Team Summit exists to pose, strategize, and execute a path forward in medicinal therapeutic health care that places Summit in a well-deserved, top market share leadership position.
Dr. Zanganeh's responsibilities as the Co-CEO and President of Summit Therapeutics, along side Summit's CEO and Chairman of the Board, Bob Duggan, are building a fast-paced company that:
· Is dedicated to improving patient treatment options worldwide
· Offers transparency to all stakeholders (employees, shareholders, medical staff, patients)
· Creates a non-bureaucratic environment
· Prioritizes fast decision making, guiding the team so they can move faster to achieve their goals
· Pays attention to detail
Team Summit assumes full responsibility for stimulating continuous expansion of knowledge, ability, capability, and well-being for all involved stakeholders and highly-valued shareholders.
Underpinning Summit's efforts are five core values developed by the employees that describe who they are, how they work together, and what they want to accomplish. These core values are:
· We are all important and able to bring about improved conditions in life – We value everyone's role and contribution. We believe everyone has good intentions and acts with integrity. We create an open and inclusive environment
· We are transparent and respect people's opinions – We promote debate, take advice, and listen carefully. We are open to changing our minds and when necessary, disagree. We find solutions and deliver our goals.
· We're all in together, no matter what – By collaborating effectively, we become a cohesive group that recognizes and respects what each other is doing and why. A positive attitude helps us deliver value to our patients, shareholders and each other.
· We strive to make a difference, focusing on improving the quality of life of patients, families, and people, while building a successful business.
Dr. Zanganeh notes that everyone at Summit plays a role in achieving the company's strategic mission. "These are our values. Together, we are Summit. Together, we aim to make a difference," she states.
A Role Model for Women in Leadership
An article published in Business Chief Leadership & Strategy in August 2022, that featured Dr. Zanganeh in a list of 21 women who made CEO in 2022, notes that, "Women represent just 15% of chief executives employed by Fortune 500 companies, equaling 74 female chiefs, while globally just 5% of chiefs are female."
As the recipient of multiple awards and honors, including Honored Speaker at the United Nations in February 2022, Dr. Zanganeh spoke at an historical assembly that brought together women in science and experts from around the world, along with high-level government officials, representatives of international organizations, and the private sector.
"Follow your dreams, move forward. Life is in front of you, not behind you. Changing the world for the better, it is a true adventurous journey, not for the faint of heart, not for the impatient ones. It takes courage to do things that others consider impossible. Perception, observation, knowledge, a sense of certainty, and a willingness to take chances is part of a parcel of innovation. Curiosity and caring about life and its forward progress, hard work, and willingness to sacrifice are required to achieve your goals and purpose. We have to work together and collaborate to make a significant difference for the betterment of humankind."
"Follow your dreams, move forward. Life is in front of you, not behind you" – Dr. Maky Zanganeh
Looking for the Magic of Normal
Dr. Zanganeh is the published author of a book entitled, The Magic of Normal. When she decided to write her book, Dr. Zanganeh was an intensely busy businesswoman working on a variety of different projects, one more important than the next; all pushing her in different directions.
"I have always been extremely ambitious, and it is hard for me to prioritize when it comes to dividing my time. The truth is I finally started writing the book because life forced me to slow down. Fate decided to change things and pace my life to the rhythm of my cancer treatments. Strangely enough, at the same time, COVID stepped in and put the world on hold," she wrote.
"Fortunately I got back to my normal life, and I was able to continue my new projects in medical research with even more conviction than ever. So, I dedicate this book, that traces my private and professional journey, to all whose lives have been interrupted and dream of returning to normal one day. I dedicate it to every patient going through the uncertainty and torment of cancer. I want you to know you are not alone. You are shielded with science, innovation, and discovery. In front of you lies camaraderie, courage, and hope," she states.
"As we travel through the journey of life, what we are all really looking for is the 'magic of normal'." – Dr. Maky Zanganeh
Inspiring Advice for Aspiring Women Leaders
Dr. Zanganeh remarks that it is always a challenge being a fulltime mother and fulltime executive; caring about her family members and people around, as there's not much time during the day.
However, the key to success is in knowing how to prioritize your time during the day, so you can be with others, running the company, finding something to enjoy and relax each day, and having family time.
"It is challenging, but not impossible to do," she states. Dr. Zanganeh gives hope to women, assuring them that education is the basis and key to changing their life and becoming successful.
"Education will learn from mistakes, focus on future success, and never give up on your dreams. Education will open all doors and cast light on the knowledge necessary to achieve your dreams, and break the apparent boundaries of gender, language, culture, and borders," she advises.
"The key to changing your life and being successful is education. Take chances, learn from mistakes, focus on future success, and never give up on your dreams." Dr. Maky Zanganeh
You can learn more about Dr. Maky Zanganeh at www.mzanganeh.com