Eileen Willett: Combining Innovation and Design to Make You Feel More Confident and Look Beautiful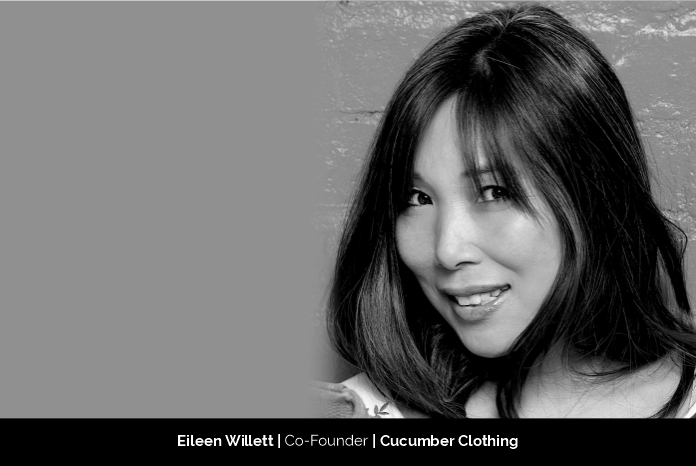 Women are fond of following the latest fashion trends and buying designer and stylish clothes. For women, looking attractive and beautiful makes them feel empowered and self-proud. Wearing sleek attire brings pride in appearance and helps create a status within the social group and connect with others. Eileen Willett co-founded Cucumber Clothing to design dresses that empower women with confidence and comfort together.
The brand has taken a revolutionary business model that combines cutting-edge long-lasting technical fabrics with multifunctional design. She says, "For Cucumber Clothing, our vision has always been to create a brand that we can truly be proud of on every level and that our customers love and believe in."
Making You Look Beautiful and Feel Comfortable
Cucumber Clothing makes luxurious clothes every day. As per the company, the team designs clothes with a vision to empower women by using the latest ultra-modern performance fabrics that work to dissipate sweat and odour away from the body to leave the wearer feeling cool, uncrushed, and confident to get on with the day. The team has combined technical, high-performance fabrics to cleverly cut-to-flatter designs that function optimally and always feel amazing next to the skin.
The company believes that clothes should do more than only dress a body. It asserts, "Our clothes breathe, they feel cool, they stretch but never crease, they move with your body and easy to care for and have made locally, ethically, and sustainably." The company has created an all-in-one style that fits seamlessly into every woman's wardrobe for dress up, dress down, sleep, stretch, work, train, and travel. Cucumber is an effortless dressing that keeps you feeling fresh 24/7.
Definition of Success
Eileen's idea of success is 'Believe in yourself and 'The more you do, the more you do'. She says, "These words from my father have stood the test of time." She asserts "self-belief is difficult to achieve, we can all suffer from imposter syndrome, and it is so important to take a breath and understand that you can do it. Once you've taken that first step, it is then crucial to throw your whole self into whatever it is you are doing. Every action you take triggers new ideas, acquaintances, and opportunities. Success for me has to be just as much about self-worth as external markers."
Learning from Mistakes
Starting a business can feel overwhelming at first, and challenges make situations more critical. According to Eileen, during the journey, the team has had to learn some hard lessons. At starting, Cucumber Clothing decided to outsource their fulfilment. The company believes in providing complete customer satisfaction and aims for excellent customer service. The team personally answers every email and actively encourages feedback. Eileen recalls a time when the company had no control over part of its customers' experience with it. The team was horrified when they began receiving complaints of wrong garments received, double orders sent, and boxes marked with 'shoes' (Cucumber Clothing only makes clothing). She asserts, "It was a month-long expensive experiment with endless firefighting, but it underlined to us the value we place on customer service."
Joining Creative Space
Eileen opines, "My career has remained firmly rooted in the creative industries." Eileen was born in Vancouver to Japanese parents. She received her training in Paris in fashion design and started work as a fashion illustrator in San Francisco. After that, she spent a brief but formative time in Japan working at Billboard Magazine and finally settled in London, where she joined the then-fledgling Nicole Farhi Menswear brand. She further adds, "I took a career break to have my three children, and then with itchy creative fingers, launched my eponymous womenswear accessory brand into the new luxury designer/maker space of the 2000s that she described as fantastic fun."
Leading the League
It has been an incredible journey for Eileen, from seeing Cucumber Clothing's very first collection flies out the door after an amazingly complementary piece in the Daily Telegraph to appearing on Dragon's Den. She has shared her views on subjects like female entrepreneurship and launching a sustainable brand. She was selected to participate in Cambridge University's Institute of Sustainable Leadership's Accelerator program and was short-listed for the Asian Women of Achievement Awards.
Having a Full Plate
Finding a balance between work and personal life is necessary yet challenging when one is an entrepreneur. As per Eileen, personal and private life overlap tremendously, and she defies anyone launching a start-up and still being able to ring-fence either area. She reasons, it is more important to make sure to have mental health breaks. It allows for recalibration, reenergizing, and enabling creative juices to flow. These can be anything from a cold swim to a quiet moment in the garden with a book.
As the Co-founder and a full-time entrepreneur, Eileen finds herself juggling what seems like a barrel full of monkeys. Her days go with managing all aspects of work (sales, manufacturing, customer service, social media, content creation, PR to name a few) and other many tasks of day to day of life that including socializing and self-care. She opines, "it is incredibly energizing to know you are creating something brand new and seeing your vision come to life while sharing that vision and passion with employees so they can see the same and feel motivated."
Innovation and Ideas
Cucumber Clothing was founded by two mid-life female founders who believed in the power of locals. It is astonishing to know that all activities from sampling, grading, manufacturing, storing, and sending the product to the market are done within a five-mile radius of the company's London base. Eileen opines, "We use minimal packaging and have taken plastics out of our chain. Our packaging is 100% compostable and biodegradable film using vegetable starch and is made in Lancashire, as are our recyclable packing tape and recycled and recyclable postal sacks."
Heading to Becoming more Extensive
It has been incredibly uncertain in all retail sectors due to the pandemic, and women's fashion has been no exception. Cucumber Clothing has spent the last 14 months pivoting to capitalize on the online rush for leisurewear. The company's roadmap comprises expanding into luxury spas around the UK. As things begin to open up, the organization is starting to plan various pop-up events that have worked very well for it in the past. It states, "We are also expanding overseas and are hoping to grow in this area, also constantly reviewing and upgrading our website to continue to offer a fantastic shopping experience online."
Soon, Cucumber Clothing hopes to get established as the premier fabric-led fashion brand for women in the UK. It plans to have a firm foothold in countries where it has already started to make in-roads, namely the US, Australasia, South Africa, and the Middle East.