Michael Ferro: Miami based Healthcare Tech Entrepreneur working on AI and Democratizing Healthcare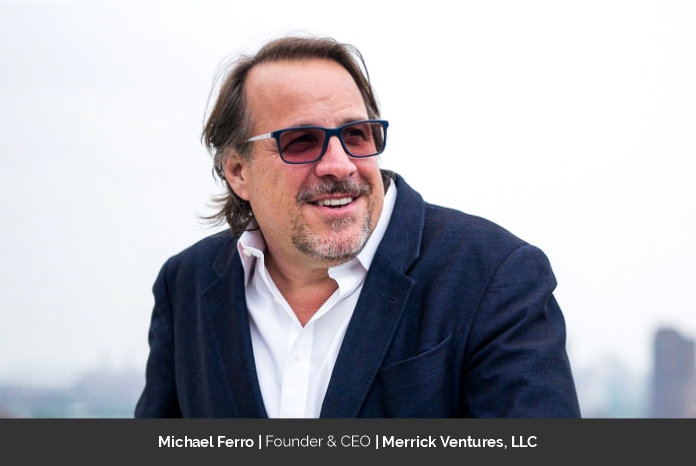 Fascinated by healthcare and the vision of making a significant difference in people's lives, as the Founder and CEO of Merrick Ventures, Michael Ferro directs the PE firm to focus on changing the paradigm for people to access high quality, effective, and affordable healthcare. In 2008, Merrick Ventures acquired a major stake in Merge Healthcare, a healthcare imaging and data company. 2008 was early in the use of artificial intelligence as applied to healthcare, and many people and companies hadn't yet recognized the massive shift happening in the world as a result of connectivity and artificial intelligence.
Under Ferro's leadership as Chairman, Merge Healthcare went from near bankruptcy to billion-dollar Company when IBM announced in 2015 that they would acquire Merge Healthcare for $1B. Beyond the imaging scan data from sources including MRI, CT scans and x-rays, much of the value came from Ferro's many inventions and awarded patents on new systems and methods within artificial intelligence and radiology, and many are currently still in use today. As one of the earliest patent holders in artificial intelligence in healthcare, Ferro knew AI was going to have a major impact on imaging technology, starting with radiology.
A Born Entrepreneur
Michael W. Ferro, Jr. started his first successful company back in high school. Ferro continued to run Chem Roof full-time while earning his college degree. A few years after he graduated from college, Chem Roof was acquired in 1992 by Pettibone.
After the acquisition of Chem Roof, Ferro stayed on at Pettibone, eventually becoming the youngest division president in the history of the company. It was at Pettibone in the 1990's that Ferro digitized the operational and customer facing paperwork so it could be accessed on the internet, which was groundbreaking for that industry at the time. As a software architect, Michael Ferro immediately saw the potential of the rapid growth and adoption of the internet for companies to interact with their customers in a fast, efficient, and easy way.
In 1994, Ferro left Pettibone to start another company, Click Commerce. Again, noting the rapid growth and adoption of the internet, Ferro created and built the company around digitizing and architecting business application software and services at a time many companies weren't yet thinking about digitization and the internet. At the age of 33, Ferro took Click Commerce public with an over $1B valuation.
Those early wins led Ferro to be one of the youngest people named to the Forbes "Tech's 100 Highest Rollers" list. He also won a number of awards at that time, including the Young Entrepreneur of the Year by the Collegiate Entrepreneurs Organization, the Ernst & Young Entrepreneur of the Year in Technology Award, and the KPMG Illinois High Tech Award. Being listed in the Entrepreneur Collegiate Entrepreneurs' Organization's Hall of Fame is a major honor. Other CEOs, founders, and executives listed in that Hall of Fame include Apple, Southwest Airlines, Crate and Barrel, Staples, Black Enterprise Magazine, and E-Trade. Other awards and honors include being named a Henry Crown Fellow by the Aspen Institute, the Humanitarian of the Year award, The Excellence in Entrepreneurial Leadership Award in honor of Michael W Ferro, Top 40 under 40 list, the Living Proof Award by the Rush Neurobehavioral Center (RNBC), the Entrepreneurial Champion Award, Healthcare Tech Entrepreneur of the Year, and being nominated for an Emmy Award for Best Documentary.
Every Milestone is Just a Sign of the Next
Many people choose to retire after achieving the level of success Ferro attained after selling Click Commerce. But decades later, with multiple large exits in the 9 and 10 figure range, Ferro still works full-time. Most days find him in the office for 8-10 hours, and then in his home office for additional hours after dinner.
After the acquisition of Click Commerce, Ferro founded Merrick Ventures, a PE firm based in Miami currently focused on democratizing healthcare. Ferro also founded the Michael and Jacqueline Ferro Foundation at that time. The Ferro Foundation has made many donations over $1M and $2M, including $2M for an incubator for entrepreneurs called "The Garage" at Northwestern, and $1M to the largest non-profit focused on the most serious and deadliest of all skin cancer, the Melanoma Research Alliance (MRA).
Strengthening the Healthcare Community
The Michael and Jacqueline Ferro Foundation donation to the Melanoma Research Alliance is for scientists focused on developing skin cancer diagnostics that leverage AI to catch melanoma at the earliest stages. If melanoma is caught at a later stage, there's an increased risk of the cancer spreading to internal organs, which makes melanoma significantly more difficult to successfully treat. The large donation has funded three scientists with promising approaches: Veronica Rotemberg, MD, PhD; Joann Elmore, MD, MPH; and Kamran Avanaki, PhD.
Dr. Rotemberg is a board-certified dermatologist and research scientist at one of the top premier oncology centers in the US, the Memorial Sloan Kettering Cancer Center. Her research is focused on improving the accuracy of diagnosing melanoma when using AI by including clinical metadata. Clinical metadata includes aspects such as the color, length, weight, and location of the lesion, in addition to the patient's sex and age. Dr. Rotemberg has already discovered that adding a patient's age to the clinical metadata does help AI distinguish between benign lesions and melanoma. If metadata is added to images of skin lesions, it could improve the ability of AI software to detect cancerous cells.
Dr. Joann Elmore is a research scientist and physician based out of UCLA. Educated and trained at Stanford and Yale, the NIH has continuously funded Dr. Elmore's research for over 25 years-a major accomplishment for any scientist. Dr. Elmore is working with Dr. Linda Shapiro, a world-renowned computer scientist and expert in AI-based diagnostic systems. Their work is primarily focused on improving the accuracy and speed of using AI to diagnose melanoma.
Dr. Kamran Avanaki is another melanoma scientist funded by grants from the Michael and Jacqueline Ferro Foundation. His research is focused on Optical Coherence Tomography (OCT), a technique in medical imaging that has already been used to diagnose other types of skin cancer. By optimizing the parameters of OCT, Dr. Avanaki and his team have already demonstrated that there is significant potential that their approach will make OCT more accurate in diagnosing melanoma.
Advancing the Industry through New Innovative Approaches
Artificial intelligence algorithms used in diagnostics like those for skin cancer have the potential to make a big impact on democratizing healthcare for that disease. Beyond radiology, dermatology is a medical specialty in which artificial intelligence imaging advancements have the most near-term value in healthcare. While building Merge Healthcare into a billion-dollar company, in 2012, Ferro also founded Higi, a health kiosk company that distributed patient-facing and self-operated kiosks to measure vital signs in easy-to-access venues like retail pharmacies. At the time, Higi was groundbreaking technology, and focused on democratizing the ability for individuals to get their vital signs measured for free outside of a doctor's office or hospital. With over 11,000 kiosks nationwide, millions of people have used the Higi kiosk stations and smartphone app to measure and record crucial vital signs like blood pressure, body mass index, and blood oxygen levels without having to go to a clinic. This solves a major problem in healthcare for millions, namely access.
Accessing healthcare of any kind, including a baseline for vital signs with periodic vital sign checks, can be difficult for many reasons, including work schedules, children and family responsibilities, monetary considerations, and sometimes a lack of easy transportation or clinic proximity. Placing the Higi stations in locations most people live near and go to regularly means millions more people have access to getting a baseline and periodic checks of important vital signs. Considering that one in three people in the United States have high blood pressure (hypertension), easy access to measuring blood pressure is a big step towards Ferro's main goal of democratizing quality and effective healthcare, with an ultimate focus on those who may not otherwise have easy access. Rapper Lupe Fiasco worked with Higi at Austin's South by Southwest festival in 2013 to get the word out to young people about the importance of measuring vital signs. Because many health habits start at a young age, it is important to reach that age group to reduce the risk of future health problems like hypertension, which can lead to devastating and life changing issues like strokes and heart attacks.
Working as a Leader
On a day-to-day basis, Ferro is focused on the companies where Merrick Ventures has a major stake. While some are in stealth, all are currently focused on democratizing healthcare and providing access to quality healthcare, regardless of socioeconomic status or location. Ferro spends his time on many aspects of building businesses, from the overall strategy to actually working on the product, including coding the software. Especially in the early days of a company, many days find Ferro behind a computer screen personally building the software architecture himself and leading the engineers with the software vision and foundation.
When Ferro is not working on the companies in Merrick Ventures' portfolio, he is analyzing new companies, writing a book on leveraging AI to democratize healthcare, and providing grants to startups, individuals, and promising students as the CEO of the Ferro Foundation.
Ferro's main message to aspiring entrepreneurs and businesspeople is to focus on what personally holds meaning, and work on something that matters. Building a company is hard work, and there are days when the future can look overwhelming, especially when working on important and critical problems like saving lives. Building a company is a journey, and success is not made or broken by one week or even one month, but by the conscious and methodical daily movement towards short-term and long-term goals.
Aiming to Bring Improvement
Most of Ferro's time is now spent working on his life goal of democratizing healthcare. With Merrick Ventures, that means working with startups and growth stage companies creating the foundation, infrastructure, products, and services that can help billions of patients all over the US and worldwide. When most people think about the healthcare industry, they think about the people and venues: physicians, nurses, hospitals, and clinics: the traditional aspects of healthcare that represent the industry.
When Ferro looks at the healthcare industry, he sees those same physicians, nurses, hospitals, and clinics, but not just as representative of the healthcare industry, but as a very limited and finite resource. He knows that the current standard of how people get their healthcare does not scale and does not democratize healthcare to those who may need it the most. Ferro sees all the ways artificial intelligence and software architecture can increase a physician's or clinic's current capacity for helping patients, and in some cases, it can take the place of that limited, highly trained human resource. This is important considering the millions of people here in the US without easy, frequent access to high quality healthcare and preventive medicine services, and on a global scale considering there are billions of people worldwide without access to the most basic healthcare.
Many people wouldn't even know where to start when thinking about working to help billions of people, especially in the world of healthcare where lives are at stake. Ferro knows where to start, and how to ensure a company's success so that patients actually benefit. By focusing on artificial intelligence, foundational software, connectivity, and the digital world, he knows that the companies he builds now will democratize healthcare for billions over time. That's an important point for entrepreneurs working on big, worldwide problems. Complex problems like working on the democratization of healthcare take time. Today's cutting edge technological innovations can take years to build, scale, and gain widespread adoption by healthcare stakeholders before eventually reaching all the intended patients worldwide. Big, lofty goals like democratizing healthcare can take decades to achieve, and that takes patience, perseverance, and an unwavering commitment to helping others.