Goran Beijer: Improving people's health and Lives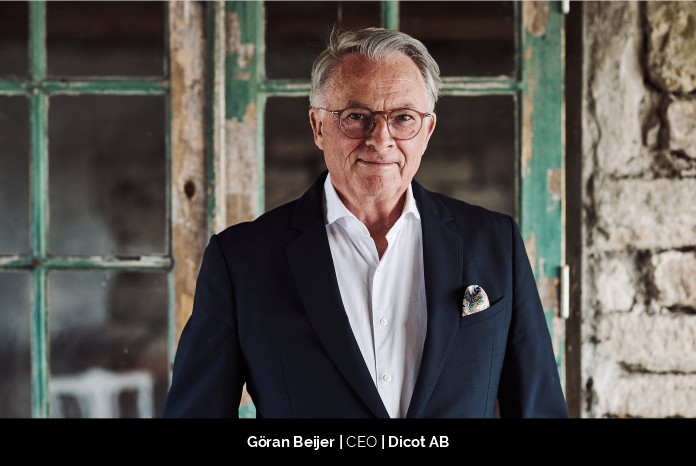 For some, it is just to live selfishly, whereas some aim to make life for others better. Goran Beijer is leading a Swedish pharmaceutical company towards creating the next generation potent drugs, to help people suffering from erectile dysfunction and premature ejaculation.
The company is developing a drug candidate named LIB-01 that is going to help men with these conditions in a new and improved way. He started working for pharma companies in the eighties and wanted from the start to contribute to improving people´s health and lives.
He finds that the industry is full of talented and exciting people where innovation is the key to achieve new heights in the business.
The long journey to become CEO at Dicot
Goran Beijer feels that erectile dysfunction and premature ejaculation takes a toll on the mental health of men. The victims of both problems go through depression and anxiety which further fuels the issues making it hard to live a fulfilled, happy life.
In 1973, he completed his Natural Science program and went on to study Industrial Engineering and Management at the University of Linköping.
After that, he started his corporate career as a product engineer at Electrolux and went on to different roles in different pharmaceutical companies. During his long journey from 1979 to 2017, he gained a lot of experience as he adds," The process from ear to loaf is complex and time-consuming. Over the years, I have been in c-level roles in many different companies in the pharma industry and brought many products to the market."
Finally, in 2018 he grabbed the title of CEO at Dicot to fulfill his dream of helping others and giving his contribution to the prime vision of the company.
Leading Dicot with Innovative Ideas
He strongly believes that creativity and innovation are the two sharpest arrows in the quiver to achieve new heights in any business. He states," Curiosity and innovation made the founder and inventor of the company discover a folk medicine used at Madagascar and through a lot of research work made it possible to identify active components leading up to Dicot´s drug candidate."
However, the road to developing this drug candidate has had its speed bumps. For Dicot, it took a lot of research to finally isolate and identify the active molecules from the roots of an African tree at Madagascar.
After this, they realized that they could not get sufficient amounts of material from extracting roots. So, they had to search for an alternative raw material source and found it in seeds from another tree in another part of Africa. It added years to the early time plan.
He states that the whole team at the company learned a crucial lesson that if they believe in something, then they should never give up without achieving it.
Visualizing his dream with the vision of Dicot
From the start of his career, Goran Beijer was stimulated by the idea to help others. When he joined forces with Dicot, he was able to visualize his long-time dream being filled with true colors.
He believes that nature is very talented in creating sophisticated molecules with a pharmacological effect. And in fact, there is a renaissance of the pharmaceutical industry right now, looking into nature to search for useful molecules.
Dicot´s drug candidate, LIB-01, for treating erectile dysfunction and premature ejaculation is expected to have a much longer effect and is believed to result in milder side effects compared to products on the market today.
They aim towards running the development up until clinical phase 2 and after that seek strategic alliances with well-established pharmaceutical companies to finalize the clinical development phase and introduce LIB-01 to the global market.
He further adds," Our vision is that LIB-01 will be the first choice for the more than 500 million men suffering from sexual disorders."
Göran continues," To reach out on the market, however, we will need the help of established pharmaceutical companies who have the marketing and distribution channels already set up."
Leading the Dicot team
For Goran Beijer, the primary role as the CEO of the company is to fulfill the needs of stock owners and the financial market in general. And naturally make sure that operations run smoothly, and the team stays happy.
Dicot has a team of competent and engaged people. People working here can spend time on what they really love. They can express their interests and innovate new things.
Being an experienced leader, he states," Many larger companies are suffering from heavy administration, internal political quarrel, and too wide gaps between the people on the floor and the highest management. These things affect innovation negatively."
Dicot on the other hand has a small, dedicated team working closely together. They all collaborate with expert companies regarding preclinical studies, raw material supply, manufacturing, and intellectual properties. They search for the best expertise when we need it and spend a minimum on heavy administration. The decision paths are short, so they can act quickly without bureaucracy. This way of working also makes it easy to attract people who really want to make a change!
He strongly believes in a team effort and states," As a leader, surround yourself with talented people that are willing to go the extra mile and have a proven track record in reaching the goals set before them."
He loves to work with people who have the nerve to disagree with him. He believes that they are the most vital asset for their company as they bring new ideas with a fresh new approach.
The next big thing in the pharmaceutical industry
In the next five years, Göran Beijer aims at making a strong partnership with a large, influential pharmaceutical company. And then: the launch of LIB-01 on the world market, making its way to becoming the first choice for men who suffer from sexual disorders.