André Faure: Trailblazing the Gaming Industry with Gameplan Gametech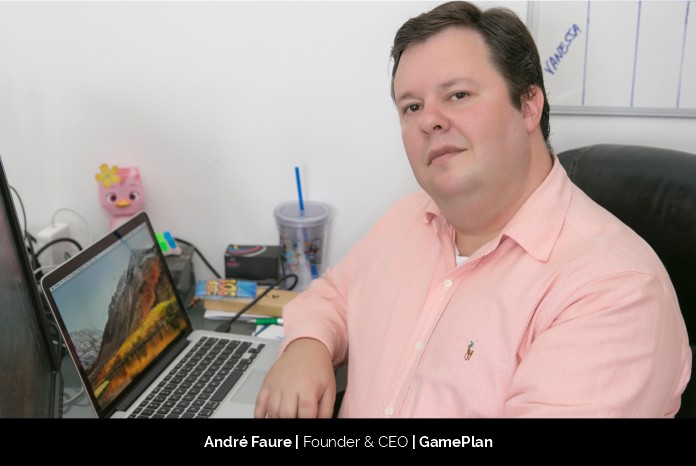 Games industry has always been a disruptive industry. André Faure, Founder and CEO of Gameplan Gametech had always been an A+ student, hungry for knowledge and enjoying leadership roles. He says, "I was always up front for class presidency, for academic clubs, organizations and so on. I believe that this drive is from my everlasting desire to have an opinion about everything, and to make an impact and difference." However, he had never thought of becoming a successful leader one day!
Source of Motivation
At 16, André got a chance to participate in an immersive entrepreneurship program organized by the Junior Achievement Foundation. He adds, "We were to create a junior enterprise, develop and manufacture products, and sell them to a profit that would later be distributed among the symbolic "investors". Somewhere into the program I was elected by my peers as president of our "exercise company", and ended up sharing 478% profit to our shareholders. I received a prize as the best student at the program and was invited to become a mentor to the next programs."
He later applied for a Biology major and got accepted at the University of São Paulo. To keep up financially, he searched for a job. He never intended to pick the games industry rather it chose him when he got selected for an internship job at Microsoft where he managed the games category.
He is motivated by the entertaining environment via technology. He feels that technology and games are the perfect marriage for the entertainment industry. He adds, "My quest in life is to empower people and companies that have the same objective, from mentoring first steps for young professionals to creating high-level plans for established companies. This is the reason behind my daily effort to be the best CEO I can be."
GamePlan Gametech's impact in the game's ecosystem
With no corporate boundaries, GamePlan Gametech is a company that offers, through technology, customized solutions oriented to the business success of clients in the games industry. He is happy that even though they started small, 2021 will be the best year for them as they constantly learn and evolve their operations.
André shares, "This quarter will mark a very important rebranding effort that is happening because of what we learn conjointly with our clients and partners every day, but also to keep adjusting our set of services and investments to the market needs."
Having served over 190 companies across the world, the company is one of the very few companies that have an Excellency Certificate from the Brazilian Association of Game Developers.
He shares, "This concept is pretty new, but it is already being adopted by significant industry players, not necessarily competitors, but entities that envision the same future for the industry, a more effective, data-driven market that do not leave behind the art and the fun of video games." GamePlan has 6 divisions:
o Business Intelligence
o Market Strategy (go-to-market; go-to-funding; go-to-publishing)
o Marketing Execution (Social, Influencers, PR, Localization, Performance, Offline)
o Game Development and Analysis
o Research, Development and Innovation
o Gamification
All the services are delegated in the three offices, in São Paulo and Fortaleza (Brazil) and Poznan (Poland). It has helped them to welcome more companies into their frameworks, methodologies, and impart overall support.
The 360º approach is the company's core advantage on all projects. Everything is different for every client especially in games. The games industry has a fast, ever changing environment, so the company has to deal with everything and catch the flow of what's happening. Moving with a unique approach from other "marketing commodity" agencies, he shares, "our mission is to deliver results, even if strategy changes are necessary. Also, it is important to say that being data-driven is not just a punch phrase. We do relay almost completely on the data that is gathered by our algorithms and analyzed by our specialists to drive our decisions. I believe that the 360 approach comes from that. From not being afraid to try new things, and to analyze each case from every perspective, to find that sweet spot that will cater to the success cases we keep on piling up."
Managing Work-life Balance
André's role at Gameplan Gametech is quite crucial in driving its growth. He handles and overlooks the operations of the entire company. Being the CEO, he formulates the forward vision and drives its strategic initiatives. He says, "I do directly overview the work of three managers that are responsible for finance and daily operations and the other offices. I manage the Polish office myself, as it is part of a still undisclosed project, we are developing towards 2024."
He has served in giant companies that shaped him to work his best in the games industry. These names include Microsoft, Ziff Davis Media properties, Tectoy RealNetworks. After that, he founded GamePlan, which has completed 7 years and he is super-proud of his accomplishments in the game's space.
André is highly ambitious and wants to create real impact in every game's developer and executive. Even though he is well-recognized through his work, awards and recognitions, he still has a long way to go! He says, "My wife and GamePlan's team have a great part in driving me to work everyday. If I ask them to do an amazing job, I should be giving the example. Also, I love new things. Every new client, every new project, every new idea is a great motivation."
Being a hard worker for many years, he had started delegating work within the company for many years now. It has helped him to spare more time with his family. He believes that every single person should thrive to achieve work-life balance. However, last year's pandemic brought work from home situation and blurred those definitions and boundaries.
Gameplan Gametech's Future expansion and growth trajectory
Andre knows that the company is moving fast on the path of gaining success. The main obstacle here is to maintain growth without any compromise on quality. He says, "We opened two new locations almost simultaneously, and one of them is moving really fast as well. I can tell that the future is bright, since we have ongoing negotiations with key players in the market and governments, along with a new, more effective sales structure. Despite the impact the Pandemic is having on everyone, we've been able to navigate quite well in this environment."
He is quite happy to witness such amazing growth and is looking forward to opening one of two new offices until 2023 as well as completing a couple huge, mass-market impact internal projects till 2024.
Having a vision is essential as no one can keep watching the future presenting itself as the present from several moments from now. It displays the future expectations that must be fulfilled.