Mauricio Frizzarin: An Entrepreneur, Software Engineer and a Visionary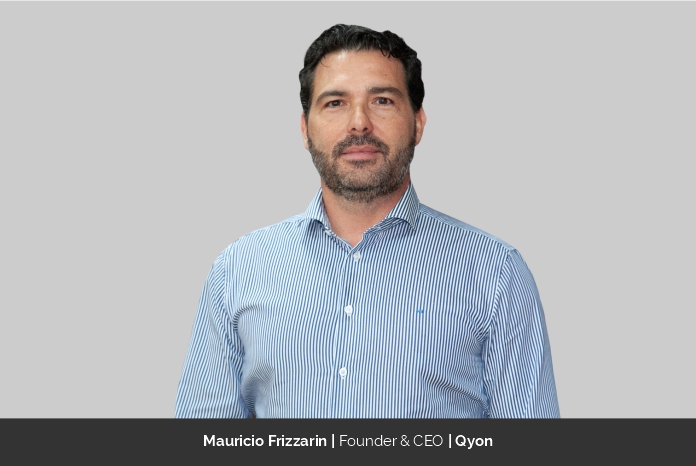 Founded his first software corporation at the age of 17, Mauricio Frizzarin believes that technology can only make a difference in the world when it's accessible. He believes that the world completed this mission during the technology revolution of the 1990s, by providing low-cost, high-reliability software to many businesses, and that, once again, entrepreneurs would require partners in order for the digital transition to take place.
Mauricio launched Qyon in 2020, a software technology firm with an excellent understanding of artificial intelligence, robots, machine learning, and big data applications for corporate management. Products and services are being created to manage and integrate the processes and sectors that make up a firm, with the goal of revolutionizing the interaction between workers and machines.
In addition to the software, the company created a fintech that can be integrated with it, further automating the financial operations of companies and ensuring the lowest costs per operation. "It's important to say that we are in constant development and already rely on block chain technology and will soon be operating a crypto currency exchange, which further facilitates integration with the entire Qyon's business systems," says Mauricio.
From the Early Beginnings to Founding Qyon
Mauricio has been working since he was young, and he began using microcomputers in the 1980s. He was very interested in knowing how things worked, particularly the software's solutions. Soon after, he enrolled in a technical school for data processing, where he created his first program to aid in the completion of lengthy and exhausting forms (such as telephone directories). Mauricio began working as a software developer for businesses after that. However, commercializing software at the turn of the 1980s and 1990s was difficult and fraught with risk. Even though he was still young, he knew that considering the business model was critical to ensuring the company's long-term viability. He was asked to design accounting software around this time. He recalls, "It was a big job, and I managed to negotiate that I would develop the software, but that after it was finished, it would be my property, and I could sell it and provide update and support services, increasing customer adherence." As a result, Mauricio's business grew a lot, and the software became the most used in the accounting area, with more than 100,000 customers, and it attracted the attention of international companies, which enabled the sale of the company.
It was the second-largest software firm sale in Brazil. Mauricio relocated to the United States after the sale and started to study atHarvard Business School. After a while, he understood that, given how quickly the world is changing, future software would be built on artificial intelligence, big data, cloud computing, and machine learning and that all of these integrated technologies may provide much more efficiency. This inspired Mauricio to start over, so he founded Qyon, a new software firm based on emerging technologies that offers low-cost services to clients to help them accelerate their digital transformation.
The Inspiration Behind Becoming an Entrepreneur
Mauricio was inspired by the prospect of making a difference in the world by assisting clients in resolving control and management issues in their businesses. Hearing how his program is improving a customer's business makes him very happy. According to Mauricio, the task is enormous, but it is feasible if you know where you're going, are imaginative, and truly want to make a difference. He says, "We develop software to make life easier for entrepreneurs, this is our focus."
Mauricio's two passions have always been technology and aviation. He started his journey by providing services for accounting offices and soon realized that he could help more. He asserts, "I was able to understand very well what the customers' needs were, and with the knowledge I had, I knew I could create something very innovative for the time, easily accessible and very reliable." Then, he continued working hard, improving the software and always looking for innovation. Even after selling the company, Mauricio continued to follow the market and what the future of business would be like.
Keeping the Essence of Innovation
"We are a technology company. We will always be at the forefront of business management solutions, seeking to be increasingly integrated, with robust solutions to solve customer problems, always in a simple and automated way, " says Mauricio. The goal is to democratize access to artificial intelligence and machine learning technologies for entrepreneurs, allowing them to explore all of the digital world's potential.
Qyon, according to Mauricio, is defined by new ideas. Every day, the team attempts to think in new ways, come up with new ideas, and stay on top of market expectations. According to Mauricio, a firm like Qyon can only thrive if the production of new ideas is in its DNA, which Mauricio promotes every day. "We are at the forefront of technology, pioneering a scenario where there is no instruction manual. Being innovative is part of our essence and it will be so forever," says Mauricio.
An Integrator
Mauricio's role as CEO is to coordinate the efforts of all the boards, but he also enjoys participating in the practice and being close to the developers. Mauricio is meticulous in his attention to detail and is completely focused on the client experience. He says, "If I have to review the button size of our software, for example, I will review and demand that everyone has the same focus in thinking about how we can make life easier for the customer."
Mauricio has a lot of meetings and is highly flexible on a typical day at work, but it is critical to maintain strong coordination across all parts of the organization. When a corporation functions like a great team, when everyone works together, the end result may be far superior to good individual performance. Having an aerosports team also aids Mauricio in comprehending and applying corporate principles that he and his team encounter during an air show or a speed or precision challenge.
Mauricio compares his position to that of a conductor, but one who is well-versed in the operation of each instrument and is always willing to discuss new ideas with everyone on the team. He says, "New possibilities appear every day that lead us to continually assess our positions and what steps we should take."
Working in a Collaborative Work Atmosphere
"I think the light and collaborative atmosphere is part of our essence, and this also motivates employees, who can work in a healthy environment in which their efforts are recognized," says Mauricio.
In his free time, Mauricio spent a good part of that time developing the first Brazilian air sports team. The company is based in the USA, and it participates in the biggest competitions and air shows in the world. This year, Qyon was at several events in the US, such as Sun'n'Fun (Florida), Reno Air Races (Nevada) and Airventure Oshkosh (Wisconsin). He says, "With the team, we intend to make aerosport a platform for communicating the concepts that Qyon brings to the market, considering that the USA and Brazil have a large audience interested in technology, aircraft, innovation, and competition." He also adds that, considering that aviation is his other passion, it allows Mauricio to balance his personal and professional life and gives him a lot of motivation.
Success; Executing a Plan Successfully
"Success happens when we carry out good planning," says Mauricio. He further explains that it starts with a good idea, but a good idea is not enough: it is necessary to reflect, analyze, and evaluate the costs, verifying if in fact there is feasibility. After that, it's about planning a lot, making informed choices and being very quick to correct what didn't work or what got out of control. He opines, "Success is not just a goal in itself, it is how you get there."
Democratize Access to the technology of the Future
Qyon, according to Mauricio, was born digital. Because the firm provides the most comprehensive and technologically advanced artificial intelligence and machine learning solutions on the market, the team believes in collaboration between everyone involved.
According to Mauricio, Qyon's solutions are capable of serving a variety of markets. It began in Brazil and the United States, but Mauricio intends to expand the company's limits to include other continents. As a company leader, he strives to make a difference in the world by assisting customers in finding the best solutions for their needs. I'm a huge technology enthusiast who is always on the lookout for new challenges to keep me motivated and pleased. My advice to budding company executives is to seek out difficulties, establish a great team, and never lose sight of the consumer. This, I feel, is a solid business leadership formula.
Mauricio feels that he and his team are prepared to offer state-of-the-art technology, a true digital platform, focused on artificial intelligence and machine learning, at a low cost. He says, "Our goal is to democratize access to this technology of the future."