Esen Girit Tumer: A Passionate Tech Entrepreneur at the Forefront of Emerging Technologies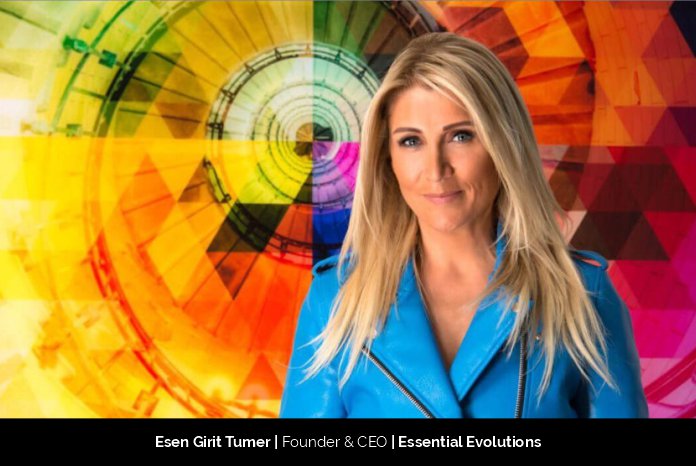 After 25 years in professional corporate life, Esen Girit Tumer was inspired to establish technology driven start up specialized in seven key business areas focusing mainly on AI Tech and Bio Science. Esen's sartup, Essential Evolutions deliver solutions that are delightfully enriched with internationally affiliated technology companies mainly established in United Kingdom, United States of America, Canada, United Arab Emirates, Israel, Italy and Germany to serve tailor made solutions to her clients especially in emerging markets. In an interview with Beyond Exclamation, Esen shares her journey through the years and talks about her entrepreneurial experience with us.
Were you always passionate about technology?
Whatever I do, as part of my personality, I do it with passion and that is valid for technology which is changing, developing and evolving each and every day that's why I named the company's name as Essential Evolutions which is a reflection of today's world as micro cosmos and expanding universe as macro cosmos.
Tell us, what inspired the foundation of Essential Evolution and what led you into this field?
After being in 25 years in Professional corporate life, I am inspired to establish technology driven start-up. Main encouragement point was to be out of comfort zone and be the best version of myself. I was very successful in corporate life but if I stayed in the same domain then I was going to repeat myself. Bravely and strategically, I decided to break the boundaries by foreseeing the potential in the technology domain and knowing my own capability and competency drive for results and passion to fulfill my dreams that ultimately made me a successful entrepreneur in technology world.
Setbacks are a part of every growing business. Tell us about a few roadblocks and learning lessons that helped you and the company grow through the years?
In every success story there are plenty of failures and lessons learnt. We also experienced many setbacks and roadblocks in the product development stage, trials and errors with implementation stage and technical and clinical challenges during local manufacturing stage. Anyone could give up easily in tough days. We had many challenges, but main motivational factor was to have the faith in our dream that comes true and we acted as "One" team. We continued with passion determination patience and seen and experienced the amazing results.
Explain the services of Essential Evolution in brief.
Essential Evolutions is specialized in seven key business areas focusing mainly on AI Tech and Bio Science with globally well- known partners. Smart Wearables, AntiMicrobial & Anti-Viral Smart Textile locally manufacturing in investment zones. Nano technologies with local manufacturing at techno park in Turkey. We have a strong pipeline in reference to University and industry R&D partnership with strategic collaboration for innovations with patented products where we are entitled exclusively commercialize globally. Our solutions are delightfully enriched with internationally affiliated technology companies mainly established in UK, United States of America, Canada, United Arab Emirates, Israel, Italy and Germany to serve tailor made solutions to our clients especially in emerging markets.
How do you ensure a culture of integrity and innovation at Essential Evolution?
Integrity and innovation are in the core DNA of our organization. I believe it is an important key element for success as well. As the founder of the company, I was senior leader in High Tech global organizations such as Johnson and Johnson, Philips and Medtronic where Innovation was in the heart of the corporate culture and we were almost chosen every year as the most innovative companies in the world. Naturally I embraced and adopted this mindset in our newly established new company. Moreover, I was the Vice President of Ethics, Reputation & Compliance association for many years where integrity is the ultimate requirement in any business transaction. Therefore, corporate life experience and my nature brought those elements into life. Briefly "We walk the talk".
Essential Evolution specializes in AI and Bio Science. Tell us your story and your own view how has the industry changed over the years?
The new era is composed of AI-Tech and Bio-Science Technologies. After studying AI at Harvard and IoT at Colombia, I have seen the magnificent wave of AI technologies and decided to be an entrepreneur. I established an AI Technology company in İstanbul and New York where I am also in global angel investment network as an investor as well.
We have established two companies; Essential Evolutions is focusing on AI and InfiniTech is dedicated to Bio-Science Technologies with Antimicrobial, Anti-Viral Smart Textile and wearables with sensors with university collaboration, which gained more momentum and became the excellent solution for COVID-19 pandemic challenge where we have global partnerships growing tremendously with success.
In reference to AI in Healthcare; it is touching every sphere of our lives, its impact is truly life-changing. Public and private sector investment in healthcare is expected to reach $ 6.6 billion by 2021, encompassing areas such as healthcare, clinical research, drug development and insurance. AI will definitely prove useful in simplifying clinical decisions especially in the area of radiology. Through imitation of human cognitive functions, it enhances the sector's availability of both, structured such as image, genetic and electrophysiological data and unstructured data such as clinical notes and medical journals and also analytical techniques through deep machine learning and natural language processing (NLP), respectively.
As a technology professional, tell us about your vision for the company
We are committed to contribute to the evolution of individuals, academicians, executives, investors, start up's technology companies, corporates, institutions, governments, all related key decision maker stakeholders who are inspired by our technology offerings in order to be in line with new era requirements in AI Tech and Bio Science areas.
What marked the beginning of your career? What do you regard as your greatest achievements?
I started as sales rep at Johnson & Johnson in Cincinnati in USA and the first day I was back to home, I participated my first live scrubbed surgical case in operating theatre. At that time, I decided and told myself that I will be general manager of a multinational company in my day. So, I realized my dream at a very early age and become a GM as I planned in my mind. I continued to visualize my dreams and saw it come true. Achievement is not become a GM and or CEO of a company. Biggest achievement is experiencing that all our dreams are becoming real. Following our dreams with passion is key for success.
As the CEO of Essential Evolution, what are your major roles and responsibilities? Also tell us what inspires you and your employees to innovate?
The most meaningful part of being recognized a successful woman CEO who is also the mother of two talented young children is a light for others and I enjoy being an inspirational role model for young generations and encourage them to realize their dreams regardless of the barriers in business life.
What is your message to the aspiring businesswomen?
My key message is to businesswomen to be your "Authentic True-SELF". There are billions of people on earth and each one of them have different finger-print unique to themselves. No one is identical. Find your own rhythm and pace. Once you discover your life purpose, passion, mission and then let yourself fulfill your dreams and aim "To be The Best Version of Yourself."
What does the roadmap of Essential Evolution look like, for the future? What are your goals for the next few years and how does Essential Evolution plan to extend its services, globally?
We already exist in USA and aim to extend our operations in Europe and Middle east countries. Our goal is to be the First unicorn from the country in the Era of AI-Tech and Bio Science, Antimicrobial & Anti Viral Smart Textile. We want to fulfill our purpose and our passion wholeheartedly in the most respectful, technically, clinically and financially successful way. We want to become admirable and inspirational role model for humanity to showcase what is really possible once you realize that you are in quantum field. Everything is possible!