MassMailer: Send Unlimited Emails to Unlimited Contacts in Salesforce CRM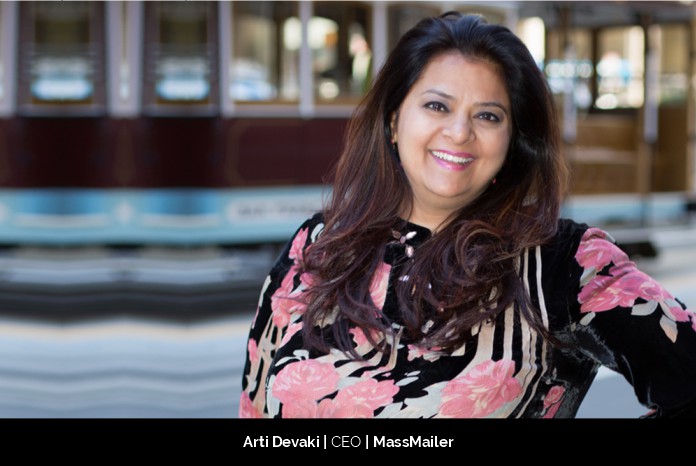 In 2012, a forward-thinking entrepreneurs, Siva Devaki and Arti Devaki were, looking for a solution to bypass the email limitations in Salesforce CRM. After realizing that there is no native solution available in the market to comprehend their needs, the team decided to build their very own solution, and took place the birth of MassMailer. What started as an in-house email solutions has, since then, turned into a suite of marketing & sales development products serving hundreds of clients around the globe. Today, MassMailer is native email marketing solution for Salesforce CRM that lets Salesforce CRM users send unlimited emails to unlimited contacts.
The beginning
MassMailer was originally part of Mansa Systems, which was a consulting firm focused on Salesforce Implementation Services. Getting the right brand value for a product company is very important and MassMailer was not able to get the brand name just because it was just an app under another IT services company. So, Siva and Arti decided to split the product and form a brand new entity called, MassMailer, Inc which worked out really well. "We were quickly able to go to market with the brand name MassMailer and customers were able to receive us and respect the product brand. Now, we have several thousand users using the app and growing day by day," Siva shares.
Ease of use
MassMailer is simple, easy to use wizard that extends the capabilities and limits of Salesforce's mass mailing functions. With MassMailer's Salesforce friendly interface, users can send unlimited emails without any daily or batch limits of Salesforce. It enables clients to send emails to their campaign members, leads, contacts, person accounts, or opportunity contact roles all together from within Salesforce, thus, saving their time and effort.
Some of MassMailer's features include:
Build Emails In a Snap: With MassMailer's Email Wizard and the Template Builder, users don't have to be an HTML expert to create stunning, professional emails – in fact, they don't even need to know how to code at all. MassMailer's Email Wizard is simple to use and has a Salesforce-friendly interface that users feel comfortable using right out of the gate. It allows the users to create emails, send them immediately, or schedule them to launch at a later date and time. With MassMailer, everyone has the power.
Salesforce Campaigns: With MassMailer, users can build and send emails to their campaign members, contacts and leads, clone and modify past campaigns to create new ones, and review campaign statistics from within Salesforce. MassMailer makes it easy to manage Salesforce campaigns and saves everyone's time and effort.
Monitor Results: MassMailer's email reporting allows users to track the success of the emails that they send. It also makes easy for the users to measure the performance of their emails with accurate and detailed statistics, including the open rate, click-through rate, bounces, spam reports, unsubscribes, and more.
Optimize Emails: What else? Users can save and edit email templates on Salesforce when using MassMailer. By monitoring the performance of their email templates, they can optimize their past templates to improve results and avoid creating the same template more than once.
Furthermore, these are just a few of the features that MassMailer provides. The endless list of the innovative features truly makes MassMailer, the best in the business.
The trailblazing duo
Siva, the co-CEO of MassMailer is responsible for the overall company and the product strategy. Siva's background was IT from the beginning of his career. He worked in the Enterprise Application Software and Solutions before founding his company. Owing to his experience in the CRM and ERP systems, Siva was able to understand the customer problems really well and articulate those problems into a solution. "I have always been a product guy at heart so I quickly tried to map the repeated problems customers are facing into a product solution. We initially developed MassMailer for internal purposes but very soon, I realized the potential it has and how other customers can benefit so I made it as a product and launched it to the Salesforce ecosystem," Siva adds.
Arti Devaki is the CEO of the company and responsible for the Company strategy and the Business Development. Arti's background is mainly in Sales, Marketing, and Business Development. It was Arti's vision to separate MassMailer as a product company and create a brand out of it. Arti's management skills have helped the company streamline the internal operations and grow rapidly.
A few good words always inspire to work more and better
MassMailer overcomes a lot of Salesforce's inherent limitations. Crucially, it was a simple fix to dealing with the daily email count limits that prevent Salesforce from being a true CRM (which Salesforce rarely mentions). – Trevor Pittman, Converse College
MassMailer is a great program that has allowed our company to increase revenues by 30-40% since starting working with the program. We can segment our candidates and clients for effortless mass e-mail campaigns. – Scott Schumaier, Source Medical, LLC
MassMailer gave us those tools, at a very reasonable price compared to other options out there. We were able to easily train our reps to send their own blasts, and collect the metrics. – Matt Terres, Gopher Sport
On a mission to be the best in the business for Salesforce customers
MassMailer's vision is to be a simple email solution for Salesforce customers with no unnecessary and expensive bells and whistles. Moreover, the platform is adding many exciting and simple features for both marketing and transactional emails for Salesforce CRM users and utilize the power for Salesforce CRM to achieve the business goals. Even a sophisticated user also can benefit from a simple app like MassMailer without having to buy an expensive marketing automation solution. MassMailer is rolling out very exciting features such as Drip Campaigns, File Attachments, Custom Object support, Workflow Email Alerts etc all native to Salesforce CRM which makes it easy for the users. One can expect MassMailer to be a renowned email solution provider across globe very soon.