Alexandra Gonzalez: What it Means to be a Savvy Marketer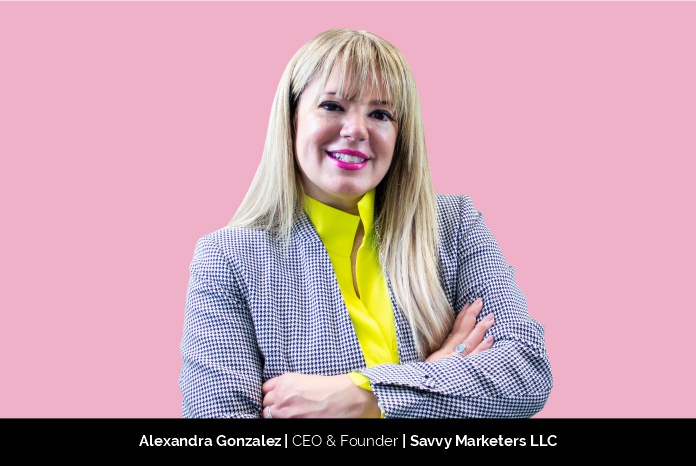 "Looking back 9 years, I ask myself 'would I have done it any differently? Taking this big career risk in my 30s to do this?' Guess what? I would do it again in a second!'" As a marketer and entrepreneur, Alexandra Michelle Gonzalez, founder and CEO of Savvy Marketers, is no stranger to taking risks. When Alexandra decided to leave the corporate world behind after the birth of her premature twins to start her own company, she also left behind great salaries, bonuses, and stock to start something from scratch. Her journey was entirely self-funded, with no help from banks, meaning each step of the way was another challenge to face, and risk to take. She knew that her global marketing and strategic expertise would help many companies turn challenges into opportunities. That is why she decided to follow this path of becoming an entrepreneur.
Alexandra believes in the importance of putting your heart, mind, and soul into everything you do and putting your best foot forward not only for clients and employees, but for your family and community as well. Success is a journey, not a destination, and the journey of Alexandra has been remarkable.
History of Company
When Alexandra decided to start Savvy Marketers, she had been a marketer for over 20 years. She worked for some of the best companies globally and was responsible for managing several iconic brands around the world, including spending over a decade with companies like Johnson & Johnson. Her journey as a marketer began once she graduated college and she gained marketing experience in various industries including banking, food, consumer packaged goods, healthcare, and private equity. All the different roles she had in every industry provided her the opportunity to travel around the world, build a network, and expand her global marketing capabilities and skillsets.
After living in many countries and spending almost 80% of her time traveling across the world, Alexandra and her husband decided it was time to have children. This is where her marketing journey would be transformed. When her firstborn daughter was 14 months old, she found out she was pregnant with identical twins. At the end of her first trimester, the doctors discovered that one of her twin girls was significantly smaller than the other one and she was told by all of her doctors to consider abortion. Obviously, that was not an option for Alexandra and she was prepared to do everything she could to fight for her babies. If she didn't fight for them, who would?
After a long battle fighting for her twins, who were born prematurely surrounded by 18 doctors in the OR, she saw that they were small, but healthy. She watched the strength and resiliency of her newborn babies in the NICU and found an inner strength she did not know she had, and therefore a bigger sense of purpose. That was when she decided to take the biggest professional risk of her life, and become an entrepreneur. She recognized an opportunity to take her global expertise and years of experience, and put those skillsets to use for others. When sharing this idea with her husband he asked, "If you do it, what would you name your company?" She responded with two words: "Savvy Marketers."
She realized she had always been a savvy marketer herself. Never taking no for an answer, being inquisitive by constantly asking what we could improve on to better serve consumers, and looking for new and innovative ways to engage and connect with them is part of the foundation she built Savvy Marketers on. The experience and value she has brought to clients, building a team that has become her extended family, all while helping companies, small businesses, women entrepreneurs, and the community, has left Alexandra with no regrets.
Redefining Marketing
Savvy Marketers is all about being creative, innovative, strategic, and challenging the status quo. That is what it takes to be a Savvy Marketer. The company is a global marketing boutique firm who pairs cutting-edge technology with transformative marketing services to fill every need a client might bring to them. Their offices are outfitted with over 15 unique services and offerings including: Strategy & Go-To Market Solutions across every step of the Consumer/Customer Journey, Brand Development, In-Depth Consumer Understanding via Multi-Dimensional Market Research leveraging Biometrics & Sentiment Analysis, Global Trends and Best-In-Class Modern Training & Development. They also help clients strategize, design, and innovate with their consumers and brands in mind via Design Thinking & Experience Design. They are focused on putting themselves in the shoes of their clients and helping them identify and come up with the right strategies and go-to market solutions to help businesses thrive in an agile way. They look to unlock that "eureka moment," to identify an insight and an opportunity their clients can capitalize on to make an impact.
According to Alexandra, "traditional marketing is passé." In order to transform your business, you must truly understand your target consumer at a deeper level, which means going beyond traditional market research into Multi-Dimensional Market Research in a groundbreaking way. "Consumers are constantly evolving, and since the pandemic, we have seen a significant shift on what consumers expect from brands, how they engage with them across every step of their decision journey, and more importantly, how they buy," says Alexandra. This is where they leverage neuroscience through proprietary AI technology to uncover what consumers feel beyond spoken words, with tone of voice, facial recognition, and eye tracking. They utilize this proprietary technology because 55% of emotions come from facial expressions or gestures, 35% from tone of voice and 7% from words. Therefore, if you are gathering what people say, you are not fully understanding how they truly feel. In addition, they recognize the importance of understanding how consumers navigate online and what is important and relevant for them to make a purchase.
Savvy Marketers is focused on helping clients make smarter strategic decisions by being more consumer centric, and doing it in an agile way. Alexandra sees her company as not only being savvy marketers themselves, but helping their clients become savvier as well. They look at how they can go beyond just their services to help clients become better at what they do. They help through custom Modern Learning Trainings & Innovation Bootcamps, which are tailored and designed with their clients' teams and brand goals in mind to enhance their capabilities and competencies in a modern and more effective way. With face-to-face or virtual bootcamps, they provide clients the ability to ideate, innovate, and co-create all over the globe.
They are also Stanford certified Design Thinkers, which allows them to uncover what problems their clients need to solve and come up with creative human-centered solutions to solve them. They do this by identifying where their clients can win by discovering deep consumer needs, market gaps, and white space opportunities that will help them come up with the game plan of where and how their brands can win. Design Thinking is a process for creative problem solving that helps uncover deep consumer truths via empathizing, defining, ideating, prototyping, and testing ideas. This is done through experience design, which is crucial to managing a business, brand, or launching a new product or service successfully in the market.
All of this is made possible with a team of more than just marketers. They have Coders, Designers, Animators, Storytellers, Strategists, Data Scientists, Researchers, Social Media and E-Commerce Experts, all who help their clients every step of their journey. This may include developing Strategy and Go-To Market Plans, Brand Footprints, Design & Packaging Development, New Product Innovation, UX Design for Websites and App Development, as well as Storytelling Presentations and Videos. They work with their clients to bring ideas and strategic solutions to life, and everything they design and create for their clients is ultimately owned by the client. Internally, they focus on doing everything they can to help their clients be successful and they use the saying amongst their team that "If it's not a masterpiece, it's not Savvy". The Savvy team takes pride in their work and over-delivering with an attention to detail and personalized services that each of their clients, no matter their size, deserve.
Calculated Risks
Alexandra would not be where she is today without taking risks. She is not afraid to take calculated risks or have a big picture mindset after looking at a problem, analyzing the cause and effect of her decisions, and coming up with solutions from different perspectives. Taking risks is a quality she and her team share and by removing the "Im" from the word "Impossible," it allows them to focus on the possibilities.
Savvy Marketers was started out of her own home office over 9 years ago, and she waited for the right time, almost 3 years, to open offices. She envisioned having a Google-type office for marketers and to have a fantastic space for her team and clients to work, feel creative, and be inspired to innovate. Every piece of furniture and color needed to be researched and carefully selected to serve a specific purpose; igniting creativity and innovation to help think outside of the box. These offices needed to help employees, clients, and their consumers think differently. Three years after opening her first office, she moved into an 8,000 square foot facility in Princeton, New Jersey, where they have 10 state of the art Innovation Labs.
Investing in new technology is not only a constant thing, but it is also what keeps Savvy Marketers constantly innovating and setting themselves apart from other firms. Today, it is critical for what they do to stay on top of trends and think ahead, and Alexandra is not afraid of investing in client needs. She believes that when their clients are successful, that is when the company is successful. That is what led her to decide she was going to offer 3D printing, despite not having any knowledge of it. There was an opportunity and she recognized the money-saving potential it could have if their clients were designing a new package, product, or service and they could create a prototype and test it. By investing in technology like 3D Printing or AI, they give clients a higher value and when clients see a company go above and beyond, they always come back.
On top of being resilient, relentless, and savvy, Savvy Marketers believes in making a difference in the world, so they work with clients who are aligned with their values. This means not working in the tobacco industry, alcohol industry, or with any company causing harm to the environment. While helping their clients, the company strives to always make the world a better place. Although Alexandra knows what makes consumers tick, it has never been about money for her. She wants to be able to sleep well at night knowing that she, and her team, are doing their part in making the world a better place. She desires to build a legacy and wants to look back one day and say that she would not have done it any other way.
Alexandra believes in being meticulous about what they offer and always doing the right thing, especially when no one is watching. She stresses the importance of not taking the easy way out, especially when something is difficult, and that challenges are inevitable. She does this while always having the mindset that anything is possible if you work hard and put your mind, heart, and soul across everything you do.
Life of the CEO
Alexandra is responsible for the company, their reputation, and setting them apart from everybody else. Diversity and inclusion are celebrated, not just related to gender and ethnicity, but diversity in the backgrounds, thoughts, and experiences of the people she hires. She is backed by a great team with outstanding talent, who love what they do. There is an open-door policy that promotes open dialogue and the sharing of ideas. She encourages her team to challenge and question ideas and decisions because collaboration and the difference of ideas and opinions help them become better at what they do for their clients. As a leader, she does not want them to simply listen and always go with her ideas. She wants them to always be a part of the creative process across everything they do as a company.
Alexandra recognizes the importance of continuing to learn and self-improve. She says that "Every day we have to learn something new, because if not, how can we continue to add value and stay ahead?" She is always enrolling in new programs and believes that each person can learn something new every day. If somebody assumes they know everything, they are missing out on what life is trying to teach, she explains. She views learning as a way to not only help herself thrive, but her employees and clients as well.
She equates her role to being in an airport control tower. Her clients are the pilots of their own planes, and her focus is to serve as a guiding voice in the control tower, helping them flawlessly navigate their pathway forward, and helping them land and achieve their goals successfully. She thinks of her and her team as the ones monitoring the weather conditions, whether there are other planes near them, and seeing the bigger picture of what could impact their plans and their journey to where they want to be.
When asked to describe herself in one word, she says "savvy". Being savvy is being a relentless innovator and always seeking new ways of doing things. As a trailblazer, she leads her team by challenging them to break from their comfort zones to help clients think bigger, bolder, and better.
The Best Recognition
Savvy Marketers has won many awards for their work including: 2018 Bronze Stevie Award Winner for Best Small Female Owned Business, 2019 Gold Communicator Award in Global Trends & Advanced Analytics, 2020 Platinum AVA Digital Awards winner for Innovation in Digital, and recognized in 2021 by INSIGHTSUCCESS™ as one of the Top 5 Most Disruptive Companies at the Forefront of Innovation. They also have certifications as a Small Minority Business including: Women's Business Enterprise National Council (WBENC), Small Business Enterprise (SBE), Female and Minority Small Business Owner, certified in Design Thinking by Stanford University, certified in AGILE by MIT, and are a member of the Internet of Things Consortium (IoTC). The recognition that both Alexandra as an entrepreneur, and Savvy Marketers as a company have received has led her to describe it as a humbling experience that inspires her to take things to the next level.
Despite the numerous awards and recognition as a female minority owned company, Alexandra describes how the best recognition came from her daughters. When she first opened offices, they had a grand opening where clients and friends gathered to celebrate. Her daughters were in attendance and when they saw what their mother had accomplished, they looked up and told her how proud they were and how she had taught them that they can accomplish anything. Alexandra says that having a team of peers recognize you is wonderful, but having the recognition from your husband, children, and family who have supported her every step of the way, means the world to her. She hopes to continue to not only inspire her daughters, but other women and little girls everywhere.
Finding the Right Balance
Alexandra truly loves waking up each day, knowing she is doing what she loves. She loves her job, the clients she works with, the brands they represent, and she believes her team feels the same way. She does not have set hours each day that she is working and specific hours she spends with family. She explains that as she spends time working, time with family, and time for herself, she always strives for quality over quantity. Even if it is just a little bit of time that she has with her family one day, she makes sure it is quality time instead of quantity of time. Some days she needs to work more, and some days she needs to take time for herself to recharge. No matter where she is spending her time, she finds a balance by working smarter and savvier.
To keep her going, she keeps inspirational quotes visible around her office. When she is having a tough or stressful day, she finds motivation in the quote "She believed she could, so she did."
Alexandra always sees the glass half full, finding and embracing the positives, even in difficult situations. She believes that everyone faces challenges, but what keeps her and her team going is knowing that they can do it, so they never give up. She explains how if you only focus on the negative, you miss the bigger picture because there is always a silver lining.
Planning for the Future
Alexandra plans to continue to grow and expand Savvy Marketers in the years to come. She believes taking smart risks, making smart investments, and continuing to innovate is how she got to where she is, so she is not afraid to keep doing that as she continues to grow the company. Right now, the headquarters is located in Princeton, New Jersey, and she sees it as a possibility to expand and have offices in other locations across the world.
She also wants to continue to grow personally, and help more companies. Last year, she had a goal to launch a podcast, which she has successfully done where she tries to inspire others by sharing trends, tips, and helping others become better marketers. Others have suggested to her that she write a book, which she says is a possibility in the future. "Maybe someday."
Alexandra's advice to aspiring entrepreneurs is to find what makes you different by understanding why your business proposition is better or different than what is already out there in the market. Make sure your offerings are brought to life in a way that makes them meaningful and relatable to your target audience, and ensure that your business is guided by a mission and purpose that is not only placed on a piece of paper, but is lived every single day. She describes how it is important to stay ahead and think about everything you could experience, so you can be proactive rather than reactive.
Alexandra's entrepreneurial journey has allowed her to achieve this success and she is looking forward to how her journey will continue to evolve in the future. She is always looking ahead towards how to grow and better serve clients and seeing every day as a page to be written, filled with endless possibilities.