Joleen Amos: Unravelling the Marketing tactics with No Boundaries Marketing Group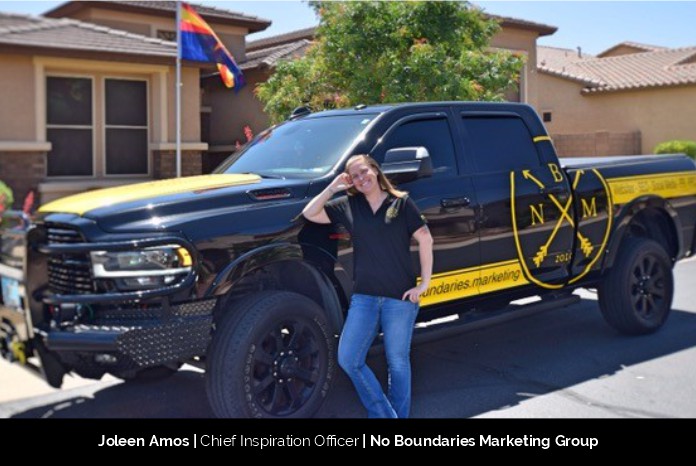 People having a happy and wholesome quality of life have a unique approach in life. This makes the definition of success different for everyone. Joleen Amos, Chief Inspiration Officer of No Boundaries Marketing Group also holds a different approach to attaining success in life. She says, "As a small business owner, my success comes from a satisfied customer. It comes from a work-life balance. It comes from doing what I love and having a true passion for helping others. I work to achieve success every single day, one client at a time."
Inspiration behind achieving success
With an overwhelming desire to do more and deliver the best to clients, Joleen desired to make a mark in the industry with her business. Where other corporate marketing settings prefer profits above service, she wished to create impact by exceeding the client's expectation. She adds, "I wanted more. I always felt there was another way. After all, it was me that these clients were purchasing from. I was the face of the organization. They put their trust in me that I was able to honor my commitment and fulfill the expectations that I was setting. At the end of the day, I was accountable should something go wrong, it was me that they would see in the neighborhood grocery store."
Her responsible self pledged to guarantee all the perfect services and do her best to avoid these pitfalls and eliminate barriers to service. She shares, "I vowed to always go the extra mile for customers and provide a transparent service-based model. Hence in 2019, after years of planning, I decided it was time to break free and I have never looked back since."
Impediments on the way
Being a bold leader who takes challenges and failures as opportunities for future success, she feels it is crucial to learn the art of handling challenges and ultimately shaping the organization for the future.
Her early challenge was her reluctance to accept that she was unable to handle everything on her own. From Monday meeting discussions to spending time in all sorts of activities, she realized that her people and clients needed her time extensively. She then, consulted with business coaches, outsourced various tasks, brought on additional resources keeping in mind her success vision so that she could find a solution to tackle other things so that their growth stays unaffected.
Overview of No Boundaries Marketing Group
No Boundaries Marketing Group is an amalgamation of a plethora of digital marketing and advertising solutions that are best-suited to cater to the needs of small to medium sized businesses across the country. Joleen shares, "Our goal was to provide a synergy of services that worked together, providing clients with transparent and measurable results."
They render numerous services such as Public Relations, Brand Development, Website Development, Search Engine Optimization, Social Media Optimization, Consulting, Pay-Per-Click Advertising etc.
To keep the service provision at par, they regularly evaluate their services and the value they generate for all customers. It helps them stay on top always. Further, Joleen shares, "We make time every month for continuing education to keep our staff ahead of the competition and abreast of new industry trends, but more importantly, we meet regularly to our clients about what we can do to help grow their business."
Proven strategies that paved Success
There are a myriad of strategies that have helped the company achieve exponential growth. All of them are described below:
Investing in internal staff: With the help of regular training and development opportunities, the staff has started delivering the best service to the clients at all times.
Improved technology: For transparent and measurable results, many technology platforms and partners come into existence. She says, "We implemented dozens of systems to measure, analyze, and provide valuable feedback on a variety of data points, all designed to ensure we are providing the very best service to our client.
Investing in Company: Implementation of different tools as well as resources help in maintaining a seamless end-to-end process from customer service to project management. The unified company systems ease this job significantly, making them super effective.
Life before and After No Boundaries Marketing Group
Joleen has a rich experience in the marketing and advertising industry for over a decade. She understands the satisfaction of earning a referral from her existing client. This tells her that she is moving forth on the right path and her clients acknowledge it.
As the Chief Inspiration Officer, she has a huge responsibility of providing inspiration. This inspiration is both for staff to impart world-class service and for clients to boost their business growth. She says, "Because we meet with clients on a regular basis, I am working hand-in-hand on a daily basis with our various teams, ensuring they have the tools, resources, and knowledge to 'wow' our clients! Before or after hours, I am handling the not so sexy side of the business such the various accounting and administrative tasks that need to be handled. There is no such thing as a 9 – 5!"
Obtaining a work life balance may be hard but it is the true essence of happiness. Although there are many uncontrollable factors from time to time, self-reflection is the key to put things into perspective. She adds, "It reminds me why I do what I do each and every day and even motivates me to want to do more, to give more!" She keeps her weekends strictly for her detox from technology and full-time with family where her husband acts as a strong anchor along with her six dachshunds who love going outdoors, riding bikes, and enjoying nature!
Future Roadmap
The company goals are quite simple: growing the client base and staff responsibly and for that they are focussing on excellent strategies such as building a massive online presence, proffering additional educational tools and resources to local businesses.
Joleen has a personal goal as a business leader where she trains future marketing leaders. Not just this, she even plans to start an internship program for marketing students to learn business practically. In the long run, she wants the interns to learn what it really means to market for a business and hear the needs of the business community.
She has a strong message to all aspiring business leaders, "Do right by your clients and you will be rewarded. Not once, but every time."