Mario M. Martinez Jr.: The Modern Sales Evangelist, Redefining Sales Prospecting and Buyer Engagement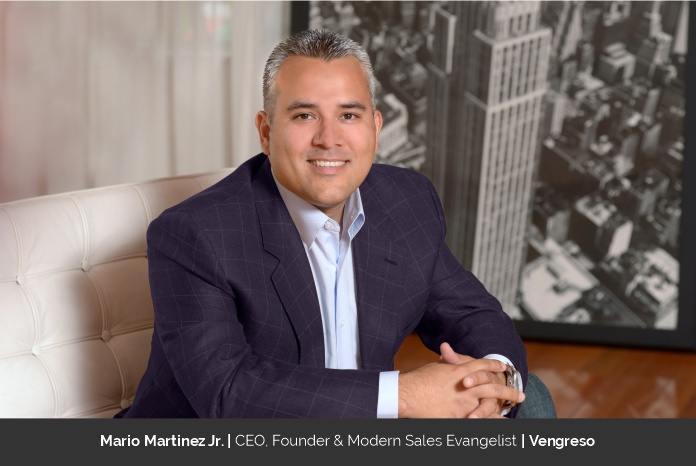 Mario Martinez, Jr. is without question, one of the sales industry's most influential voices in B2B selling. Known as the Modern Sales Evangelist, his innovative sales strategies and frameworks have singlehandedly redefined how thousands within the world's largest companies approach and master the art of modern selling to today's modern buyer.
Today, Mario is the CEO and Founder of Vengreso, the world's largest digital sales training and technology company, serving over 1,050 companies, the likes of Juniper Networks, Proofpoint, and even the world's global provider of vanilla extract, Virginia Dare. With Vengreso's impressive digital sales training suite, they empower sales leaders, sales teams, and business owners with the strategies, tools, and systems they need to book more meetings and keep their sales pipelines overflowing.
Because the modern buyer today is digitally connected, socially engaged, mobile attached, and video hungry, "Vengreso's focus is helping the sales community of B2B sellers, professional business owners and entrepreneurs to find, engage, connect and create more sales conversations through digital sales skills development and technology," Mario explains.
That's why when multinational Fortune 1000 companies, or the individual business owner and entrepreneur are looking for highly effective ways to engage the modern buyer with unique digital sales prospecting techniques, like video selling and social selling, they come to Vengreso. One such company was Miller Heiman Group – the iconic and legendary sales training company – who hired Vengreso in to train their sales staff, marking the first time in their 40-year history that Miller Heiman Group hired an outside sales training company. But, that's just one of a number of accomplishments that Vengreso has been able to achieve under Mario's leadership. As three-time Stevie Award winners, their digital sales prospecting courses are responsible for helping generate millions in new sales pipeline and closed won deals. As a result of Vengreso's clients utilizing the specific digital sales prospecting strategies, sales messaging framework (The PVC Sales Methodology), and sales productivity technology (FlyMSG.io) they have been able to maintain a 95% met, exceeded, or far exceeded recommendation rate for their programs across all sellers they have serviced.
Now, let's dive deeper into the full story of who Mario Martinez Jr. is and what compelled him to start Vengreso.
Vengreso's Unique Founder's Story
Raised from humble beginnings, the son of working-class Latino parents, Mario paid his way through college at the University of California, Berkeley and later as a transfer to St. Mary's College of CA.  Starting as a photo finisher for Ritz Camera Centers, he was introduced to sales almost by accident, when the company's District Manager noticed something rather 'odd' about Mario's sales numbers as a photo finisher. Despite not 'technically' serving as a sales associate, Mario was able to  "help" customers using a tailored sales technique that he created, which helped him generate more sales than sales associates at larger stores who were in full-time roles. It is because of his innate sales prowess combined with the ability to help buyers that Mario went on to secure a role as a telemarketer (now called SDR or BDR) with Premenos, a then EDI software company, and later propelled him to become an Account Executive, making 6-figures, at just 22 years old.
Fast forward to 2016. After having worked 18 years in a corporate sales environment, Mario accumulated incredible insights into how sales organizations were approaching B2B marketing and sales. Before starting Vengreso, Mario was the RVP of Sales at a software collaboration company. In this role, he noticed that the organization consistently struggled to engage with customers to drive more sales conversations and increase their pipeline. This was making it rather difficult for the company to stand out in the already saturated and uber competitive marketplace. At the time, the sales prospecting tactics they were using involved many outdated and traditional means such as cold calls, email "spray and pray", or even older fashioned, knocking on doors at local business parks. But Mario recognized a problem and engineered a modern cutting-edge digital sales solution.
"We had to think differently," Mario says. "So, for our 120 U.S. sellers and 350-member global sales team, I created a digital sales program within the organization." This innovative training program introduced social selling and video selling to the sales team which would later form an entire digital sales curriculum. "We were able to drive 100 percent sales rep adoption and 100 percent of our reps added at least one sales opportunity (closed-won, closed-lost, or open pipeline) with social selling and video selling," Mario adds. 
With impressive rates of adoption (unheard of at the time), the company's sellers were able to increase deal flow while also being one of the first to leverage an all-encompassing digital sales program (aka modern selling). They leveraged social selling techniques on professional platforms such as LinkedIn and video selling using the companies homegrown video selling software. Mario's program, techniques and results were so industry-changing at the time, that he was invited in 2015 to speak at LinkedIn's annual users conference. If brand equity looked like a straight-line walking into this speech – at one of the world's most well-known social media companies – it turned into a hockey stick thereafter.
Less than three months after his speech, Mario found himself faced with a tough decision. The company was downsizing and his vision of what his career would look like in the future was less than ideal. So, the company provided a severance package and Mario was on his way to figure out his next career adventure. Little did Mario know, however, on the day of his departure from that company, his then five-year-old son, had already mapped out Mario's next career move and a solution to find a job. His advice was all based on seeing his dad (Mario) speak at LinkedIn's annual users conference.
One day following that conversation with his then five-year-old son, Mario was inspired to pen the blog, "Dad, you said LinkedIn Would Make You Money".
The blog was published on LinkedIn and was wildly successful being read by thousands of people, resulting in Mario receiving a personalized request to provide digital sales training and consulting services for two Fortune 100 companies within 9 days of publishing that blog. Three weeks later Mario formed his first company ever, M3Jr Growth Strategies.
And, nine months after writing the blog, he was considered a top sales influencer. As he continued to consult with some of the world's largest sales organizations, Mario's big business thinking combined with his industry influence, brought on many sleepless nights. With decades of sales industry knowledge and having served as a real-world practitioner, Mario turned his time, attention, and energy into figuring out how he could scale his business to help so many more clients and sellers around the globe. With his sights set on MORE, Mario orchestrated a 7-way multi-company business roll-up. to create one entity – Vengreso.
The Birth of Vengreso – From Idea to Implementation
The road to success for Vengreso has been fast, but not without its unique challenges. Vengreso started with Mario's vision of wanting to help the industry shift away from the archaic "spray and pray" sales prospecting methods, to more intentional, highly sophisticated, and personalized engagement leveraging the omni-channel, including social and video selling. With his eyes set on that goal, Mario approached other top digital sales and social media influencers from around the world and asked them a single, yet powerful question: What if you could create the world's largest digital sales training company, would you try to?
When six other entrepreneurs said yes, the path was created to redefine sales prospecting training forever. Vengreso is the combination of the Spanish words: 'ventas' (sales) and 'ingresos' (revenue) and with the merger of those 7 highly successful sales and marketing agencies, Vengreso's market domination was born in April 2017.
Since then, Mario (and his work with Vengreso) has been featured in the Salesforce documentary film, "The Story of Sales" where he coined the phrase "sales is the art of helping" and included in the new best-selling Wall Street Journal book, Human Centered Communication, where Mario co-authored a chapter. The company has won three Gold Stevie Awards for its sales prospecting training, its implementation process and its famous PVC Sales Methodology, a sales messaging framework for prospecting.
However, Vengreso's reach has as much breadth as it has depth, with the company branching out from digital sales training to sales productivity technology. In August 2020 Vengreso launched a timesaving, text expander SaaS application called FlyMSG – which has now accumulated over 3000 active users. Think automated speed writing for every occasion and any position. FlyMSG has been proven to save sales and non-sales professionals at least an hour a day from having to type and retype repetitive messages. Instead, with FlyMSG – sales teams can quickly populate standardized messages using "short codes" which instantly recall stored message templates, they call them FlyCuts. This free Chrome plugin alone is saving sales teams and business professionals a considerable amount of time, while also dramatically improving productivity.
The best part about FlyMSG and his vision… the number of use cases has spread beyond the sales team. They have expanded into Customer Success, Marketing, HR, Finance, the food industry and even online digital pharmacies.
New Business Risks and Unforeseen Challenges
As with any Founder – especially one with six other business partners – starting a business can be very challenging. When he started Vengreso, Mario was the breadwinner for his family, and launching a new business wasn't without financial uncertainty that had to be considered. "Many times, things did not go according to plan", Mario says. "But the risk is what made it such a unique and special time."
Navigating the complex structure of the business, with seven different founders, seven different personalities, and seven different ways of approaching business was yet another beast Mario had to tackle. "People were passionate that their way was the right way, and their way needed to be the way to go," Mario says. 
When forming a company, decisions are made through consensus, however, there is also the need for someone who can take command. "Some people cannot work in the command environment," Mario adds. "Some people want to do everything by consensus, but that method has its barriers. At times, consensus drove us to delay making decisions." The challenge soon became how to balance consensus thinking versus ultimately rolling out those decisions that others may not like or did not want.
Coupled with that, the complexities of bringing each company's IP (intellectual property) together. "When you are bringing together IP-like training material, you have your way, and I have my way. You think your way is the right way, and I think my way is the best. And that proved to be extremely difficult trying to get people to agree on what plan of action to move forward with," Mario says. "It took about a year of work to get pen to paper and finalize the IP development for sales prospecting training." 
Merging seven of the most influential sales training brands, including world renowned LinkedIn Expert, Viveka von Rosen and her company, Linked Into Business (still a co-founder to this day), did pay off tremendously. "Despite the challenges, we brought together some major big brands that were influencers in the marketplace, which gave Vengreso amazing visibility from day one. That allowed us to win incredible sales awards and recognition for our innovative sales training courses much faster than it would any other regular merger," Mario explains. 
Vengreso's Unique Approach
When Vengreso hit the market, they introduced a highly unique approach to sales training that had rarely been offered up until that point. Their virtual instructor-led training (VILT) strategy was something that Mario was adamant about creating because of the remote work flexibility it provided to his staff and due to the waning performance of in-person sales training. "I realized that we needed to do something very different. I started to look at the neuroscience of how people learn," Mario says.
"Take for example when you study a course in college. You do that for a period of three or a maximum of four months. Over this learning period, you have multiple learning engagement options – textbooks, self-paced, live instruction, and then you have office hours. That is the formula of how we learn in colleges and universities." Providing multiple learning touchpoints has been a staple model in higher education for centuries. However, traditional sales training usually only provides one or two days of in-person training, before pushing sales reps out into the field to 'figure it out.' In the end he says, "everybody was pumped from the two-day event but the very next day, sellers did exactly what they were used to doing."
"In reality, if you want to change behavior, or if you want to master a subject, you need to do it in short increments over a course of time. That is what we brought to the market by introducing the VILT strategy. Our live training courses are approximately an hour to two hours per week, ranging from eight weeks to 11 weeks. Data shows that if you are working on a subject for 62 days for an hour per week, 85% of learning participants will actually begin to remember and change their behavior." 
Despite the science behind the method, before the 2020 COVID-19 pandemic, the VILT strategy was slow to be adopted as many sales organizations still preferred the less effective in-person sales training approach. However, in the Spring of 2020, with the widespread shutdowns and an immediate need to shift to an online learning modality, Vengreso's digital sales prospecting training and technology suite became an instant win-win. Sales leaders needed a way to help sellers better engage with buyers in a digital online format and a way to do it through a virtual sales training. In addition, Vengreso launched an on-demand only version of its training curriculum for the small business sales teams, entrepreneurs, and solopreneurs. All of which has catapulted Vengreso to become the preferred digital sales training provider for many of the top Fortune 2000 companies worldwide.
The Key to Achieving Global Success
Success, according to Mario, is derived from a collection of four interconnected elements. From his unique leadership perspective, success is defined when your company is hitting its goals, employees are engaged and enjoy the work that they do, customers are proud to do business with you, and you have ample time to spend with those you love. To live this principle in real-time, it's not uncommon for Mario to go above and beyond to ensure his employees have what they need to not just perform their job roles, but to grow and become better leaders or professionals.
But, as Mario warns, the four pillars of success have to be perfectly balanced, which can be challenging, especially for an executive leader and CEO, "We sometimes fail to remember what success and balance looks like either in our personal and/or business lives. You could have an upset personal life and happy business life or vice versa. It's only natural for things to go off-balance, but it is the role of the CEO to recognize that and pull things back into alignment."
Mario's best advice for today's small business CEO, "…constantly check yourself and juggle all four success elements – business results, staff fulfillment, customer engagement, and personal balance – to ensure that you're truly living out your definition of success."
This top 10 influential sales leaders list would not be complete without recognizing the perspective-shifting and proven digital sales prospecting strategies of Mario Martinez, Jr. As his story and industry-leading company, Vengreso, highlights – the key to redefining sales starts with leveraging technology, innovative thinking, and embodying the principle that "sales is the art of helping".