Cole Sirucek: An Entrepreneur Empowering Lives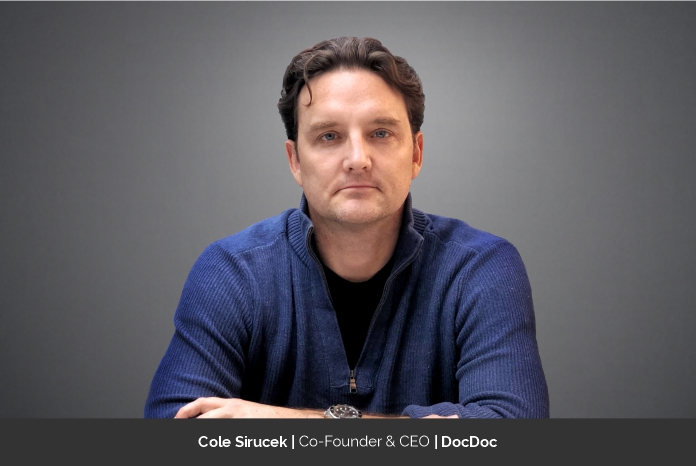 What was once founded as a solution to transform the healthcare experience enabling improved accessibility and promoting informed patients within Asia Pacific's difficult to navigate healthcare markets has today become Asia's largest digital healthcare network with over 23,000 physicians, 600 clinics and 100 hospitals from a broad panel of specialties throughout the region. DocDoc is a virtual network of physicians and hospitals supporting patients to find high quality specialized medical care. The service is available to insured patients through insurance firms motivated to assure their members receive the highest quality care.
A Personal Incident Laid the Foundation
DocDoc's vision was inspired by a deeply personal incident in the founder, Cole Sirucek's life. When his daughter, Rand, was 2 months old, she had a rare liver disease and that she needed an emergency surgery to stop her liver from failing. "We had so many questions and the initial medical team was willing to share almost nothing. We were expected to make some of the most important decisions in our lives in an information vacuum. We were fortunate to have a good friend in the industry who could leverage his global reputation in the medical field to help us find the right medical team for our daughter's needs. Our daughter ended up needing a liver transplant. I donated a part of my liver to my daughter in a 15-hour long operation. Thanks to the expertise of our medical team, Rand is living a healthy and happy life today. DocDoc became the service we never had!" Cole recalls.
Cole started DocDoc to empower patients to find the right care for their unique needs. With a network of more than 23,000 contracted doctors and extensive proprietary data on outcome, price, and experience, DocDoc helps patients find the highest quality care for their unique medical needs. DocDoc combines the best-in-class customer service with advanced analytics to transform the consumer experience. By putting the patient first within its product suite of doctor discovery, telemedicine, and cashless settlement, the company seek to deliver a fundamentally transform the healthcare journey for patients. From the moment the patient seeks a primary care doctor, the DocDoc team takes the call immediately and provides an immediate telemedicine consultation or in-person GP visit, whichever is suitable.
Focused on Transforming Patients' Healthcare Journey
When asked if he had always wanted to be where he is right now, Cole answers, "I would be lying if I answered this question in the affirmative. Chance plays way too big of a role in shaping our career. I knew since childhood that I wanted to focus my life on making this world a better place and I believed that I could make a real impact in this world. To that end, I have certainly achieved that objective. I am extremely grateful that I have had the opportunity to do the same through DocDoc. We have built a mission-driven team that is focused on empowering patients and transforming their healthcare journey. The sheer magnitude of the problem we are addressing satisfies my desire to make a difference in this world. However, I had no idea that my vision would manifest in this manner and in this part of the world. All of these have greatly adjusted over time by chance, encounters, and a variety of factors."
The first key milestone in Cole's life was overcoming dyslexia and attention deficit disorders as a child. In his 9th grade, when Cole was a freshman, his family and guidance counsellor made a real push for me to drop out of school because he was academically challenged, given his learning disabilities. Cole was at the verge of accepting his fate. He almost took up a job of becoming an air-conditioner repair contractor. But he stopped and took a deep look at himself and decided to stay in school instead. He knew that the path that they had laid out for him was not the path he wanted to accomplish in life. "I think this later turned into one of my most important life lessons: people always have ideas for you: ideas about what your path in life should be, what success should mean to you, and how you should achieve it. But only you know your own definition of success and can chart the path to it," Cole further adds.
You Have to Have the Courage to Follow Your Convictions
Cole believes leadership is not very different from what he has experienced. Various stakeholders, although most often well-intentioned, will try to push you towards a different path. For example: your customers will try to push you to different businesses or investors nudge you towards a different strategy. Cole says that as a leader, you have to have the courage to follow your own voice, make your own decisions, and chart your own path. In the world of entrepreneurship, you will always have limited data and therefore are forced to make decisions in an environment of ambiguity. This is not easy by any means. Through these tough times, you must have the courage to follow your convictions. "Looking back, when I made the decision to remain in school, I had no idea that I would go on to become the first person from my high school to receive graduate degrees from Harvard and MIT. I was, however, convinced that there was more in me that other people were seeing. This thought remained with me as I co-founded DocDoc and led its expansion across 8 countries in Asia. As the co-founder of DocDoc, numerous times, I have faced this exact same challenge where investors or partners were unable to see the true potential of the business. In these times, my past experiences gave me the courage to chart our own path and this has played a big part in our success," Cole asserts.
Understanding the Difference Between Gratitude and Satisfaction is a Key!
Cole has never been fully satisfied and he hopes he never is. However, he says that there is a key difference between gratitude and satisfaction. He is infinitely thankful for all that he has achieved and the opportunity to have meaningful impact on this world. A more meaningful perspective in life is to focus on growth and constantly ask yourself, how much am I growing. He believes growth leads to enjoyment and happiness. It also leads to positive stress. It is important to distinguish between positive stress and negative stress. Positive stress arises from the refinement of an expertise, or from building something that you can be proud of. "Negative stress is essentially equivalent to brain damage. It is the kind of stress that is not helping you achieve a meaningful objective or helping you move forward. Negative stress is simply pain without any gain. The aim in life should be to maximize positive stress, minimize negative stress and while doing so, growing as much as possible. The most stressful times in my life are the times when I have no growth and that's where I really start to worry," Cole mentions.
Dedicating their Lives to this Mission
Instead of trying to separate his personal and professional life, Cole attempts to integrate them. He tries to work in environments where his family can be around him, whether in office, or at home. He spends significant time with his daughter to talk to her about their mission in DocDoc and to ensure she understands why they are dedicating their lives to this mission. "As another example, we try to include in our daughter when we are invited to speak at renowned events, so she can hear her parents speak about why we are doing what we are doing. We hope that someday she will follow our footsteps and dedicate her life to a mission that makes the world a better place," Cole adds.
Talking about future goals, Cole says, "While it is next to impossible to predict the future with any certainty, my intentions in my professional and personal life are well-aligned. I am going to do everything possible in my power to build the best team possible to continue to deliver value to patients and build a category-defining company that truly changes the way patients consume healthcare. Often times in life, I find myself thinking about the things I am not doing because of DocDoc. This can be stressful and frustrating. The way that I rationalise it in my mind is by thinking, life is short and this is enough. It's a big and important enough problem to solve. If I can accomplish something that is good for the world, I will consider it a life well lived."