Lucas London: Transforming Homes with Passion and Creativity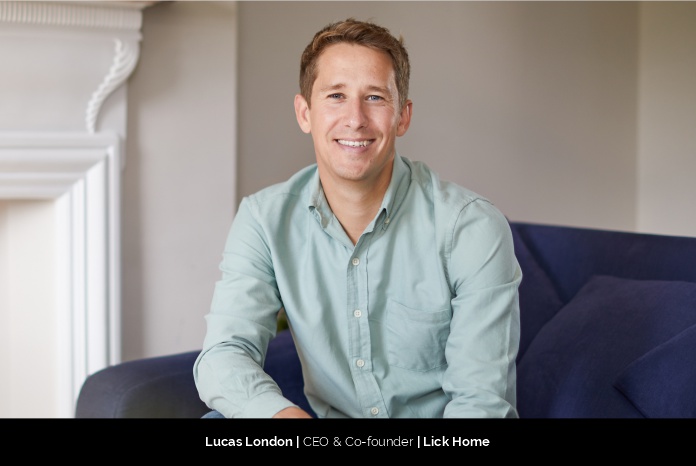 We often hear people say, "Home is where the heart is". Well, this phrase explains the true value of a home in just the right words. No matter where we are, we always yearn to come back home. Take great efforts in making our homes a cosy place to live in. Designing and decorating our homes is a memorable journey that continues throughout our lives. Lucas London and Sam Bradley knew what it takes to make a house, a beautiful home. Coming from the decorating industry with years of experience, Lucas and Sam knew the value of creating beautiful homes, which led them to founding Lick Home.
Lick Home is a direct-to-consumer home decor brand launching in 2020. Lick Home understand that when it comes to decorating and design – a simple change in colour or shade can have a massive impact on the way we feel about the spaces we spend our lives. Hence, Lick Homes makes decorating an easy and wonderful experience that transform concrete walls into colorful and amazing homes. In this special interview, Lucas shares his exciting journey with us that highlights the insights of a successful entrepreneur who started as an ordinary young man with passionate spirit.
What was your goal while growing up? Did you always want to be where you are right now?
I was entrepreneurial from a young age and was always very interested in businesses, initially earning money washing cars and selling football cards. My first role out of University was at a hedge fund as a financial analyst. I was attracted to the role due to the opportunity to get exposure to large businesses and management teams who I could learn from. After a few years I realised that I wanted to be involved in building the businesses rather than analysing them and I moved into operations at a young start-up.
What seeded the vision to venture on your own?
I worked at Airtasker, a marketplace for skills, where I met my co-founder Sam. We got exposure to the decorating industry through our decorators on the platform. We were really intrigued to understand how a consumer industry so large was predominantly offline. The online community of people into DIY and design was large, engaged and growing but the product purchase wasn't predominantly online and the offline experience was a frustrating one for many. It felt like a broken UX in a large market.
Could you give us an overview of Lick Home, and the inroads it has made in home décor space?
Lick Home is a home decor brand focused on giving the user confidence to decorate. We launched the business to create a fuss-free way to decorate, with premium, eco-friendly products carefully curated by a team of interior experts. One key innovation – the peel-and-stick samples which are all a true colour-match – replace the traditional messy, expensive sample pots that ruin walls. This drive for simplicity also informs our decision to create one washable paint for all surfaces instead of trim, primer, kitchen and bathroom and the multiple interior finishes they typically require.
Tell us about one strategy that has helped you grow Lick Home?
We have had great success supporting online influencers to decorate, in particular home decor micro-influencers. This has been a great way to build a community of extremely passionate and influential consumers and gave us a great early start.
Tell us about your life before Lick Home. How past experiences help you today in leading the company?
My career before Lick has been focused on collecting the skills required to build a business. Whilst it was not completely inevitable, I always knew that I had a desire to be an entrepreneur. At the hedge fund, Clareville Capital, I learned what a public investable business needed to look like as well as useful skills such as financial modelling and analysis. Since leaving finance I have been working at several different high-growth start-ups where I learned how to scale online businesses and the dynamics of working in a start-up and growing teams. Working alongside experienced entrepreneurs on the board of Feast It has also been a great way to pick up many skills needed to build a business.
Have you achieved all that you had desired? Tell us about the moment when you realized that your hard work has finally paid-off. What keeps you driven and determined towards work?
At Lick we have only just started on our journey, so we have a long way to go. It has been hugely rewarding seeing customers use our product decorating their homes – and seeing the positive impact it has on their lives. We have had an amazing response from our community on the brand, the user experience and the products. When we get that feedback it definitely makes the hard work worthwhile.
What does work-life balance mean to you and how do you work to achieve that goal?
We are very aware that building a business is a marathon and not a sprint so for that to happen the team needs to not burn out and should enjoy the journey. We encourage frequent rest and time off and are keen to not create a culture of working late and on the weekends. A lot can be achieved in the working day and rest after big projects is extremely important. I enjoy activities like surfing as it forces my focus from work, and I find it provides a true break.
How satisfied are your clients with your service? Can you share some of your client's testimonials?
We are receiving some amazing reviews but a feedback like this is hard to beat – 'Genuinely the best paint I've ever ever used. I will never use a different brand again!' – thanks Grandezza!
What would you advise to the young entrepreneurs venturing the start-up landscape?
Learn – I can't underestimate how important it is to build the skill you need to build a business. There are a lot of stories of very young entrepreneurs achieving unrealistic success and I believe that can be a dangerous aim. Whilst I don't discourage young entrepreneurs starting a business there also is a lot of value working for a number of businesses in different roles to get the experience needed.
If you could go back in time to meet your younger self, what would you advise yourself?
You learn the most from the difficult times
What are your plans going ahead? What does Lick Home's expansion and growth trajectory look like in future?
We recently closed a £3m seed funding round led by Felix Capital and we will be now focused on building on the great start we have achieved. We are excited to continue to grow our decorating community across Europe and launch into new verticals starting with blinds this year.
Lucas London had the urge for business since he was young, but it was his passion that led him to accomplish his dream. He may have started as an ordinary young man who strived to fulfil every dream, but his exceptional skills of helping others in transforming their dream homes into reality, makes him an extraordinary businessman with an inspiring journey.