Marie Louise Sunde: Combating Gender Equality Woes with Equality Check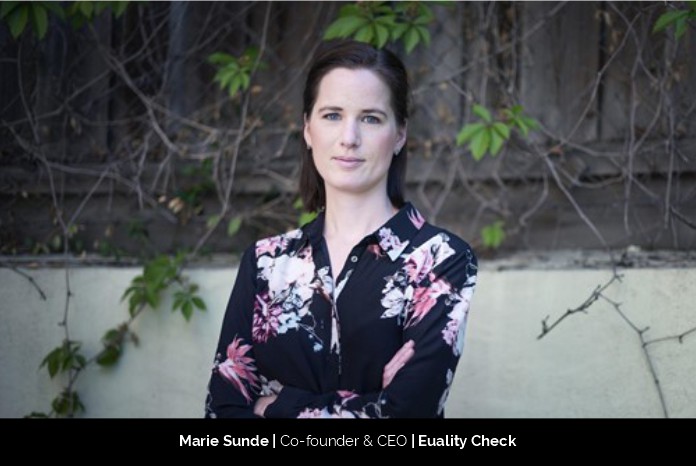 Inspiration comes in wonderful ways and for Marie Louise Sunde, Co-founder and CEO of Equality Check, it came when she was invited to the UN HQ in 2014 for their #HeForShe launch, where Emma Watson presented her motivational speech to mark the beginning of the fourth feminist wave. She finished with "If not now – when? if not me – who?". These words moved her and made her start an awareness campaign on unconscious bias in Norway that created a huge impact.
However, even if the corporate world wished to ameliorate, there was lack of evidence-based measures. She adds, "we saw the increasing impact of employees as stakeholders to drive and catalyze change. So eventually I quit my job in the hospital to found Equality Check with my co-founder."
Handling setbacks with bravery
Being the initiators in an emerging market helped her distinguish her firm and become one of the major global trends. Since they were the first in the market gave them a big opportunity as well as exponential scaling potential, however, it even came with a huge responsibility. It is because they were the ones to mature the market.
She shares, "It has also been extremely helpful having a close relationship with our clients and potential clients to develop the product in the right direction to ensure a good product-market fit. As our team has improved with great and super talented team members, we have collectively increased the in-house competence massively. "
Comprehensive Services and Vision of Equality Check
Equality Check is a unique platform that allows the employees to rate equality and inclusion at their respective workplace. The best part was that all the reviews were anonymous and that too with full diversity spectrum. Also, whenever five people had reviewed a company, the workplace went live for everyone to check the ratings.
She is thrilled to share a completely new solution that works after a unique data set from both employees and companies is added into it. She says, "The data from employees allows us to cover the broader diversity spectrum, which is data employers cannot ask their employees due to GDPR. By adding machine learning we can diagnose the greatest areas for improvement and suggest targeted, evidence-based solutions to improve. The combination of data, technology and domain expertise is necessary to create real and lasting change."
Everything is powered by machine learning after data collection. From getting insight, trajectory, to evidence-based solutions, they helped all companies that wished to improve. She adds, "Our overall vision is to create a workplace with equal opportunities for all employees, regardless of their background. And we will do that through data, technology and an evidence-based approach."
The team is even planning to spend the next year making improvements in their products and team and scaling globally.
Marie's Contribution in restructuring equality at workplaces
Marie had always kept her focus on diversity and inclusion. However, she feels there is still more talk than action. 2020 was a difficult year and everyone demanded results, especially their most crucial stakeholders that are the employees.
She shares her concern about millennials, saying, "In next 5 years, millennials will make up more than 75% of the workforce. Millennials care more about equal opportunity, purpose, work/life balance and diversity, and they are more likely to quit if their expectations are not met." At such times, Equality Check offers an excellent opportunity to anonymously give feedback and insight to their employees. In addition to this, she and her team also provide companies with a data-driven approach to identify problem areas and suggest evidence-based solutions so that they can improvise effectively.
She states, "According to McKinsey, only 24% of companies who implement D&I measures see results. We think the major reasons for the poor results are lack of data and correct diagnosing. From medicine, we know that if you make the wrong diagnosis the treatment will not work. And furthermore, a lack of evidence-based approach when it comes to solutions. Up until now, the approach to D&I has been very much myth based."
She shares that her team has initiated a large research project so as to validate different solutions. It will help them in augmenting the evidence level in the suggestions that they offer the companies. Besides that, it will also aid in ensuring a higher success rate in succeeding with D&I.
Life before and after being the CEO.
Marie shares, "I have never had a strong focus on being an entrepreneur, but more on solving problems that need solving." She had always loved performing on stage and even used to dance at the Norwegian Royal Ballet School. Later, she studied in a high school in Oslo, Norway, where many high schools had a school theatre, however her school didn't, so, she herself founded a school theater which is still intact.
In college, she attained her PhD in Surgery and became a surgeon by profession. Surgery had stayed as her main passion for the past 10 years rather she had never thought of her wildest dream to leave it and go for something else.
But she didn't know about her hidden passion for human rights and diversity since childhood. She says, "I come from four generations of women's rights champions. I have been involved in diversity work on an international level on the side of my surgical career for many years." All this changed her life and made her choose the entrepreneurial route for good.
Being a CEO, she has to handle everything be it, domain expertise, strategy, marketing, research, fundraising, finance etc. She adds, "We have a super strong team with different domain expertise, all sharing the passion for equal opportunities and diversity. We have a strong focus on culture, flexibility and autonomy for all team members." In the previous year, the situation became a little difficult. However, she always kept the team motivated with different digital quizzes as well as outdoor activities.
She has been a workaholic throughout her entrepreneurial journey. Since her background leaves her with very little control over time, she has been working flexibly that is making work-life balance much easier.