Kevin Angell: Redefining Law Enforcement with Crowdsourced Geofencing Solutions LLC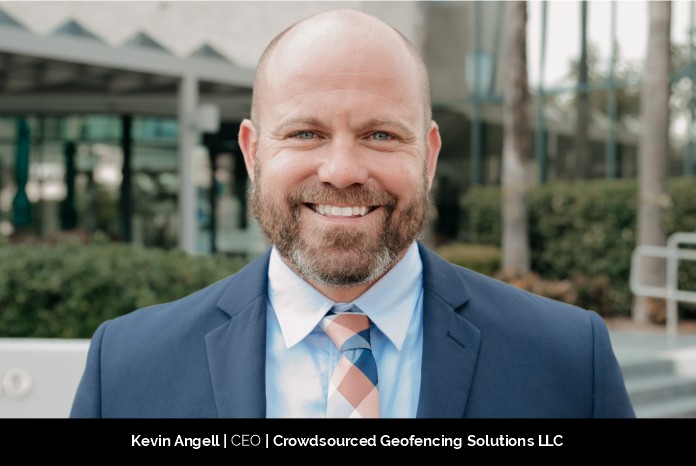 Being passionate about streamlining law enforcement processes, investigations, and citizen interactions, Kevin Angell, CEO of Crowdsourced Geofencing Solutions LLC, uses technology to ameliorate these services.
He adds, "As someone who travels from small town to large metropolises, I see that people still believe in law enforcement and trust their service." He is leading the way of his company in the right direction to maintain people's trust.
Behind the scene
During a college prep English class at the beginning of his senior year, Kevin wrote a letter to himself as a time capsule that he opened after graduation.
In that letter, he wrote about his dream of pursuing a successful law enforcement career and becoming a detective.
He started expanding his knowledge base. From police academy training to a Ph.D. in different law enforcement domains, he progressed and added several arrows to his quiver.
Side by side, he stepped into the professional world and gained real-life experience. His law enforcement career was briefly paused after the events of 9/11 because of enlistment in the military and deployment. Upon return, he was promoted to Detective in 2003 and later retired in that position.
But the fire to transform the law enforcement fueled the transition of Kevin from retired Detective to the Founder of the See it Say it Send it app and CEO of Crowdsourced Geofencing Solutions LLC.
He says, "[Growing Up] I lived next to the Lee County Sheriff's Office (FL) and always wondered what it would be like to serve a purpose bigger than my own."
Transforming law enforcement with Crowdsourced Geofencing Solutions LLC
Kevin is motivated to explore new levels in law enforcement by blending them with the latest trends in technology. He believes that with the amalgamation of law enforcement and technology, crime frequency, violence, and unsolved criminal activity can be mitigated.
Crowdsourced Geofencing Solution's first jumping-off point into geofencing was its use in the See it Say it Send it app. Law Enforcement, School Officials, and Airport Security can send vital information to the community based on their location and in real-time.
He states, "With information moving through smart devices at the speed of light, it has always been our mission to provide necessary, detailed, and pertinent information that users can respond to or take heed of."
Life as the CEO of the company
Wearing the hat of the CEO of the company, Kevin oversees everything. Kevin serves as the head project manager on all projects, no matter how small. He travels to client sites with populations from 500 to 500,000. He routinely reaches out to end-users personally and makes it a point to attend community roll-out meetings side by side with the local Sheriff or Police Chief.
He adds, "I love my clients. We exchange holiday cards, jabs over sports team competitions, and condolences when there is an unfortunate loss in the ranks of police."
Having a solid back hold of his skills and vast experience by his side, he aims to offer the best services to the clients and ensures that they have a positive experience with their services.
He believes his rapport-building skills, relationship management, and ability to lead are the three sharpest arrows in his quiver, which allows him to tunnel through all the challenges.
He touts a career in law enforcement that began in the correctional environment for his ability to build rapport with anyone, no matter their struggle.
He believes leadership came from his experiences in the military and overseeing complex investigations while assigned as an Internet Crimes Against Children Detective.
Relationship management comes more from his outgoing personality and desire to connect with people on many levels.
He states that he has been a successful CEO with these three qualities and, more importantly, a better co-worker in the team.
Besides his skills, he feels fortunate to have excellent mentors who helped him succeed and structure his path forward. He focuses on this point by adding, "I have a list of people to thank for who I've become. Certainly, the leadership I have been subjected to and mentoring by those I admire have deeply impacted my successes."
Kevin is motivated by the opportunity to bridge the gap between the community and law enforcement through technology. His goals include the encouraged use of software (interactive apps) and hardware (body-worn cameras, etc.) by law enforcement and school officials to maintain trust, integrity, and transparency.
He sees dividends in his hard work when his phone rings and a Sheriff or Chief of Police recounts a story where the app helped find a missing child, solved a crime, or recovered stolen property. Those are the times he sees the fruits of his hard work and feels like his contribution has paid off.
He expresses, "I have always been the type to work to a goal, not to a time. That's kept me in the office many late nights, but it's a commitment ingrained in me."
Thoughts to work-life balance
Being a family man, Kevin tries his best to stay close to his family and never miss important events and holidays. He expresses, "For the last six years, I have packed up my office the week before Christmas and taken my son to hike a portion of the Appalachian Trail. It has kept us close and renewed his trust that he comes first no matter my success."
While he makes time for his family, he gives his best at the professional front and fuels the company's growth in every way possible.
Future milestones for the company
The growth of Crowdsourced Geofencing Solutions in 2021-2022 is expected to be record-breaking for a medium-sized software development firm outside of Silicon Valley.
CGS is releasing an app called 'Parked Close,' which will allow users to advertise parking spots in their driveway, yard, or business and has been compared in technology articles to well-known applications doing the same with Bed and Breakfast and Vacation Homes.
An updated release to an app that spent 2020 in beta testing will occur this summer. Tap Out Now is expected to jolt criminal justice reform and flip the bail bond industry over while allowing people who are arrest for non-violent misdemeanors to be released onto the app for supervision. The idea is to get the person back with their family, back to work, out of the taxpayer funding correctional environment, and on to rehabilitation. While awaiting pleadings or a trial, the app tracks and commits to a journal the behaviors of the user.
He states, "CGS is releasing its first-ever game. You've heard of fantasy leagues that allow you to draft players from the top athletic competitions. You get points based on their wins, points scored, and other performance-based averages. Well, imagine that type of gameplay but being able to draft celebrities, superstar players, or politicians and getting points if they get pinched for a crime. That's right, we've created Fantasy Felons."