Alex Taimuri: Reshaping the Energy Industry with Capstone Industrial Training Solutions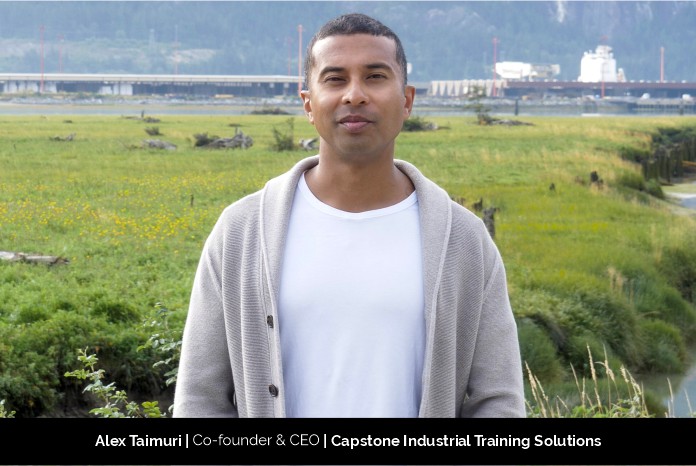 By realizing the gap in quality training in the energy sector, Alex Taimuri, Co-founder and CEO of Capstone Industrial Training Solutions, is now steering the industry in the right direction.
He states, "As a team, we're motivated by the real-world change we create when delivering high-quality training experiences. Our clients face difficult resourcing decisions every day, and by providing innovative solutions, we increase operator and facility safety and be cost-effective."
Ladder to success
Alex was fascinated by the energy industry from early in his professional career as an engineer. While working in the Liquefied Natural Gas (LNG) sector in BC, he soon realized the importance and his passion for the energy industry, decided to actively to pursue his career in this domain.
To structure his path ahead, he started expanding his academic base. He completed his Diploma of College Studies (DEC) in Pure and Applied Science from the Vanier College in 2003. Then he pursued B. Eng in Civil Engineering and completed it in 2008 from the Concordia University. Next year from the same university, he completed Independent Graduate Studies in Structural Engineering. While civil engineering was fascinating, he grew a fondness to the bigger picture of the energy and business world.
Then he went on to attain a Master of Business Administration in Executive Management from the Royal Roads University, which included a Residency in Innovation Management & European Business Environment from the Grenoble School of Management.
While he was expanding his academic base, he entered the corporate market to gain real-life experience. He worked through different roles and progressed further.
He adds, "I was looking for an opportunity to start a business. I always knew I would. I just wasn't sure which business I would start."
In 2017, he co-founded Capstone Industrial Training Solutions to bridge the gap in quality training in the energy sector.
Tackling the challenges positively
Alex states, "As a business, you have to understand that humans are complex creatures. People are beautiful, unique, and complicated. When you're a start-up, losing a key person can be devastating. After time you build redundancies, but in the first few years, it can throw you through a loop!"
He remained calm, held his nerve, and focused on the positive elements to tackle and challenges.
Revamping the sector with Capstone Industrial Training Solutions
At Capstone Industrial Training Solutions, they provide a wide variety of technical writing services, including operations manuals, standard operating procedures (SOP), policies, and procedures manuals, training manuals, technical document design, P&ID, and PFD drawings, as well as updating, formatting, and editing existing documentation.
Alex states, "In addition to technical writing, we create custom training- taking that technical documentation and creating fully online, instructor-led (on-site) or blended custom training programs. We also do eLearning development, microlearning, blended learning strategy, job-aids, performance consulting, gamification, and exploring virtual and augmented reality training experiences. We also provide competency management for our clients- tracking and managing the training- ensuring the client's training budget is properly spent and managed. As well as reporting for the client's needs, documenting that their staff has been trained."
He believes technology plays a crucial role in exploring new elements in the industry. The team delivers advanced products to clients that are easy to understand, scalable and cost-effective.
The ability to apply systems innovation, saving the client money through technology, marks their unique presence in the market.
He expresses that empowering and educating the future operators of the facilities is now the game-changing thing for the companies in the market. Everyone out there is harnessing the power of technology to boost their services. Long gone are the days when companies stayed conservative to the traditional modes. Now, everything is changing, and companies are incorporating newer methods to stand their ground.
He states, "We stay abreast by constantly pushing forward- innovating on the edge of the market; constantly learning about the newest innovations in our service verticals, as well as developing our own processes and products. We also keep on top of how the energy industry is evolving in general."
Life as Co-founder and CEO of the company
Wearing the hat of Co-founder and CEO of the company, Alex focuses on driving the company vision, and motivating the team by keeping the energy high.
He gets his dose of motivation from the fire in his mind and soul, to create something new and unique. Having that internal drive to improve and complete innovative projects pushes him forward, and he wants to instill this feeling in his team.
Being a team player, he wants the team to evolve as they progress. Being their leader, he motivates them and ensures that they are working for the core mission of the company.
He adds, "We motivate each other as we grow. Even broader than that, looking at how the world is shifting, we have a specific vision of how Capstone ITS will fill a need in the market."
He further states, "My greatest achievement so far has been creating this Capstone ITS team. They're incredibly unique, and I'm so proud of the work they've accomplished. Second, to that, traveling to Angola to work with a client and seeing the value our training solutions brought to the local operators. It's hard to see in this new remote world, but seeing it first-hand had a huge impact on me."
Achieving work-life balance
Balance plays a crucial role in Alex's life. He starts his day with meditation and coffee then focuses on the priority tasks. He tries to have his lunch with the family and then hits the gym to keep his body fit and ready for the upcoming challenges.
He believes that having a strong social circle keeps the energy high and refreshes the mind to work hard and progress further.
He expresses, "My advice for business owners, the most important thing is sustainability and perseverance. You can't have them without maintaining a healthy, balanced lifestyle. If you can't create a sustainable system (work/life balance), this is often where I see other business leaders stumble."
Future plans for the company
They are laser-focused on achieving their vision that is to increase the market share in the LNG and global energy industry, improving safety, operational efficiency, and enrichment through education.
He states, "We've been fortunate enough to have clients around the world since 2019. Our aim is to increase market share without compromising quality. Maintaining our attention to detail and quality of service while we scale."