Jeromie Tucker: A Pioneer Thriving to Lead in all Aspects of Real Estate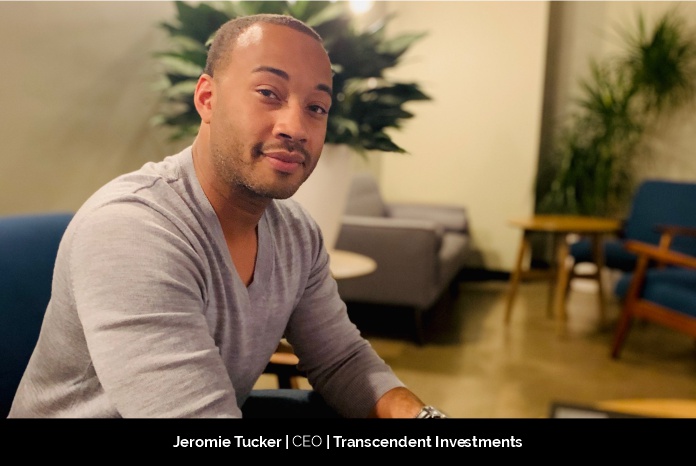 Real Estate industry may face slumps every now and then, however, with the right strategies and investments, people can get huge returns in the future. Jeromie Tucker, CEO of Transcendent Realty Investments, is making a difference in people's lives by inspiring and educating all individuals and families that he helps in the real estate industry.
He believes that "Challenges are doors of opportunities to test you and rise to the next level." He wants to prove to his family and the younger generation that once exposed to new things and acceptance to a fresh perspective, anyone can achieve anything with positive influence. He is quite enthusiastic and looks forward to what the future beholds for him. He knows that he has unraveled the door to endless possibilities as well as opportunities to help in impacting a larger segment of people and witness growth.
He was not that clear about entering the real estate industry while growing up. Like every child, he too had naive and innocent childhood dreams. He says, "My goal growing up was to play in the NFL and become a traveling businessman. However, I never knew how that would look or what I would be doing. I just knew that I wanted to do business and make an impact."
His Source of Motivation
Jeromie shares, "My biggest motivation is breaking the generational cycle and showing that you can do and go anywhere that you aspire if you have faith and persistence. We are all byproducts of our environments, but we cannot let that determine our altitude. Our attitude determines our altitude."
For the future, he adds, "My goals are to inspire, educate, and create an impact on the people and communities we serve. I want to be your "go-to" for everything in real estate and do some consulting, business and leadership coaching for others that want to get into the real estate industry."
Ladder to success
Having a never-give-up attitude from the beginning, Jeromie had the spark to do something impactful in the business world. To fuel his aim, he acquired basic training and expanded his knowledge base.
He completed his Bachelor of Science in Business Admin. Management in 2006. He shares, "I had the opportunity to start developing and honing my leadership in the professional realm after a career-ending football injury at Oklahoma State University (OSU). One of my best friends, Randi Stith, hired me and helped me transfer my leadership skills on the field to the professional world. This is my first job out of college which I began to work my senior year at OSU. I managed 100-150 employees at a young age, which enhanced my maturity both personally and professionally. I was later promoted several times over the years, gaining more experience and exposure. The promotions consisted of regional director and director of the professional recruiting division."
He created a strong back hold of the necessary skills to step into the corporate world. He got a glimpse of the management world in 2005 when he handled the post of Parking Manager at Stillwater, OK, which he grabbed through Express Employment Professionals. Then, he progressed and became Event Staffing Coordinator and gained valuable experience.
After this, he attained the post of Director of Event Management. He was responsible for supervising over 350 employees, which included 50 professional supervisors. He oversaw all the budgeting, operations, and managed a $350,000 client account by handling all the negotiations.
He adds, "These brought with them great leadership challenges, lessons, and growth, which gave me a strong foundation to build on in my journey. These experiences helped me grow in key areas such as discipline, being comfortable with being uncomfortable, and high resiliency."
Then, he moved to the Tulsa Regional Office of Express Employment Professionals and grabbed the post of Regional Director. There he planned, organized, and implemented efficiency and sales strategies exceeding the target goal of 12% to 16% growth. He was also responsible for overseeing the recruiting, hiring, and training of personnel for his region. Additionally, he consulted, advised, and led managers on strategies to improve market share and profitability while streamlining internal processes.
He then took the onus for the role of Director of Professional Recruiting Division for the Tulsa Region. He launched the Professional Division to support 18 branch offices throughout Eastern Oklahoma and Arkansas.
Apart from recruiting personnel and mentoring the staff, he was responsible for developing relationships, account management, organizational development consulting, and talent management consulting.
Having deep insight into the corporate world and abundant experience on his side, he grabbed the position of Associate Director of Development and Diversity at Oklahoma State University Foundation.
He adds, "Uniting donor and university passions and priorities to achieve excellence was the prime aim. Responsibilities consisted of supporting the core business of securing and managing private major gifts for Oklahoma State University." After this, he attained the post of CEO and President of Transcendent Realty Investments.
He always wanted to make an impact in the business world by inspiring other persons and being a living example. With his accomplishments, he was all set to inspire the other young entrepreneurs to aim for their dream, so he indulged in motivational speaking.
Role of Transcendent Realty Investments in the real estate space
Transcendent Realty Investments aims to bring change in this space via strategically buying and selling distressed real estate. The company invests in all aspects of real estate, especially in the emerging markets. He adds, "More specifically, TRI is a real estate investment company that strategically invests and focuses on wholesaling and flipping land, single-family and commercial properties." Moreover, the company keeps widening the brand's footprint to continue to build and cultivate the right relationships and partnerships in the industry as well as other markets.
The company has a unique way of staying abreast of the competition in the present real estate industry. He shares, "The most significant factor that distinguishes TRI is our ability to invest in all aspects of real estate using newer technology. This focus allows us to be more nimble as we can move in and out of emerging markets and niches. We pride ourselves on creating win-win solutions for our clients."
Jeromie's role at Transcendent Realty Investments
Jeromie is mainly focused on developing a vision to steer the direction and path towards higher growth by making strategic partnerships and relationships as well as hiring the best people for the job. With an aim to reach the zenith of real estate, he knew that he needed to learn the art of making every piece of real estate extremely profitable.
While many companies emphasize on a particular niche, he feels having a strong working knowledge of all aspects allows you to capitalize on more opportunities. He takes pride in focusing on the impact of the clients and creating a strong impact. For that, he feels the company needs to look for the right solution that is both effective and efficient. This small effort has helped them in numerous ways achieve results for a desirable win-win solution.
He appreciates the temporary setbacks that took place in his career and prepared him well to take a new plunge. It also allowed him to re-evaluate all the strengths and weaknesses and become more refined than before. He adds, "These key experiences played an intricate role in my professional and leadership development. I am grateful for the opportunities and the challenges that came with them."
While till date, he has not explored into the technology side of things and thus, has not produced any technological innovations yet. However, he is quite good at reverse engineering or repurposing an existing system for delivering maximum performance. He prides himself on efficiency by creating sustainable and streamlined systems and processes.
Prime Qualities that make him a successful Leader
There is a myriad of good qualities that keep Jeromie going further on the path of success. One of the main qualities is his positive mindset. He shares, "Positivity is my best quality as it helps me stay optimistic when challenging times arise, or I began to question myself. Another strength is individualization. It allows me to read, relate, and connect with the people I meet. It gives me the ability to understand others quickly, helping buyers, sellers, and my team."
He also feels that he is a visionary. He has confidence in his creative side that helps him find great innovative solutions.
He may not have achieved everything that he dreamt of in his life. He says, "I have not yet arrived, but the goal is to have 250-300 units, primarily storage units, as well as build some low-income housing, get into acquisitions and do more motivational speaking and coaching."
He looks for happiness in every little milestone. He shares a quote from Ingrid Bergman, "Success is getting what you want. Happiness is wanting what you get." He adds, "When I closed my first deal 11 months after I left my job, I shed a few tears of joy. Success is a continuous journey, and we should celebrate the small wins and as well as the big ones." Later, being featured in the Top 100 Real Estate Professionals Magazine, CIO Bulletin Magazine, and your magazine, Beyond Exclamation is a tremendous honor." Both have been his memorable accolades to date.
Factors that keep him determined to succeed
He feels blessed to have an encouraging and supportive family. His mother and father have both been his solid pillars in all phases of his life. He says, "My mom always encouraged and pushed me to be the employee, leader and man I am today. My dad showed me what it meant to be disciplined in all you do, which built character. He also showed me what it looks like to be a man of God and continue to be true to who you are inside."
Not just this, even his 7 siblings (5 brothers and two sisters) have always been there for constant support. He loves and cherishes their help, encouragement, and affection always. He states that his life had never been a bed of roses and with only consistent support of his big family including his many aunts, uncles, cousins, as well as close friends. He says, "Life is a series of increments and seasons, and I want those series and seasons to mean something. Their unwavering support means the world to me and keeps me driven to change our generational cycle. I had some character-building situations along the way that tested my faith, grit, discipline, focus, and ability to execute."
He strongly believes in the adage, "Success comes to those who will and dare." Thus, even when he faces difficulties and obstacles, he preservers towards the goal. For him, there are no failures, only lessons learned. He further shares, "I always say that 'the lesson is in the experience, but the growth is in reflection.' Upon reflecting on how my journey has been touched by so many, I feel that it has made me humble, resilient, prayerful, grateful, and determined to complete the work that I have started."
He states, "We all have a purpose on this earth, and I want to fulfill mine." Talking about achieving his purpose of life, he may have not reached that point yet. However, he feels that he is treading on the right path and will soon learn about his inner calling. He states, "when preparation meets opportunity, then purpose is discovered. I feel that I'm moving in the direction."
Transcendent Realty Investments' plans for future growth
As a strategic guy, Jeromie has many short-term and long-term plans ready for a fast-track company growth. He says, "I plan to start acquiring storage units, move more land deals, do more motivational speaking. Additionally, I want to continue to educate, inspire, and impact the people and communities we serve."
Along with this, Transcendent Realty Investments has started venturing its expansion route for the next 1-3 years in which they will expand to about 5-10 markets. He emphasizes that looking at the evolving nature of the real estate market, they want to keep an eye on the emerging markets to drive it to his direction.