Dan Prince: Revamping business and software industry with Illumisoft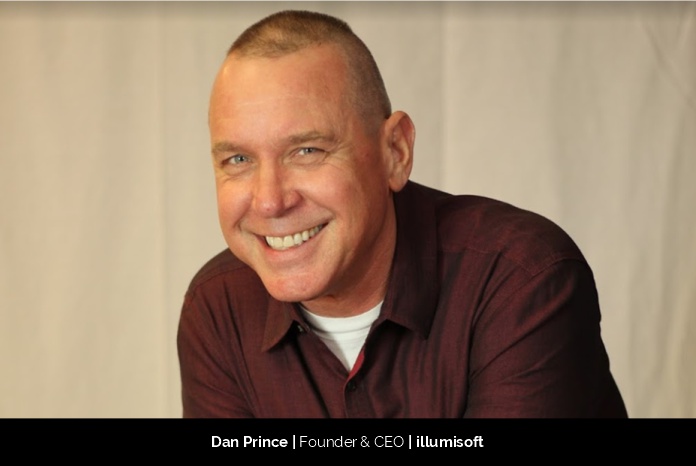 Always being fascinated with technology, Dan Prince founded his company to help create opportunities for others and do good for the community, especially in the healthcare industry. He believes that with the right solutions and management, several lives can be saved. This aim drives him to learn as he moves further into the future.
Staging phase of his life
Dan Prince became passionate about software and technology in his late 20's, motivated to support his family financially. "My wife and I were poor. We had problems making ends meet. We lived in an old house and often missed our rent payment. It was about that time that I realized I needed to go back to school and get an education."
So, Dan studied for the ACT, scored a 28, applied to college, and decided to become a computer scientist. Graduating school at the top of his class, he thensecured a lucrative position at Cerner Corporation in Kansas City. He still holds onto his former boss's words, "You lead people, you manage things." He took inspiration from these words and took proper advantage to explore new heights. He adds, "I was able to move up quickly relative to my peers. I was put on better projects, which gave me the opportunity to learn quicker and broaden my skillset more rapidly. I was also given the opportunity to lead people into architect solutions rather than just being told what to code."
As he gained experience by evolving in his career, he realized that he has a knack for asking the right questions and ensuring that he captures all the information needed to make sure that the solution he architects will not only meet the expectations of his clients, but would exceed them. Dan stated "I became passionate about architecting solutions and see the delight on the faces of the people that I delivered those solutions to. I became passionate about delighting technology users with the things that were possible given the right technology in the right situation." Then, in late 2013, he had a fall-out with the company. Dan decided to do things on his own terms, so he quit that job and founded Illumisoft.
Learning from the mistakes along the way
At the start of Illumisoft, Dan's ideal client, one that he had landed and was working with at the time, decided to pull the plug. From there, Dan lived off of the profits that he had made for a while and realized there were a lot of things that he had to learn to grow his company. He soon grabbed an opportunity that would help him pay the bills, and after that, he lined up a number of projects and hired employees to support them. The problem with that was when that list of projects was finally completed, there was not enough work left to support all of the workers that he had hired. Dan immediately understood the importance of keeping a steady inflow of work and worked diligently to grow illumisoft while facing all challenges with an open mind.
Dan Prince, Founder and CEO of Illumisoft, states that at one time, he was going to give up Illumisoft altogether. It was not until Dan witnessed his son's struggles with confidence in his own skills, that he gained the motivation to give the company of Illumisoft one more chance to control his own destiny.
To this, Dan adds, "Recently we both celebrated beginning our 7th year in business. It doesn't feel like I've made it, but I'm well aware that most companies fail within the first three and the majority of the ones that don't fail within the next two. However, I'm still here, and he is still going too."
Reshaping software industry with Illumisoft
Dan states, "In general, the services we provide are described as software development services. People hire us to help them build solutions that they then take over and manage going forward. Often, they have an internal development team, but they don't have the necessary experience to architect modern solutions using modern technology. Their hopes are that if I provide a codebase that I can teach their developers how to maintain it."
After Dan and the rest of his Illumisoft team completed a successful project for a local children's hospital, the focus of the company pivoted to the healthcare industry. He wanted to do something that changed the world and made people's lives better.
Life as the CEO of the company
As the CEO of the company, Dan Prince oversees everything in order to keep a steady inflow of work and generate enough revenue to support everyone, all while never deviating from the core values of his vision.
Dan states, "I negotiate contracts, and I help architect solutions that exceed our client's expectations and abundantly meet the needs of their situation."
He expresses that hiring employees is one of the major responsibilities that he handles for Illumisoft. "I hire people that are Intrinsically self-motivated. I hire people that want to be the best version of themselves and have shown that they're willing to do what it takes to become that."
Dan tries to keep his employees motivated by leading with example since he truly believes that you cannot force anyone to do something; instead, you have to nurture them by giving them space to do things their own way. However, he will advise that some guidelines are important and necessary to give a structure to that way.
He adds, "I am not authoritarian in my company. I partner with each and every person in it toward a common goal that we all agree on. When people do a great job, I make sure that I tell them. I share their great work, and I encourage them to continue to put forth the effort. You see, I don't reward results; I reward effort. It's OK to fail; in fact, it's necessary. If you've never failed, you're not trying hard enough."
Achieving a balance in professional and personal life
Dan is an early bird and understands the value of balance in his professional and personal life. He is inspired by the famous adage, "Health is wealth," and follows a strict workout and diet regime to keep his body fit. Reading has become a passion of his to expand his knowledge and to help him both in his personal life and professional career. Aside from all of that, he always makes time to cool down and re-energize his mind and body to take on any new challenges headed his way.
Future plan for Illumisoft
What's next for Illumisoft, according to Dan Prince? Dan expresses, "I see Illumisoft becoming the go-to custom solution provider for hospitals, private practices, and research centers across the United States. Eventually, we will spread worldwide. We have already seen a consistent, incremental increase in our growth, and we expect that to continue at an exponential rate."
Additionally, Illumisoft plans on becoming a product company and combining that with their service offerings. Dan adds "We have several product ideas in the works, and we have a couple of products already built that we are beginning to market now." The Illumisoft strategy behind building products is that they need to provide immediate benefit, have a potential for being marketable, and to be valuable.