Jeanette Gitobu: Redefining the Women's Role in the Renewable Energy Industry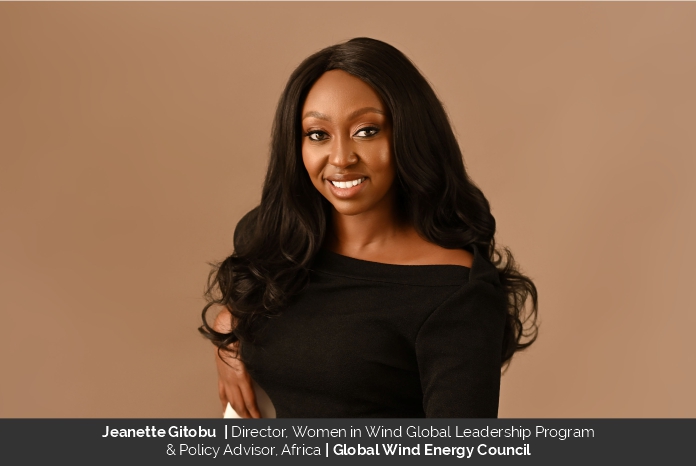 In 2020, Women in Wind in partnership with IRENA published "Renewable energy: A Gender Perspective," the report summarized the findings of a survey among close to 1500 respondents from 144 countries working in the renewable energy sector. A key finding from the report was that women make up 21% of the global wind energy workforce, and 65% of them perceive gender-related barriers in the sector. The Women in Wind Global Leadership Program redefines women's role in the industry by creating a multi-dimensional program that supports women to become industry thought leaders via providing knowledge-transfer webinars and mentoring, increases women's representation at managerial and decision-making levels by empowering women, in the wind sector, and prepares the next generation of women leaders in the wind through concrete career goals, road-mapping, and networking building opportunities.
"An environment where individuals can safely brainstorm and challenge the status quo helps drive innovation," says Jeanette Gitobu.
Jeanette, Director of the Women in Wind Global Leadership Program, is responsible for designing and implementing the curriculum of the program while working across partners to deliver a diverse and multidimensional program for the participants to benefit from. Her work as a Policy Advisor, helps shape the African wind market policy framework via research and report writing. Part of Jeanette's work also includes engaging with institutions such as the International Renewable Energy Agency (IRENA), UNFCCC, UN (Various agencies), philanthropic entities, and many other bodies to help raise awareness of gender equality in the energy transition and provide S.M.A.R.T solutions to ensure the energy transition is a Just Transition.
A regular day for her includes having a check-in call with Women in Wind program partners, the Global Women's Network for the Energy Transition (GWNET), a check-in with the GWEC team ranging from members within the projects, policy, fundraising, and communications teams, then sitting down to do focused work such as reports, project management activities, and introductory calls to explore strategic partnership opportunities.
Steeping to Extensiveness
Prior to joining GWEC, Jeanette Gitobu was working at Windlab, an Australian global renewable energy development company, where the Kenyan team and she were working on Africa's first of its kind, large-scale hybrid renewable energy power plant, Meru County Energy Park (MCEP). The project's innovative design combining ~80MW of wind turbines, solar PV, and battery storage technology ensured that Windlab was able to offer clean electricity at an affordable price to Kenya's 52 million citizens. Once connected to the national grid, MCEP will put Kenya on the global map as a leader in renewable energy innovation, capable of designing and implementing local solutions to combat global problems.
According to Jeanette, working on such a ground-breaking and challenging project as the only black and female project developer to successfully sign over 1,700 landowners onto the project pushed her to create innovative solutions to complex problems, such as creating data management dashboards capable of analyzing data for over 1,700 project area landowners, a first in the renewable energy sector. The dashboard would then feed key information to facilitate payments to landowners via mobile money transfer medium M-PESA, another first in the sector, revolutionizing payment method options for future projects that wish to implement similar concepts.
GWEC
GWEC is a non-profit trade association that serves as the authoritative voice for the wind energy sector. GWEC members represent 99 percent of the world's installed wind power capacity and include over 1,500 companies, organizations, and institutions from over 80 countries, including manufacturers, developers, component suppliers, research institutions, national wind and renewables associations, and electricity providers, and finance and insurance firms. GWEC provides value to its members through six major workstreams:
Capacity Building; 2. Intelligence; 3. Advocacy and Policy; 4. Summits and Conferences; 5. Business Matching; 6. Collaboration.
Jeanette oversees the Women in Wind Global Leadership Program, which was founded in 2019 in response to the desire for diversity in climate policy and action. Greater variety benefits the wind sector, and hence the globe, by assuring new viewpoints and economic development among those driving the climate change response. In a world filled with difficult global concerns that need strong leadership and a competent workforce, the push for a sustainable, clean energy system must include all voices speaking up, especially women.
Finding Success in Serving Society
Growing up, Jeanette loved playing basketball and was part of her high school basketball team in Phnom Penh, Cambodia. That is when her coach said a quote by American basketball coach John Wooden that changed her view on success, "Success is peace of mind, in knowing you did your best to become the best that you are capable of becoming." She also believes that each individual has their own definition of success with each definition being valid and true.
Jeanette's concept of success is similar to John Wooden's, and she defines it as having peace of mind, body, and spirit while serving society within her domains of influence. Jeanette values peace of mind, body, and spirit because she feels it offers the best and healthiest environment for her to provide the finest ideas, strategies, and leadership to have a significant effect on the world while enhancing efficiency and reaching her goals. She also adds, "Being of service to society within my spheres of influence is important to me because I would not be here without the trust, support, guidance, and mentoring of people who chose to take a chance on me. I wish to pay forward that opportunity by providing others the opportunity to rise by using me as a ladder towards their goals and ambitions."
Referring to the late bishop Desmond Tutu's words, "My humanity is bound up in yours, for we can only be human together," Jeanette explains that the human experience can get challenging at times, but together, we can make it and rise above any challenge we confront.
An Opportunity for a Global Approach
When Jeanette decided to join GWEC, one of the important questions she was debating was what this transition would mean to her and where she would see herself in the future. Taking her previous experience working on the development side of wind projects, accepting GWEC's offer was the next step for her because GWEC offered her the chance to propose solutions on a global scale using policy as a tool.
Jeanette thinks that policy is vital because, once established and executed via the participation of individuals, organizations, and the government, it gives guidance, consistency, accountability, efficiency, and clarity on how to handle recognized problems. GWEC's global reach, working in over 80 countries around the world in locations such as Latin America, Europe, Africa, the United States, and Asia, would expose her to global policy solutions, thereby molding her into a well-rounded professional capable of understanding finance, supply chain, operations, strategy, and policy to become a renewable energy industry leader proficient enough to move the African continent and the world forward into the next century.
Learning from Previous Experiences
Early in her career, Jeanette had an experience with a challenging boss that helped shape her for the better. While she and her boss had conflicting views on various topics, her experience taught her the importance of coming to mutually acceptable agreements by working together to create options that satisfy both parties, separating people from the problem, and focusing on interests, not positions. She shares, "These lessons were valuable to me because, at the director level, negotiation is a critical skill required to bridge differences and work together to make a better world for all via aligning mutually beneficial positions."
Key to Attain Balance
Jeanette has discovered the power of saying no and engaging in activities that correspond with her personal priorities in order to preserve balance in her personal and professional life. These priorities are assessed yearly when she takes a couple of days each year to reflect on the positive and negative experiences she has had over the year while looking forward. Because family is such an essential part of her life, she strives to organize her calendar around that goal.
Jeanette also contributes her time and resources to service-related activities, such as mentoring and volunteering with the Angel Centre for Abandoned Children, Habitat for Humanity, and Operation Smile, which are her passion projects. In terms of how she keeps herself and her team motivated to provide the best services possible, Jeanette provides five techniques that have helped her and her team stay motivated to provide the best services possible:
Connect: either as a group or as an individual, because connecting with colleagues is essential to maintaining and developing high-performing teams.
Show interest in colleagues: In her experience, learning about your team's interests and ambitions allows her to create a healthy balance of work that must be done, work that each colleague is interested in, and offer development opportunities that are tailored to each individual.
Display gratitude regularly and frequently.
Bring joy to the workplace, such as celebrating milestones, weddings, and birthdays while standing with a colleague during a challenging time.
Practice what you preach.
Personal and Professional Goals
Jeanette envisions the GWEC secretariat being a leader in taking bold action to put the energy transition on track and secure energy security. The present worldwide power crisis, precipitated by the Ukraine conflict, has highlighted the persistent hazards of relying on fossil fuels for the world's energy supply.
Power and gasoline prices have reached all-time highs, exposing consumers and economies to inflation and driving up living costs. She references the International Energy Agency's Global Energy Review: CO2 Emissions in 2021 report which reveals that 2021 saw a historic high in global CO2 emissions, putting the goals of the Paris Agreement at risk. As a remedy, the world will need to make a dramatic shift away from reliance on fossil fuels and toward renewables, through a concentrated and rapid effort by individuals, organizations, and governments if the world is to have any hope of keeping global warming to 1.5°C (34.7 °F) or even 2°C (35.6 °F) as per recommendations by the first installment of the Intergovernmental Panel on Climate Change's AR6 report.
Jeanette's personal aims as a company leader are to help this transformation while ensuring that the voices of the least, lost, and forgotten are included in the climate change discourse long after her job in the industry is completed.