The 10 Most Revolutionary Black Corporate Leaders in 2023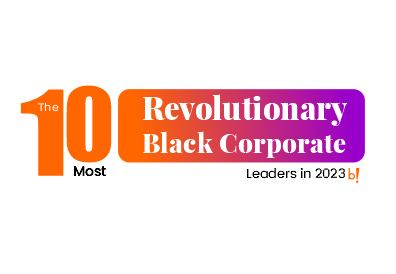 Great Leaders Don't Force People To Follow – They Invite Them On The Journey
The Black leadership population has faced barriers to success in numerous arenas- from racial wage and racial wealth gaps, which had limited their earnings and ability to accumulate wealth, to higher amounts of student loan debt and racial bias in medical care, which have had long-lasting effects on financial and physical well-being. Despite this, these enterprising leaders are smashing barriers, celebrating diversity, and representing the next generation of Black-owned businesses. They have triumphed over all odds, thanks to their determination, perseverance, intelligence, talent, and skill – among other qualities. 
At Beyond Exclamation, we honor the work of these trailblazers by dedicating this issue titled "The 10 Most Revolutionary Black Corporate Leaders in 2023" to them. Featuring as the cover story of this issue we have covered the successful journey of Nikki Newton, President of UMB Private Wealth Management – a financial services company headquartered in Kansas City, Missouri. They offer commercial banking, which includes comprehensive deposit, lending and investment services, personal banking, which includes wealth management and financial planning services, and institutional banking, which includes asset servicing, corporate trust solutions, investment banking and healthcare services. Boasting a comprehensive understanding of the entire business and investment lifecycle, Nikki has been successful driving sustainable revenue augmentation and profitability, and maintaining long-standing client relationships, which has enabled achievement of business objectives, including revenue growth, cost reduction and enterprise development. Nikki leverages his 25+ years of global executive experience to attract top-performing talent, provide clear direction, and foster an inclusive, accountable environment that is value-driven, success oriented and financially strong enough to advance the organization's long-term vision. Read more about his successful journey in this exclusive article.
Also inclusive in this issue are the successful journeys of Dawnita Wilson, Vice President – Diversity & Inclusion at JBG SMITH; Jeanette Gitobu, Director, Women in Wind Global Leadership Program and Policy Adviser, Africa at Global Wind Energy Council; Sharon W. Reynolds, President & CEO of DevMar Products; Lukeisha Paul, Head of Diversity, Equity & Inclusion at GroupM; Erika Broadwater, National President at National Association of African Americans in Human Ressources; Lenora Billings-Harris, President & CEO of Ubuntu Global; Derrius Quarles, CO-Founder & CEO of BREAUX Capital; Dr. Tania Martin-Mercado, CEO of Phronetik; and Dr. Conville S. Brown, Chairman, President, CEO and Founder of The Medical Pavilion Bahamas.
Happy Reading!
Follow us on social media.