Her Inspiring Story in Her Own Words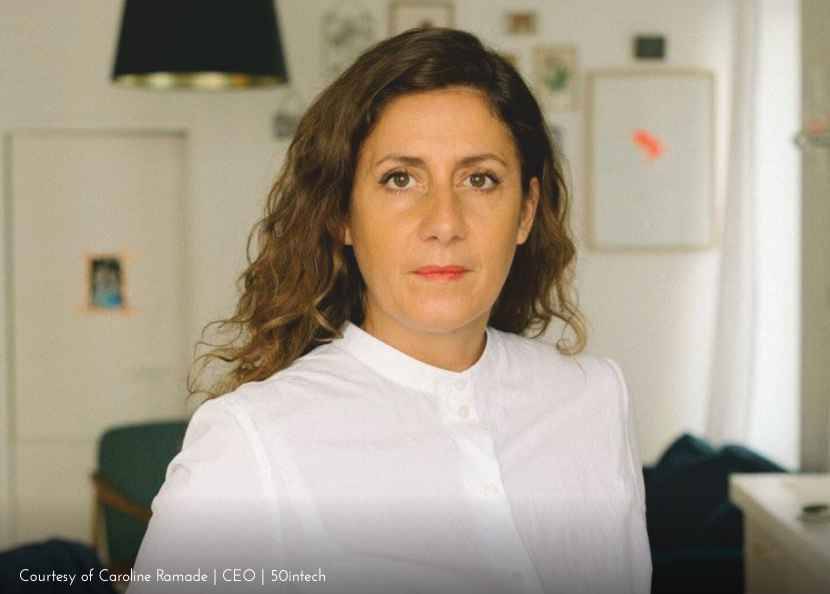 The digital revolution causes disruption in many fields, except in gender-equality. Today, worldwide, women are still under-represented and under-funded in the Tech ecosystem: To bring revolution in the industry by building a powerful tech solution to reach gender-equality by identifying Women in Tech, sharing best practices, offering access to mentors and key partners, opening the doors of accelerators or incubators, connecting with international communities, and giving a special access to business angels and VC Funds, Caroline Ramade started 50inTech. As a CEO of 50inTech, Caroline's goal is to goal increase the number of women in tech up to 50%, because she truly believes that women can change the face of the economy and that they are a huge reservoir of growth.
For several years, Caroline has been working every day to support women entrepreneurs in tech. During 3 years, she has been the Managing Director of WILLA (ex Paris Pionnières), the biggest incubator for female founders in Europe. Caroline was previously Deputy Head of the Digital Department of the City Hall of Paris. She is also Board member of French Comity UN Women.
In an exclusive interview with Beyond Exclamation, Caroline shares her inspiring journey from the beginning to become one of the successful leaders bridging the ancient gap of gender-inequality.
What was your goal while growing up? Did you always wanted to be where you are right now?
To begin with an anecdote, when I was a child, until the end of primary school, I always wanted to be a businesswoman, and I used to say that to everyone, until one of my classmates told me at school that a businesswoman could also mean a cleaning lady! There's nothing degrading about this job, but it wasn't what I wanted to become. So I decided to stop saying that until I really found my way. Then, I turned to law school and did my first job as a journalist. I don't have a "classical" training, but I always knew that I wanted to work for justice and equality. I've always been in an ongoing commitment toward gender equality. I first worked as a communication advisor in politics, then as deputy director of digital technology at the Paris City Hall. After that, I managed the Willa incubator for three years, where I supported 450 start-ups led by women. At this position, I saw all the barriers and obstacles that women may face, and I wanted to create an actionable tool to help them remove these barriers and obstacles, including all the ecosystem players in worldwide technology industry. Because data are frightening. That is why, at the age of 40, I decided to launch my own start-up, 50inTech, in order to act concretely to empower women at scale. I am also a director of the UN Women's Committee.
What are some of the most important achievements, highlights, biggest challenges or roadblocks of your journey as a leader?
As a leader, and as a person, I have always had the spirit of "giving first". That's why it is one of the biggest values, and the very principle of our platform. I strongly believe in sorority. I have always given advice and availability to women. I think it is necessary today, as a leader, to share all that I have learned and to continue to connect all the women who come to the market or those who need help. This is how the 50inTech platform works, how the company works: 1% of our revenues will be donated to associations, and how the 50inTech team works: each member will give 10% of its time to share its expertise with the 50inTech community.
We must have this state of mind for all women, starting, of course, with our employees. I believe in leadership through empathy. The emotional quotient to develop as a leader. Listen to your employees, engage them by giving meaning to their work in a vision that motivates them. This is essential. At 50inTech, we will define engagement methods that will allow us to define in collaboration with the KPI team, it is a method called OKR Impact that allows us to engage all employees in the same dynamics, on the same indicators, in order to know in real time why and how we will achieve our objectives together.
Have you achieved all that you had desired? Tell us about the moment when you realized that your hard work has finally paid off. What keeps you driven and determined towards work?
My first achievement was to dare: dare to launch my start-up. But it is not so much to launch it as to succeed in achieving the 50inTech objective that animates me and the whole team that already supports me. My challenge is to make this company sustainable, to raise funds to achieve our global vision: to increase the number of women in technology from a 90/10 ratio to a 50/50 ratio, and to change, for real, the situation in an industry that is too locked and too often looks like a bro club. The mission is ambitious, but I am convinced that we will achieve it. Our platform is opened to all those who want to build with us a smart gender equity for tech. The number of our partners, ambassadors, tech leaders and women in tech who follow us continues to grow everyday very quickly, whereas we are just working on the Beta version which will be revealed at Vivatech in May. And last by becoming CEO myself, I am inflating the low ranks of women in technology (we are only 3% worldwide today).
What seeded the vision of 50inTech? Brief us about the services that 50inTechprovides and tell us why customers choose you?
It began with a constat, it began with data: worldwide, women are hugely under-represented and under-funded in the Tech industry, the industry which is shaping our future. Women represent only 10% of co-founders, 3% of CEOs, 9% of investors, less than 30% of the digital force and get a dismal 2.7% of all venture capital. Yet startups co-founded by women are performing 63% better than all-male founded teams, and with 50% of women in tech Europe GDP would grow by 9B B€. I am a woman of action, I desired to act concretely and build the tool to help women and all the ecosystem to operate a structural change to reach 50% of woman in tech.
50inTech is the first data-driven and inclusive platform acting as a business and career accelerator by providing actionable advices and connections for Women in Tech. Our ambition is to create the most ambitious pipeline of female founders, first in Europe, then worldwide, to really empower women at scale. We co-designed the platform with women in tech and all the ecosystem player to be certain to answer the needs of both sides and develop the most efficient and useful tool. 50inTech, the Fast-Track app for women in tech. 4 pillar services for women in tech, easy-to-activate and business-oriented
SHARE: To learn from your peers and share your experiences, best practices and tools, guidance on entrepreneurship, funding, careers and leadership. (Discussions, AMA sessions, surveys and groups, challenge submission.)
MATCH: To connect with VC Funds and business angels, incubators, industry experts, tech leaders, mentors, corporate, and the international community of women in tech, (ask/ offer, office hour, 1.1 call, mentorship.)
DECODE: Practical and useful tools and content to decode and enter the tech ecosystem: curated content, guides, masterclasses, podcasts, places, events, programs
ACHIEVE: Tracking of personal objectives, posts follow up, financial metrics, partner offers,
Amidst all your responsibilities and roles at 50inTech, how do you manage to balance between professional and personal life?
Let's not kid ourselves, managing professional and personal life is complicated as an entrepreneur. The balance lies in the proper distribution of daily tasks in the couple. The most important thing is to have a partner who is equally involved in family and daily life, or to be able to count on the help of the people around you to manage the house and help you with the children. We are raising two kids and I am very grateful to be well surrounded. But this question is not only about women, it is often asked only to women, it should be asked to men too.
What are your individual plans going ahead? What does the future hold for you and 50inTech?
My first objective is to make 50inTech grow and to find the necessary funds to achieve it, the prospects are huge, we are only at the beginning for the moment, the Beta version of our app will be revealed at Vivatech on May 16. My ultimate goal is to achieve 50inTech's vision as quickly as possible and to succeed in building true gender equality in technology. As a person, my goal is to realize myself as an entrepreneur, to realize that I can make an impact in my society, in the women's community in technology, .