Food Distributors for The Hungry in The USA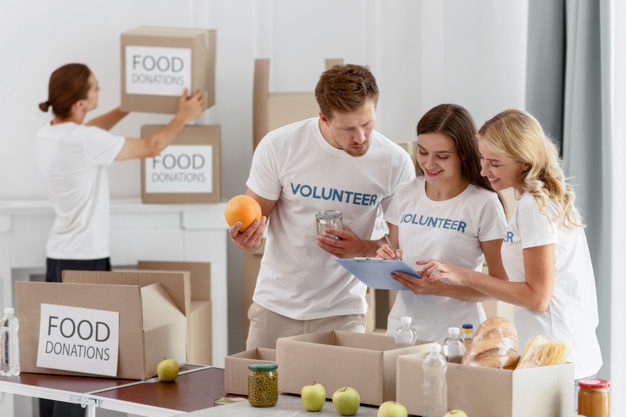 Food is important and necessary for each and everybody. It falls under the basic necessities of a human being. It provides us with nutrients which keep us healthy and safe from diseases. But in this world, most of the people live in a poor condition and balanced nutritious food is a myth to them. A huge section of the world's total population struggles to get enough food daily. Even in a progressive country like the USA, the scenario is not much different. But help comes from the angels who are identified as mere humans like us. We are talking about the food distributors of the USA who provide food to the poor without expecting anything in return from them. Food distributors are the ones who supply food to us either for money or free. Let's find out the identities of such food distributors.
Food charity in the USA is conducted by organizations, restaurants, food banks and by the government itself. Here are the restaurants who work as free food distributors in this positive initiative:
1. Burger King:
Burger King provides free Whoppers to students who can correctly answer the quiz questions over social media. It also gives away free Dave's Single Burgers with any order made through the app.
2. Wendy's:
Wendy's give a Breakfast Baconator for free with any order of breakfast via their app.United States Department of Agriculture supplies nutritious food to children, families with low income, elderly people and Indian reservations. They maintain the safety of nutrition through their food distribution programs. They play the role of an important free food distributor in the USA. Let us find the initiatives taken by the United States Department of Agriculture to feed the poor.
1. CSFP or Commodity Supplemental Food Program:
The CSFP or Commodity Supplemental Food Program helps to improve the health condition of infants, children, pregnant women and new mothers of low income family and the elderly people. They enrich their diet with nutritious food supplied by USDA.
2. Fresh Fruit and Vegetable Program by DoD or Department of Defense:
The Food and Nutrition Service of USDA work in collaboration with the DSCP or Defense Supply Centre Philadelphia's Produce Business Unit. The DSCP helps them to buy fresh fruits and vegetables using the USDA's federal commodity entitlement dollars. Those fruits and vegetables get supplied to schools.
3. Food Aid Program:
The U.S. agricultural commodities do get provided by this food aiding program to feed millions of hungry poor people residing in financially needy countries. The aid gets provided as both direct donations and concessional programs.
4. FDPIR or Food Distribution Program on Indian Reservation:
The native American families with low income get benefits through this program. The USDA food gets provided to them by FDPIR. The elderly who are residing on or near the Indian reservations also get food supply through FDPIR.
5. Food Distributors Disaster Assistance Program:
Through Food Distribution Disaster Assistance Program the disaster relief organizations like Salvation Army and Red Cross get the supplies of food from USDA. They use it for feeding the mass and distribution to households affected by any kind of disaster.
6. Food Purchase Program:
To support the National School Lunch Program and other Federal Feeding programs, USDA buys a variety of food supplements. This purchase of supplies helps in balancing the supply and demand of agricultural commodities in the market and also stabilize their prices.
Food Banks as Food Distributors:
There many food banks in the USA who are serving people for a long time. A group of 200 such food banks has decided to work together and the network they have formed is known as 'Feeding America' initiative. A food bank is a kind of non profit organization which helps the hungry with free food. They distribute food and groceries through meal plans and pantries. Families with low income, children, elderly and people suffering from hunger get the best treatment from them. Feeding America plays an important role as a free food distributor.
Conclusion:
Feeding the hungry is one of the best charity which a human can do. And all these initiatives by the free food distributors are doing their best to serve mankind. In this great world, no one should sleep hungry.