Fast Food Restaurant No More Hunger Games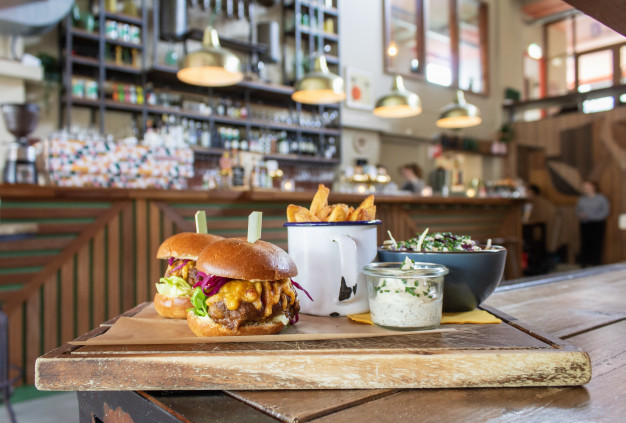 The modern lifestyle is a busy one, which often has us shuffling between ends. For quick fixes, when cooking seems to be a hard task after work or there is a special occasion that demands celebration, what better way just visit your favorite fast food restaurant?
An occasional visit to these restaurants will give you the energy to carry on with the tussle that life is. The very idea of fast food restaurants is to cater to those people who are in a rush and are experiencing a shortage of time. Therefore, these quick service restaurants have the option pick and run. A characteristic feature of fast food restaurants is minimum table service. They figured since you are going to be here only a while, why not invest all the staff inside the kitchen instead of hiring people to serve you like they do in restaurants.
Here's a list of advantages that has this generation hooked onto fast food restaurants:
The option to eat instead of having to skip meals:
As the name suggests, fast foods are incredibly quick to be prepared and delivered, making them a suitable option for helping one to not skip meals irrespective of their busy schedule. Choosing a good fast food meal with lesser fries, a little bit of more vegetable topping is enough to beat hunger and help you from starving or facing adverse health conditions like ulcers. The fast food restaurants are very common options for food when it comes to working people.
Manage your schedule more effectively
We are constantly immersed in work – this is one of the biggest vices of the modern world. It is not uncommon that we often forget the concept of time and even our schedules while working and fail to remember to sit peacefully for a quick meal. But with the high availability of fast-food restaurants, there are very little chances for you to have to sacrifice your meal. Choosing any fast food meal requires almost little to no time and hence with or without home cooking, you can always manage to take care of your eating schedule with much ease.
A smarter way to reduce hunger problems in the community
Fast food items are undoubtedly some of the most easily available low-cost food stuff available around the corner. Though the consumption of these foods isn't being talked about on an everyday basis, when it comes to situations in general, having a couple of bucks is enough to fill up your stomach when it comes to these foods. Most fast food restaurants are much cheaper as compared to their contemporaries. For a family of a community that survives from paycheck to paycheck, fast foods are the ultimate getaway.
Crystal clear nutritional value of the items served:
With the millennial being overly concerned about what they feed themselves, fast foods have always been a great way of sometimes entertainment as all the common foods that are ordered have a clear amount of calorie count that gives you an approximate idea as to what you're feeding on and what would be the number of calories.
The fast food industry has more healthy choices than ever before :
With constructive criticism over time, these quick service restaurants have some of the best available variations of healthy foods. There are many varieties of chicken and other red meat preparations that come inclusive of a mix of greens starting from lettuce, red cabbage, carrots, beans, spinach, and avocado and so on. For the health conscious people this is sure to be a blessing.
Order complete meals with smart choices for less than 5$.
Given that the economy has taken a hard hit world over, it's mostly the fast food restaurants that have been helping many to get a good meal every day. With smart planning, the meals included can be engaging and are also immensely affordable.
A significant economic boost to many communities:
Believe it or not, many livelihoods run on fast food restaurants. For instance, if customers buy lots of discounted items, then the sales of add-ons create a profit margin that wouldn't have been there otherwise. Also from the raw materials to processed foods, they all are interlinked and opting to eat at these outlets is what keeps the markets thriving in these areas.
A good place to hang out :
It's a fact that there's always a lack of time to catch up with old acquaintances or even have a good one on one chat given the fast-paced lives we are a part of. But with these restaurants around the corner, you can easily decide to meet up at lunch or dinner and have a soulful conversation or a mini-reunion without having to take out any additional time.
Conclusion
Quick style restaurants are a blessing for those who are always on the run. They also feed everyone who is not always running high on budget with their "small pocket" size options. This means no one has to go hungry. These restaurants are also strategically located where the crowds are high so that they can run the business while offering cheaper options to buy food. Overall, having a fast food restaurant nearby that delivers tasty food is always a blessing.