Erna Grasz: Developing Africa's Youth through Leadership, Entrepreneurship, & Job Readiness Training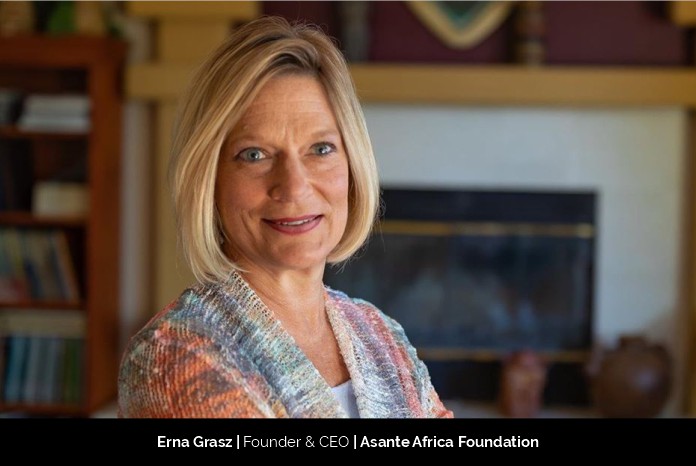 Erna Grasz co-founded Asante Africa Foundation with two visionary African women from Kenya and Tanzania. While spending 25 years in the corporate world as a senior executive, she earned the reputation as a strategic leader, "organizer of chaos" and with demonstrated success in diverse industries, including medical device, defense research, and semiconductor capital equipment. In 2011 she left the corporate world to manage the organization full time. Rooted in the UN Sustainable Development Goals, Asante Africa achieves results through a set of interconnected programs designed to alleviate poverty by fostering the development of educated and resilient youth. Programs emphasize quality learning in the classroom, gender equity, work-life skills, and the power of technology. Students develop the cognitive skills, decision-making capacity and leadership qualities needed to succeed far beyond the classroom. In an interview with Beyond Exclamation, Erna shares her journey through the years. Below are the snippets of it.
What was your goal while growing up? Did you always want to be where you are right now?
As a young girl I always excelled in math and science, and I enjoyed the challenge of solving difficult problems. Growing up being raised by an immigrant father and an orphaned mother initially limited what I thought I would grow up to be. Originally, I wanted to be a math teacher, but mentors and my high school teachers encouraged me to think bigger and bolder. Rather than teaching math, I could go into a profession that used math and science to solve tough problems.
My career path, and career experiences, have far exceeded my wildest teenage dreams. My career as an electrical and systems engineer taught me complex solving skills. My life as a corporate executive taught me multilevel leadership and influencing skills. My career as a social entrepreneur has taught me the true meaning of being a global citizen and how to nurture brilliance and talent across the globe.
Could you give us an overview of Asante Africa Foundation, and the inroads it has made in education space?
Access to education was a major issue when we began this organization. A lot of money, philanthropic organizations, and people focus on the educational opportunities in the cities. We noticed that rural communities could not access these opportunities. Our programs apply a "learn- do- teach" methodology that provides each student with new knowledge, hands-on application and skill building, and an opportunity to teach others. Through this academic and life-skills training for students and teachers, Asante Africa has impacted 594,000 lives from our founding in 2007.
Tell us about one strategy that has helped you grow Asante Africa Foundation?
In the early days of building Asante Africa, one of our co-founders told me, "Quit thinking like an American. We are in Africa. That will not work here." She was 100% correct. We ensure our leaders on the ground in Kenya, Tanzania, and Uganda have ownership of their projects and work. They drive the bus, so to speak, and I am here to support them. We let the local leaders go at the pace that best fits the context of the schools and villages where they work. If our programs are not developing youth and teaching the skills they need to succeed in their communities, then we will not survive long term.
Tell us about your life before Asante Africa Foundation. How past experiences help you today in leading the company?
After I finished my bachelor's degree, I headed to a national research defense laboratory to test myself and tackle the next challenge. I stayed at Lawrence Livermore National Laboratory for fifteen years, and I developed a reputation as someone known for "figuring it out and getting it done." This reputation let me lead multi-million dollar programs focused on cutting edge engineering design and integration like robotics systems for land mine recovery and radioactive material handling. I was fortunate enough to play an integral role in a massive effort to build the National Ignition Facility, the world's largest and highest-energy laser facility. The project was a huge success and the National Ignition Facility has become a premier international center for experimental science.
After this, I moved into Silicon Valley to help turn around underperforming semiconductor and medical device companies. Here, I developed a new reputation for "finding the right players" as I helped create high-performing teams that delivered results on-time and under budget. Working in the private sector sharpened my business and financial acumen.
These past experiences have been invaluable in building Asante Africa. This foundation was my first foray into the nonprofit world, and building an organization from the ground up was no easy task. This task was only made harder by the literal ocean that separates me from the region in which Asante Africa works. The keys to Asante Africa's success were laid in my past experiences. "Finding the right players" and "figuring it out and getting it done" have become a part of our daily operations.
Have you achieved all that you had desired? Tell us about the moment when you realized that your hard work has finally paid-off. What keeps you driven and determined towards work?
My biggest driver is impacting lives for the better, utilizing my skills, talents, mentorship and my own hard-learned lessons as guidance. I am a continuous learner and I enjoy looking to the horizon and anticipating what will be needed in the next era.
One story has stuck with me as an example of why our work is worth all of this effort.
I first met Anne when she was in 8th grade. She was selling ears of roasted corn with her father in a rural Kenyan town on the side of the road. She sold corn to help provide for her family, but also to cover her school fees. After speaking with her, I was impressed by her drive and by her work ethic and her school principal confided that she was the top of her class.
Asante Africa provided Anne a scholarship that covered her school fees. That was years ago. Today, Anne is a college graduate. She helped her father build a new home and sponsored the education of her younger sisters. Not only that, but she continues to give back by inspiring and teaching entrepreneurial skills to other young girls. Because of Asante Africa, and our teachers, advocates, volunteers, donors, and everyone else, Anne was given an opportunity to change her life. And she seized it.
Her story inspires me, but what drives me forward is the knowledge that there are more Anne's out there. People who have the ingredients for success but are overlooked because of where they were born.
What does work-life balance mean to you and how do you work to achieve that goal?
With a global enterprise, work and life are integrated. I have always believed in a work hard, play hard mentality. I have to say, I very rarely turn the switch off completely, but when I do, it goes completely off.
I am blessed that my life and work and highly integrated. My family, friends, and colleagues are all a part of my everyday life. When I do have personal time I like to read, research, and become wiser by studying other people's teachings. I am an extreme extrovert so I deeply enjoy spending time with my friends, family, and exploring all the nooks and corners of my town, country, and globe. I see opportunity and creativity everywhere. I truly love meeting new people, learning new ways of life, and new ways of seeing the world. That fuels me physically, mentally, and emotionally.
How satisfied are your clients with your service? Can you share some of your client's testimonials?
Our primary customer is off-the-grid, school-aged, highly at-risk youth in rural East Africa. Most NGOs concentrate on urban areas and urban problems. Asante Africa Foundation has chosen to focus on the vast off-the-paved-road communities most in need. It is critical for rural youth to receive a quality education, to prepare them for economic opportunities, and to give them the tools to lift themselves and their communities.
If you could go back in time to meet your younger self, what would you advise yourself?
I would tell myself that true success comes from your impact on the world and not your credentials. When I was younger, I always regretted not going to a university that was a recognized leader in the robotics and AI field. I graduated from a state university and idolized my peers who graduated from schools like Carnegie Mellon or MIT. As I started working and advancing up the corporate ladder I began to understand that academic credentials were only one of the pieces I needed to become successful. Real education is about life-long learning. What I learned in school and the skills I developed at age twenty, thirty, forty, and fifty were all different. Most importantly, I learned what I needed to turn Asante Africa into a successful non-profit. Being successful builds on your academic foundation, but true success is all about impact. I am successful not because of my resume, but because what I am doing now is having a positive impact on thousands of lives.
What would you advise to the young entrepreneurs venturing the startup landscape?
Look for opportunities in gaps and design solutions to close those gaps. More than that, carry yourself and your business with integrity. Have a good sales technique because people buy what YOU are before they buy what you pitch. Understand the cultural context of leadership skills required to build a global community. Successful entrepreneurs must also be excellent at managing relationships and resolving conflict without losing yourself or the relationship. Most importantly, you have to understand that no one person does it alone.
What are your plans going ahead? What does Asante Africa Foundation's expansion and growth trajectory look like in future?
For Asante Africa Foundation, it is not just about the number of people we impact, but the depth of impact we have on individuals and their community. The next decade is focused on exponential growth through our young graduates utilizing their skills and knowledge to create their own impact. Our 'pay-it-forward' model is catching fire. We currently operate in 330 schools across Uganda, Tanzania, and Kenya. By the end of 2025, our goal is to operate in 2,200 schools and to have impacted one million new lives. Ideally, I will continue to grow this organization's senior leadership and youth until, one day soon, you will be requesting interviews with them instead of me.