Steven Fingerhut: A zealous advocate for employees who have been wronged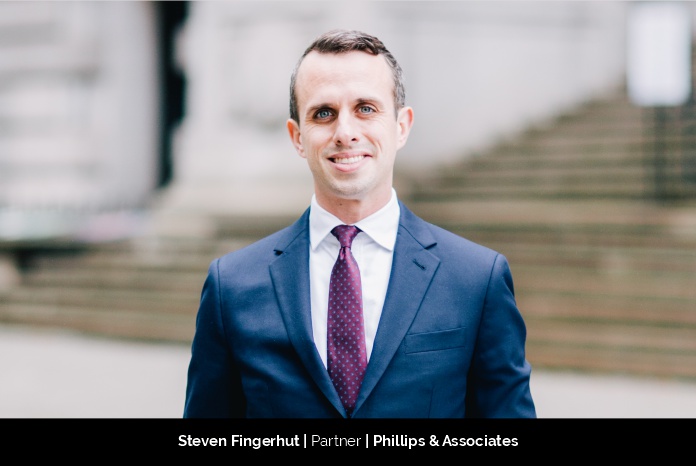 Giving a voice & providing vigorous representation to individuals who have suffered from employment discrimination and harassment in the workplace
Steven Fingerhut's motivation at Phillips & Associates stems from the desire to give a voice to those who feel silenced in the workplace, particularly women. Too often, a victim of harassment feels unheard and powerless in their day-to-day struggle at work. As a Partner at Phillips & Associates, Steven considers himself privileged to represent those people. In his efforts to lend a voice to workers whose complaints are trivialized or ignored, Steven has obtained over $7 Million in settlements for his clients in the past three years alone.
At Phillips & Associates, Steven strives to set an example through his day-to-day work. He wants to leave the office each day knowing that he has given the utmost focus and care to every issue he's faces. "Anyone who contacts the firm should be treated with compassion, they should be heard, and they should be spoken to with sincerity. I want anyone who leaves my office to think, 'He cared. He listened to me.' This is a goal that has served me well in the practice of law. I believe that by giving each individual client matter the care and attention it deserves, my behavior invites a positive attitude in my colleagues and encourages others to find success at the firm," says Steven.
'An accident of birth'
Steven is someone who does not shy away from acknowledging his privilege. While giving credit where it's due, Steven says, "It was by an 'accident of birth', as my grandmother would refer to it, that I have parents who provided me with financial stability and support during my youth, and who helped me to have access to a good education. I am privileged as a cisgender white man. I have no doubt benefited from opportunities that were more available to me by virtue of these 'accidents of birth', and for which I can take no credit."
Steven graduated from The College of New Jersey with a degree in mathematics and a minor in art history in 2010. He graduated from Albany Law School three years later in May 2013. He says he didn't really have that moment of realization about becoming a lawyer until he was practicing as an attorney and found his niche. Law school did not excite Steven. After being admitted to practice, he explored different areas of law. It wasn't until he started representing plaintiffs in Title VII employment cases that he truly found passion in advocacy. "It's a great honor to have found a path which brought me to a partnership position at Phillips & Associates," he asserts.
Making clients whole to the greatest extent possible
Steven's goal each day is to advocate for clients who have been discriminated and retaliated against, sexually harassed, not paid minimum wage or overtime, and subjected to other unlawful workplace practices. He strategizes with teams of attorneys and paralegals to enforce the protections afforded by city, state, and federal laws in civil proceedings. He says he wants to make his clients whole to the greatest extent possible by asserting claims for monetary damages which often arise from a loss of employment as well as emotional distress. On a typical workday, he is managing litigation strategies across attorney teams, counseling clients over the phone, appearing in court, or engaging in negotiations.
In his day-to-day work, Steven is best served by his ability to vary his communication in a way that lets him make strong connections with many different personalities. Some clients require frequent contact and a meticulous explanation of even the smallest details about their case. Others prefer not to be bothered when possible and are more receptive to bigger picture updates, he says. "Employing the right communication style with my clients enables me to build trust with them. Similarly, certain judges appreciate a more collegiate and informal dialogue, sometimes holding conferences in their private chambers. Other judges demand more traditional gestures of deference and respect and need to be approached more formally. Maintaining good relationships with judges is important and helps to make me successful. To put it simply, I have a knack for speaking a person's language and it tends to lead to more productive communication," Steven adds.
Going beyond the power imbalance
As a zealous advocate who provides vigorous representation to individuals who have suffered from employment discrimination, Steven says, he sees issues of harassment and discrimination arise anywhere in the corporate hierarchy. In many instances, according to him, the problem stems from employers who delegate too much supervisory or management level authority to employees who are not fit to manage. "It is a huge responsibility to charge someone with supervisory authority in employment. In fact, in New York City, employers/companies are vicariously liable for the bad acts of their supervisory employees. This is true even when a person suffers harassment from their supervisor and never makes a complaint about it. For example, if an employee has suffered sexual harassment at the hands of their supervisor, the company is vicariously liable, even if Human Resources was not made known of the harassment.
"This is an incredibly progressive policy promulgated by the City of New York which strikes at the heart of the power imbalance inherent in most employer-employee relationships. Even with a carefully constructed Human Resources policy on reporting sexual harassment, there are many reasons that an employee can feel unable or afraid to voice a complaint. An employer in NYC must take extra care in training their supervisors and enforcing a zero-tolerance policy on harassment," he says.
Steven is very proud of his clients who have had to overcome enormous obstacles, just in picking up the phone to call an attorney. Many of them have had to endure years of litigation. Discovery and depositions can be grueling for them, and surely nothing is harder than the uncertainty that hangs over a person during the pendency of their case. "There is absolutely no better feeling I experience than when I see a client's ultimate satisfaction. If I can help to make my clients feel whole, and to feel some vindication, I am very happy to continue devoting myself to this practice."
Achieving a work/life balance effectively
Talking about his regular habits, Steven says, he starts his days getting work done on the train during his commute. This helps him to achieve a better work/life balance. "I have a nearly two-hour long commute and I don't want to sit idly too long. The best way for me to get my day started is to begin tackling my list early. It begins a momentum that affects the whole day. Coffee and a simple breakfast don't hurt either," he shares. He is an early riser on his off days as well. His outlook is: "I should be making the most of my life outside of work with the same (or even more) vigor and drive as I do in my profession." Steven is an avid runner and recently ran NYC's 2020 virtual marathon.
Figuring out what matters most & acting on it
The #MeToo movement has created a lot of momentum to help women come forward and bring the harassment they've suffered to light. Unfortunately, an ugly counter movement has developed in which victims are routinely accused of inventing a sexual harassment narrative for fame or money. It's tragic that when a woman has the courage to name her harasser, the first question a listener may ask is, "Could she be lying?"
The number of instances in which I've learned a plaintiff's claims of sexual harassment have been debunked is extremely small. I will not claim that it never happens, but it is such an insignificantly small number that it should not even be part of the more important discussion about the very real sexual harassment suffered by an enormous percentage of women.
It is ludicrous to me that the movement has actually become divisive, even political. In my view, a man's ability to jump to skepticism whenever a woman alleges sexual harassment reflects a lifetime of unacknowledged privilege and a narrow perspective. Ironically, on those very rare instances when I have learned that an accuser was not honest about their sexual harassment allegations, the accuser has almost always been male, not female.
I want to help those women whose complaints are ignored, or worse yet, whose complaints incite retaliation from an employer. I want to insist that the employer be held responsible. For women who are silenced, discredited and vilified, I want to prosecute their claims to the fullest extent of the law. Plaintiffs typically face a lonely, uphill battle against large companies that often rely on current employees to testify against the victim. Current employees likely have biases and pressure from their employer to fall in line. My passion comes from a desire to be in the victim's corner.
Steven advises young law students not to be rigid in their plans for the future and to instead experience different practice areas. Law school, especially the third year, can be a great time to participate in clinics that provide real exposure to different legal niches. "If you don't feel passionate about the first job you have, or even the first five jobs, keep looking. The legal field is enormous-there is no sense in settling into something that doesn't motivate you," he advises.
Phillips & Associates has expanded a great deal in under ten years, says Steven. "It began as a few employees in one office in New York's financial district and has grown to an excess of forty employees across six offices in four different states. We have a successful model that I am proud to be a part of, and which is continuing to expand. In ten years, we could have another six offices," Steven concludes.