David Herrera: Removing headwinds for underrepresented talent through data and analytics.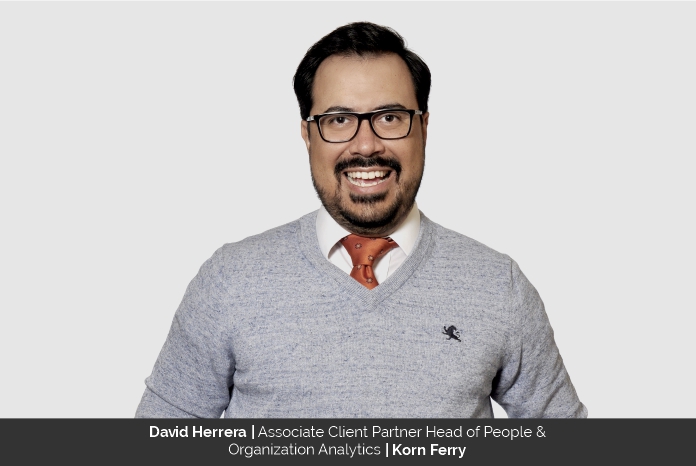 David Herrera is an Associate Client Partner and Head of People and Organization Analytics North America for Korn Ferry and a Board Member of Golf Ontario where he chairs the HR and Compensation Committee. He is an unstoppable force as a thought leader developing groundbreaking talent strategies for his clients grounded in advanced data methodologies and interpretation. He is also a seasoned DE&I practitioner recognized by his colleagues and clients.
As a leader in People Analytics and Organization analytics, David's strengths are his innovative thinking, his ability to connect talent with business outcomes through data, and his ability to transform organizations through talent. He splits his responsibilities between designing new analytical solutions, delivering people transformation projects to his clients, and developing his team to become future leaders.
In his role of consultant, David delivers global and regional projects throughout the US, Canada, Australia, Europe, Asia, and Latin America. Due to the expertise and experience he has in talent management, organization design, organizational development and culture transformation, he has worked closely with C-level executives and HR leaders assisting them in defining and delivering their strategic goals, organizational commitments, and developing their future talent.
"Having worked with C-suite leaders for over 15 years to attract, retain, advance, and engage talent has allowed me to elevate DE&I as an essential pillar for success," he says. "Performance and transformation are two things I'm obsessed with. Since the beginning of my career, I have focused on developing high-performance teams, reshaping organizational cultures, and preparing organizations to achieve their next business goals. This experience taught me that diversity and inclusion speed up performance and transformation."
DE&I: From home values to corporate and societal reality
David was born and raised in Mexico City. It was his mother and father who raised David and his sister with values of equality and equity that paved the way for David's DE&I journey. "My parents always treated my sister and me as equals, which reflected their relationship. I was raised by an entrepreneur mother and a financial services father. They achieved their career and family aspirations by supporting each other, and both shared the same responsibilities at home."
After starting his professional career, David realized that many leaders don't actually act on equality, even though they talk about it. It was at that point that David realized what equity meant and the importance of differentiated support to deliver an organization's promise of equality. David explains, "Leaders must understand that equity involves supporting groups based on their unique needs so they can deliver their equality promises."
David relocated to Canada in 2018 when his husband was transferred by his employer. "As a family, we moved to Canada, and I also had to relocate my career," David explained. He recalls how his background as a Latino began to affect his professional development, such as having to prove that his Mexican experiences were relevant in a Canadian environment. " Many recruiters and leaders told me they were moving on with other candidates because I didn't have Canadian experience." As a result of this experience, David became a DE&I practitioner and helped leaders understand how much talent they were missing because organizational processes and values were no longer relevant to building the workforce they needed in a global and multicultural world.
According to David, one of his advantages as a Latino man is his understanding of how DE&I cannot exist in silos; it must be integrated throughout everything an organization does. Thus, equity and inclusion are at the core of every organizational system and talent process.
Great Leadership to deliver global impact.
Leadership is an impact sport. David sees the most effective leaders as those who are able to connect individuals, teams, and the ecosystem to common goals. It is through this common understanding of the business and the expectations of stakeholders that leaders are able to make a real impact.
As a leader and builder of self-motivated teams, David is recognized for building bridges by reinforcing the common goal that different teams and people are striving for. "The way I have successfully delivered global projects is by elevating teams, creating spaces for collaboration, discussion, and positive conflict. The ability to understand multicultural differences and to value different perspectives that I have acquired through inclusive skills has been an excellent foundation for my career," David says.
Developing the talent of the future.
One of David's many strengths is his passion for developing people and teams. "Developing talent takes courage, honesty, and difficult conversations. We need to understand our impact as leaders and how we are responsible for the success of our people. The responsibility is ours to identify their strengths, give them the right opportunities and exposure, and help them succeed," David explains.
"I still remember the feeling of bumps on my skin when my team stood up outside my office and clapped and cheered for me on my last day at Soriana because of the impact I had on them and the organization," David shares. When teams and people flourish on their own after you enable them, shape them, and unleash their potential, David says, that is the true reward of a leader.
Plans for Future
As a leader in management consulting and People Analytics and Organization Analytics, David is working with organizations to develop strategies and initiatives that will help them make informed decisions and bridge the gap between the talent they need today and the talent they require for tomorrow.
He sees himself continuing to work with organizations using technology and analytics to develop high-performing teams and organizations. One of his critical personal missions is to ensure that organizations use analytics and artificial intelligence responsibly, so as to mitigate bias as much as possible and elevate people instead of replacing them. "Technology should be about boosting the performance of our talent. Even though automation can replace some tasks, high-performing teams are essential to innovation, growth, and sustainability," David mentioned, "and Equity is at the center of that journey," David emphasizes.
David's service as one of Golf Ontario's Board of Directors is a way to support the sport and leverage it to elevate underserved communities throughout Ontario and Canada. "Often times, golf is underestimated as a tool for building communities. Our kids and teenagers learn unique skills through golf, such as self-management, resilience, etc. Additionally, golf has historically been a hub of business networking, so by providing access to underserved groups, we are providing them with a powerful tool that will assist them in reaching their professional objectives."
Message for Aspiring Leaders in DE&I Space
"THANK YOU. You are all helping make the world more equitable and inclusive," David says in his message to DE&I leaders. "It is with your added voices and skills that organizations can, and will, build the culture and talent processes that they need to support the needs of the talent of today and into the future."