Combating Cyber Crimes with Seceon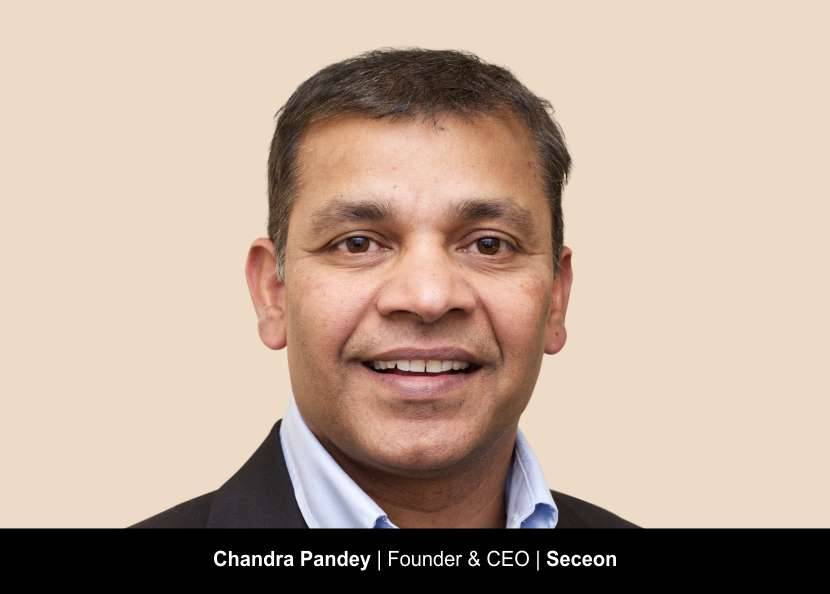 With business connectivity on the rise, companies are being increasingly exposed to cyber-attacks. To try combatting this, some businesses deploy a range of cyber security solutions and armies of trained professionals. Others don't have the budget or expertise to afford such measures, as ineffective as they are. In fact, many of these attacks cause significant damage and, more often than not, are only detected after the damage has been done.
Seceon takes a new approach to threat detection and management, arming today's enterprises with innovative, cost-effective solutions that detect and stop known as well as never-seen-before threats when they happen, instead of days, weeks or months later.
The Man behind the Innovation
Chandra Pandey, Founder and CEO of Seceon, is an enthusiastic cybersecurity pioneer and extremely passionate about protecting enterprises against expanding digital dangers. He built Seceon into an organization that cultivates technological advancement by empowering all colleagues with leadership capacities, encouraging open and honest communications, and building a culture of continual improvement.
Pandey understood that, to make a real impact on the industry, it would take more than building an advanced security solution. Seceon would also need to make it affordable for small-to-medium sized organizations (SMBs) and easy-to-manage for large enterprises. Pandey and his team worked closely with clients to identify and address their issues and develop cost-effective solutions that would meet their urgent security needs.
The inspiration behind Seceon
Pandey's driving inspiration for becoming an entrepreneur was his mother. "I derived my inspiration to do something big in life from my mother, who believed in never giving up and working hard to achieve goals without fear. She helped people in need and was highly respected in our community. She was always happy with her life and inspired others to feel the same. I will never forget what she told me during her last days, after having been diagnosed with late-stage stomach cancer at age 63, and ultimately passing away just three weeks later. While the family around her was feeling sad, she was cheering everyone up by sharing her life experiences and telling us all to live with no regrets. I hope that, with Seceon, I achieve satisfaction like her and create something meaningful that makes a difference in the lives of others," says Pandey.
The best business advice Pandey received was during his days at a startup, Internet Photonics, in 2002. "Greg Koss (CEO) showed in his words and actions how to bring a team together to work towards a shared vision. His advice continues to serve me well. The second bit of great advice I received was from Deshpande after starting Seceon in 2015. He shared his experience from working in many startups about the challenges to watch out for throughout the process. He said that, in business, there are two parties involved and both must be engaged at the table to make things work, both should see it as a win-win. If either one feels they are getting the short end of the deal, the relationship will not last long," said Pandey.
The cyber security industry was in full swing and experiencing significant challenges when Pandey had decided to seed his startup. Due to overwhelming cyber attacks, loads of confidential data was being stolen and businesses didn't have the right tools or resources to stop the damage. "That is when we thought we could create a solution to address the problem, which is that so much traffic is flying between data centers–billions of bytes per second–that can't be monitored. We decided to do something about that," Pandey said.
From day one, Seceon started with a clear vision of delivering "Comprehensive Cybersecurity for the Digital-Era" and solving the biggest challenges faced by digitalization. Traditionally, enterprises have built their security posture by layering with multiple security tools from firewalls, SIEM, User Behavior Analytics, SOAR, EDR, DLP, Email/Web Filtering, etc., and having a well-trained SOC team. The truth is that this doesn't do the job. Despite deploying these tools, enterprises still get breached and face malicious attacks causing data frauds on a day-to-day basis. With the shift towards cloud computing and IoT, the attack surface is growing exponentially. Additionally, in the face of advanced threats and increasing attack vectors, stacked silo solutions presents a false sense of "zero-trust" security that no longer suffice. These disparate silo security solutions are also inherently not designed to work together and, thus, leave holes that can be easily exploited by the attackers. Attackers leverage these gaps to intrude into the enterprise and then work their way deep inside. Seceon's platform was created from scratch to proactively detect breaches and threats via comprehensive visibility of all assets (users, applications, services and hosts and their interactions), and automatically contain and eliminate those threats in real-time.
Win-Win for Everyone
There were several times Pandey had almost seized the opportunity to create and bring a new product to market, but he waited for the right time. "Right from the start of Seceon's founding, I have always thought about the trust that our team, customers and partners place in me while making major decisions. I pause and think from their point of view, then make the best decision for everyone," asserts Pandey.
Moving forward, Seceon will continue to add additional capabilities to its platform and remain focused on providing "Comprehensive Cybersecurity for the Digital-Era" to safeguard enterprises and enable customers to focus on their core business growth.