An Expert who Secured Cyber Threats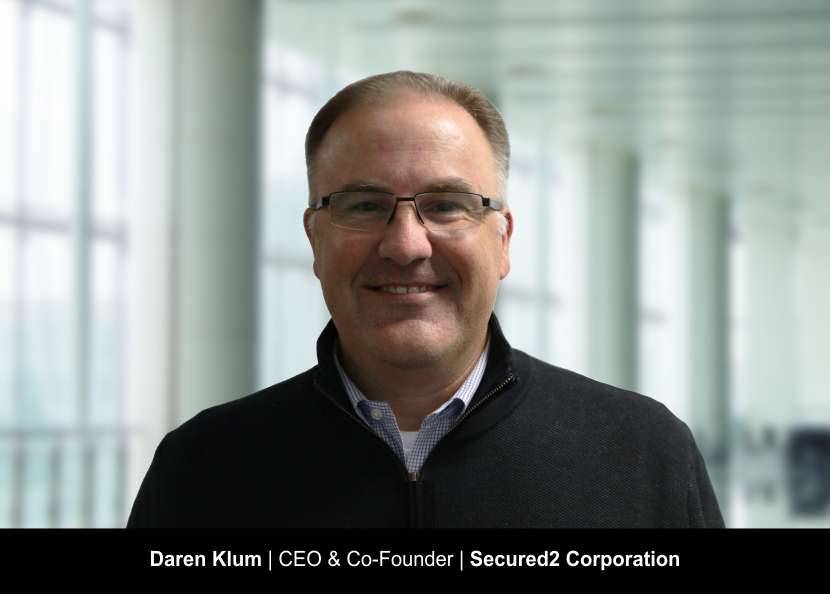 Backed by a high-performance computing background, they entered the Cyber Security marketplace out of a need to solve the huge problem around encryption. With a view to provide a new solution that protected data 'beyond encryption' and also a new form of data security that is protected from emerging threats like quantum computing, Darren Klum entered on his new venture in Cyber Security with the incorporation of Secured2 which is one of the leading companies in its field today. Highlighting a few insights from the expert and his team, we have put together the inspiring story of Secured2 as a motivating read.
A Brief Background
Inspired by his children, Daren chose Cyber Security as a career path. He saw them growing up in a world where their secrets, their digital lives were easily hacked, and could have dire consequences for them in the future. He also saw the tremendous impacts hacks have had on their top business leaders and our political process. Hacking is having a major impact on our country and way of life. Hence with his vast knowledge of the industry and a team of amazing engineers he geared u to solve the problem with time and patience. The initial struggle was building a new security technology that could fit inside today's standards and existing technology platforms. However, with a skilled team under the guidance of Daren, they faced every challenge head on and overcame it. "I'm excited to share – we have solved perhaps the most pressing problem of our time. Data Security!", says Daren.
The Product Range
At the core of their solution is a quantum resilient and beyond encryption security technology that shrinks > shreds > secures > restores data instantly. They built their proprietary security technology into a suite of document management, communication, and collaboration applications customers can install on any cloud provider of their choice (even internal servers). As well, they have built their security advantage into the largest cloud platforms in the world like Microsoft, Amazon and soon Google. So not even the cloud providers can access, see or do anything with your data. In the case of Microsoft, they are the first quantum resilient security ever built into Office365 and allows both emails / attachments to be secured beyond encryption. They also work with customers to extend their security advantage into their own applications through our universal API and provide any customer using their security their indemnification warranty backed by Lloyd's of London.
The Expert Insights
A customer focused technology executive, Daren Lum, his entire career has been at the intersection of high performance computing, cloud, security and building, managing, leading large cloud platforms. He has played numerous roles from engineering (hardware / software), product design, product development and business leadership (c-suite). His roles and responsibility at Secured2 include product research & strategy, product definition, patent writing, software development, fund raising, personnel management and leading marketing. He is an inventor and a futurist who thrives on solving big market problems, developing exciting new technology and bringing the total solution to market.
"We believe if a security vendor actually has technology that is secure they should indemnify a customer against a data breach. At Secured2 we do and our cyber warranty backed by Lloyd's of London comes with each product we sell", asserts Daren.
He believes that It's impossible to hack data you can't find, can't access and is shred n' spread into multiple physically separated locations.
The Changing Market
For the longest time, even today, Secured2 use old technologies like Usernames / Passwords, AES encryption (at rest), TLS Encryption (over the wire), centralized storage (local storage or cloud), and of course sequential packet delivery of switched networks. Sadly, the tired security technologies of their past no longer work against today's new threats. They need a fundamental shift and that's what Daren's company has developed at Secured2. The new future they have built includes physical verification (access control), segmenting data / randomizing data, masking data, breaking data into segments (digital confetti), and decentralized storage. Outside of the work Secured2 is doing the market has been basically regurgitating the same solutions over and over again calling them new innovation. "I do see promise in emerging technologies like blockchain and artificial intelligence but sadly both technologies utilizes today's encryption standards that are fundamentally broken", shares Daren.
The Future Outlook
Secured2 knew the days of AES encryption were coming to an end and that computers were surpassing our ability to provide strong enough encryption. They were well equipped for challenges and are well equipped for the future too. When asked about the future plan for Secured2 Corporation Daren said, "If we told you it would be tipping our hat to the competition. What we can share is we have something so big, so transformational, it will launch a new trillion-dollar marketspace and open up incredible opportunities for our partner network".
When your dedicated to succeeding in your chosen path, you become a visionary who aspires grow and lead. Secured2 is steaming ahead with new ideas and technology to master the field creating a milestone in Cyber Security.