With Great Knowledge comes Great Success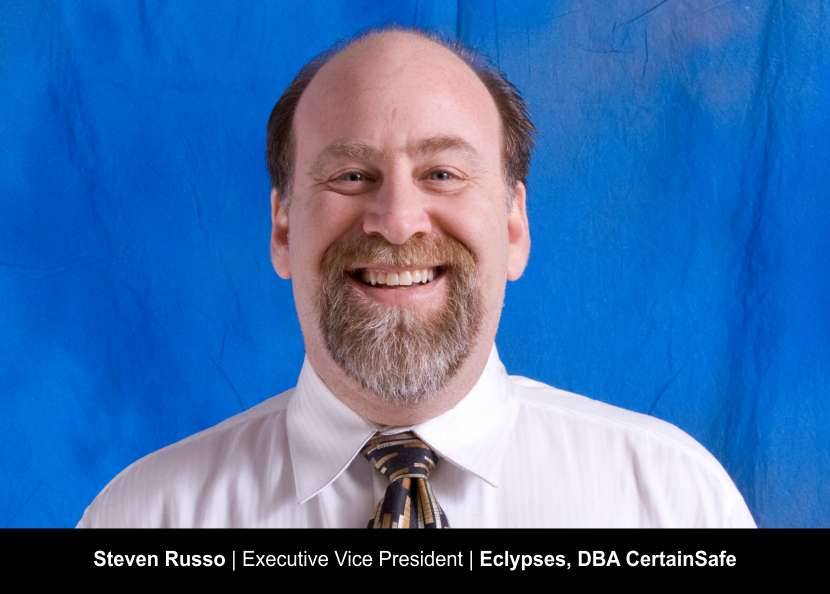 With the rise of reliance on computer systems, Internet and wireless networks like WiFi and Bluetooth, Cyber Security has become an important measure essential to eliminate the risk of thefts or damage. With a view to make cyber security easy, CertainSafe was created. CertainSafe 's digital safety deposit box is the most secure cloud based digital asset manager ever created to protect private information and ensure industry and regulatory compliance. To gain a clearer outlook and a few interesting insights we are in conversation with the well-versed cyber professional himself, Steven Russo, Executive Vice President of Eclypses. As he shares his journey, we are certain that his vast experience in the industry will impart a different perspective of business.
What prompted the idea to enter the cyber security landscape?
This is simple, the cyber security services that are available are not working. With our significant experience, as well as background in and around payment card security we felt very strongly we could develop a cyber security solution that would not only work but would Revolutionize how digital data is protected. This is where MicroToken Exchange®, or "MTE" began
How has been the journey so far since the inception of CertainSafe? What were the initial struggles that CertainSafe had to face?
Like any product, CertainSafes' initial struggle was how to penetrate the market. We have the most secure data technology available and we have created something unlike any other data security company had been able to provide. People do not like change. Once we become accustomed to something and we see that it is working for our purpose it allows us to be comfortable as in, in our own skin. So, how do you convince people the they are utilizing outdated security technologies? How do we convince people that the world around them is evolving to penetrate the outdated security they're utilizing? Over time, industry leaders, such as PC Magazine, present and honor you with their Editor's Choice awards, multiple years in a row. They give you accolades and awards for the best Encryption, etc.
How did the company overcome the obstacles?
Persistence, dedication and the general belief within our sales team, customer service team and developers that we have a technology that can be built into multiple products to provide the highest-end most secure data security available to any vertical. Additionally, over time, industry leaders, such as PC Magazine, present and honor you with their "Best In Class" awards, multiple years in a row.
Brief us about the wide range of cyber security solutions that Eclypses MicroToken Exchange (MTE) provides to the clients.
Payment card services – Ecom services
on premise integration – Public and Private Digital Vault services
graphical interface, personalized and customizable web based secure portals
SDK solutions
Data In Transit (IoT)
Brief us a little on your background. Also tell us your roles and responsibilities as EVP of Eclypses, the company behind CertainSafe.
As an EVP of Eclypses, I have had the honor of working with our incredible team of now 29 full time employees, as well as participating in the development of our patented MicroToken Exchange (MTE) platform over the last 5 years. We are now an emerging brand that provides cybersecurity offerings utilizing the patented (MTE) processes, which includes the CertainSafe product offering.
With the support of our team, I believe that we stand out as a knowledgeable and well-versed cyber organization. I personally strive to play a critical role in creating a new paradigm in data storage, as well as working with our partners and teams to create an unassailable protection for data moving onto Blockchain and off Blockchain, including all forms of Digital Assets. We continue to be a contributor to major media publications such as The Small Business Radio Network, Block Tribune, and Forbes, providing my personal and professional views and insights. MicroToken Exchange technology, (MTE), has now provided methods that will change the way in which data is stored, how data will be securely transmitted, and how commands are executed, within the ecosystem of both connected and intelligent devices throughout commercial, industrial, and the governmental sectors. We strive to inspire enhancements with regards to the development of the game changing CertainSafe® Digital Safety Deposit Box. We as a team have flourished in building All MTE products to one of the most spectacular cybersecurity technologies available to date.
The industry is beginning to notice the power, strength and versatility of the MTE capabilities. We continue to make personal appearances being recognized as a experts in our field of technology, as we continue to provide information and guidance in cybersecurity to entities such as the SAE World Congress, Special Operations Command, (SOCOM), as well as many others. We have authored and co-authored the writing of White Papers, presenting his new technology to defense entities within the Military market.
Our goal is to consistently engage with thought leaders and high-ranking decision makers in and around Cyber. We invite top players to challenge us, converse with us, and slog through the mud with us, in an effort share knowledge and try to make the world a safer place. Personally, my most significant goal is to change the way data is both stored, as well as the way commands are executed, within the ecosystem of both connected and Intelligent devices. Using my drive and untiring commitment to bring greater security, I aspire to be on the ground and in the trenches working toward that cause.
What inspired you to enter this domain? Did you always want to be a cyber-security expert?
I come from a strong engineering background. I have always been a computer geek, of sorts. When the opportunity came along to purchase the rights and continue to build out the absolute best and strongest cybersecurity on the planet, I could not pass it up.
How has the cyber security landscape changed over the years?
Technology Moves at an incredible pace and in order for it to continue to move at this pace everything needs to be digital or cloud based. Once things go digital, they become more susceptible to unauthorized and or malicious bad actors. What few things that have changed most is the size of the cyber landscape, as well as the sophistication of the attackers. These threats are evolving quicker than the most technology being used to protect against them, can be successful in doing so. Hence, in comes MTE or MicroToken Exchange to the rescue.
Give us a couple of quotes that best describes the company and its ideology.
If "Real Data can be Hacked, Lost, Stolen, or Intercepted, stop using "Real Data", Use MicroTokens Instead! CertainSafe, with MTE, provides technology, services, and education to secure sensitive digital information, additionally, mitigating risks, while protecting reputations and assets. Our services provide a new, higher level of data security while maintaining flexibility, adaptability, and accessibility through use of our own MicroToken-Exchange© (MTE) proprietary-patent pending MicroEncryption® – MicroTokenization® solutions. We take security to a new level within our PCI DSS Level 1, as well as HIPAA, Certified, hybrid server system.
What is the future outlook of CertainSafe?
We shall continue to provide unparalleled, Ultra-High-end data security, while adapting to the vast underworld of bad actors and nations, and their ongoing and ever-growing threats. What can be expected from the company in 2019? Greatness, as MTE has solved the securing of not just dataat-rest, but Data-in-Transit, as well! Stay tuned! Theft from the lack of strong cyber security has been there for many years and needs to be improved in terms of its capabilities and strength. MTE delivers just that!