Veronica Crisafulli: A Tech Entrepreneur Trailblazing and Democratizing the Fintech Industry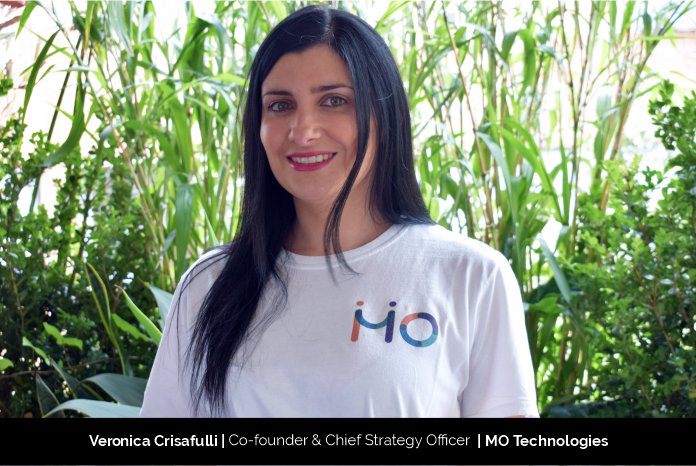 Finance has been part of everyday life, nevertheless it was reserved for privileged individuals, says Veronica Crisafulli, Co-founder and Chief Strategy Officer of MO Technologies. This has changed with the course of the last 10 years as technology has disrupted the traditional approach to finances. One of the frontrunners in the finance sector, Veronica believes technology has created new ways of democratizing finance, making it more accessible for millions of people around the world, who were left out of the traditional system: new products, new channels (digitalization), new marketing strategies, new risk approaches depending on the target.
Revolutionizing the credit space across the globe
Led by Veronica, MO is a fintech that aims to revolutionize the credit space empowering credit inclusion, for the past 4 years since late 2016. At MO, Veronica and her team are committed with targeting the 3Bln users worldwide without access to traditional credit. "We do it through a SaaS business model licensing the technology to partners of all verticals from the financial industry to fintech, as well as non-financial industries such as CPGs, GIGs, BPOs and service companies," she says.
Mo also has a proprietary, complementary, alternative, and innovative credit scoring technology which uses non-traditional variables along with Artificial Intelligence and Machine Learning models to evaluate the creditworthiness of a client. Additionally, MO has been focusing in creating a 360o credit solution for its partners: from the digital on-boarding through a white label open-data platform to a credit management platform. "Just important to mention that this year we have been awarded our first patent and we keep working hard to make the difference in our space," Veronica further says.
Excellent commercial strategy and detailed business plan helped find right investors
Like every start up, one of the biggest challenges Veronica faced was the initial funding of the company but thanks to Mo's commercial strategy and detailed business plan, her team managed to find the right investors, so the lesson learned is to dedicate the right time to prepare the company's vision, expectations and financials. Finding the right and perfect talent was also a big challenge: "we wanted to create a very strong team of professional people and we wanted to have them deeply involved with MO. To do so, our "MOvers" are granted company's shares after the vesting period and they have bunch of benefits compared to the other fintechs," Veronica shares.
Since the beginning of her career, Veronica has always been in the TMT space. Therefore, technology has always fascinated her throughout her career. Years after starting her professional life, Veronica landed at Mastercard and it was there where she discovered her love for payments & digitalization and the importance of financial inclusion. "I also understood that the way to achieve financial inclusion was mixing my two passions: technology and finance/ payments. This is how an idea started growing, and it was the idea of creating a technology with the objective of being a complementary one to the traditional financial sector. This is how MO was born. MO, a word that in roman dialect means "now" or "at this moment", a word that represent speed and simplicity, characteristics that define MO: an easy and innovative technology company all cloud based," Veronica says.
Driving change from the forefront of innovation
MO´s DNA, Veronica says, is determined by technology and innovation. As the core of her business is developing integral credit solutions, Veronica and her team seek to be at the forefront of innovation through Artificial Intelligence and Machine Learning models. Regarding the implementation of MO's projects, the tech firm has the capabilities to integrate with its partners through API. Veronica believes that a company's success is determined by its human talent. "At MO, we encourage constant education and a culture of respect for everyone to speak up and share their knowledge and points of view. My motto is believe in transparency and constant education," Veronica says.
The company's ultimate goal is to promote credit inclusion worldwide. Even though this seems like an unreachable goal, Veronica and her team know that they can contribute in many ways by focusing on entering new markets such as Europe and APAC, developing new products like Instant Overdraft and Premium Risk KPIs, which fulfill the market needs, and closing strategic alliances with major partners like Mastercard and others. In short, Veronica would like MO to be the credit technology provider to all Financial Institutions, Non-Financial Institutions and Service companies.
Meeting inspiring people who motivated to do and achieve more
Veronica considers her bosses, family and the people who believed in her since the beginning are her greatest achievements. She says she was lucky enough to meet them and that they are still inspiring and pushing her to go ahead and achieve more. Additionally, she says she has been working in many countries and she always dreamed to create her own business with a good cause and be an example for women empowerment. She says that this is her greatest professional achievement so far. "As a person, I achieved to remain the same person as I always have been an energetic woman, passionate and dedicated," she adds.
Veronica says she'd love to be present in all the areas of the company, but as MO has been growing exponentially in the past couple of years, she has been focusing my efforts mainly in defining the Strategy, Business Development & financial planning as main role. She is also responsible of People Management, as she believes in the importance of creating the right culture and in passing her knowledge and passion to her MOvers.
Veronica advises fellow aspiring businesswomen to; "love what you do and be confident about your decisions. Aspiring businesswomen should be risk takers, should never leave behind the human side of businesses, because this human side is a key differentiator that is highly valued nowadays. Businesswoman should never feel less than somebody else, they should feel empowered."
Moving ahead, MO will definitely be a major player in the fintech industry. Mo's presence will not only be limited to the Americas, as Veronica plans to grow in Europe and Asia Pacific with new offices in Madrid, Spain and Singapore. "These new offices are strategically located in fintech hubs that will boost MO's expansion and help us reach the financial inclusion we are looking for. We will continue growing, not only with exceptional talent, but with new products that will respond to the market needs in this changing and dynamic environment," Veronica concludes.