Indiana Gregg: Building a Fair Playing Field for All in FinTech Space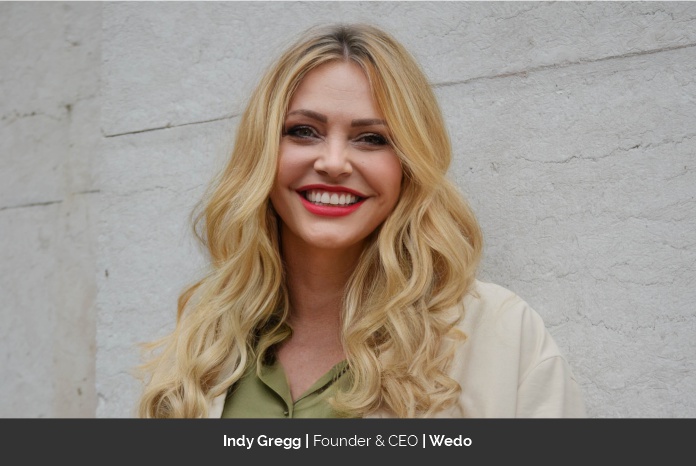 When Wedo founder, Indiana Gregg set out to revolutionize the freelance industry, she wanted to create a platform that freelancers love using. She seeks to disrupt the freelance space with an all-in-one platform for freelancers to effectively market themselves and to get paid fairly and regularly. Having been an employee, freelancer and CEO, she aims to be on the forefront of a growing fractional marketplace. A marketplace where most people freelance and have the ability to negotiate fair contracts for themselves.
She has been driven from childhood, brought up at the advent of the digital economy. Gregg started building websites in 1992, writing flurries of code for the new digital storefronts of the creative industry. Looking back, she said: "Google wasn't a thing. They were probably in a garage dreaming about their search engine." She knew early on that traditional employment was not her style, so she fed her entrepreneurial muse as a freelance web developer, consultant and startup founder.
From an early age Gregg knew she wanted to be an entrepreneur, selling lemonade on the side of the street. She describes herself as decisive, and introverted, and uses both characteristics to dive deep into problems and solve them to make a valuable impact on the world. When asked what her biggest obstacle was, Gregg said: "I have always had a funnel of ideas… so learning how to funnel the right creative decisions so that there is a problem that is going to be solved has helped me create a quality filter for me to sort through." A self-described empathetic idealist, she had to work hard to create clarity and take decisive actions that aligned with her mission.
Gregg grew up in Terre Haute, Indiana in a working class family. Born in the 70s, she came into a world that was socially volatile and the makeup of her town was changing culturally and racially. She remembers when her neighborhood started to be integrated: "A black family moved into our neighborhood and this kid, Grant, became my best friend. My mom gave us some money to get ice cream and go swimming." They arrived at the Shriners pool and "We got there and the woman wouldn't let Grant in." Disappointed and confused, she returned home and informed her mother what happened. Her mother started to cry, and Gregg recognized that something was incredibly wrong. "I realized at that point that this was a serious problem and it didn't make sense," she said.
In school, she was an outlier as well. She suffered a speech impediment, which resulted in ridicule and bullying at school. The world wasn't accessible to her and she retreated inside. It drained her confidence and Gregg found herself not wanting to attend school. It took the prompting of a kind speech therapist who used the power of song to improve her enunciation. She would take her love of music and her desire to create an environment of inclusion with her in the companies she would later start.
Gregg has a bachelor of science from Indiana State University. She credits her philosophy class with helping to clarify her personal vision and ethic that she would use to make decisions and to create space for herself to be creative and solve problems. Though the assignment was submitted for a grade, it proved a useful guide for Gregg as she graduated and entered the world of business.
She dived into her tech background working for giants like Sony, Louis Vuitton and Digits as a freelancer. She found herself building websites and becoming entrenched into the music industry. While Gregg was paving her own path as a freelancer, she turned to creating her own music. Touring around Europe, she sang as an outlet for her experience and values, expressing the injustice in her world and in the world at large.
Her husband left her while she was touring, forcing her to reinvent herself as a freelancer and single mother. She produced her album: Women at Work and continued freelancing. Gregg found it challenging to maintain the many hats, but she continued to fight on, singing about injustice and expressing her pain and determination to succeed.
That injustice would find her in her music as well. Facing the behemoth of internet piracy, Gregg became the face of opposition towards platforms like Pirate Bay. Thrusting herself into the spotlight, she actively campaigned to get the platform shut down, because it was unfair to the artists who worked endlessly to make and promote their music.
Faced with mounting criticism, Gregg continued to fight for copyright enforcement and the removal of sites like PirateBay. "I don't care about my personal career," she said " I'm gonna go for this." This sense of justice propelled her into her next venture in the music industry.
Motivated to democratize the music industry she pioneered one of the first streaming services with a mission to democratize the music industry. She went to the labels and told them "people won't want downloads in the future". Gregg started Kerchoonz, one of the first music streaming platforms. The industry resisted the change, but Kerchoonz grew to 14.5 million users.
Kerchoonz hit roadblocks during the 2008 recession, and ultimately sold off the technology as advertising budgets shrunk and cost per impression went down. Spotify had gained massive market share and it was no longer sustainable. An entrepreneur since childhood, Gregg saw an opportunity: women couldn't afford to go get their nails done due to the economic downturn. To cut down on cost, women would turn to doing their nails themselves, so Gregg started GRÜV, an e-commerce beauty website. "That sold before we even got the product shipped to us". She realized she was onto something and the business still runs today.
Ever the idealist, GRÜV did not scratch the social impact itch that drove Gregg into entrepreneurship. She returned to freelancing to get into the market and explore what was going on. She worked on crypto projects, helping new coins with their ICOs (initial coin offering). Working in the fintech space inspired her to use this technology to make entrepreneurship accessible.
Gregg founded Wedo in 2019 to provide an alternative freelancing site to platforms like Upwork and Fiverr. "They really prevent people from getting together and forming community" the Wedo founder says, citing the extensive efforts these platforms go to to ensure that people don't take their work off platform. "Anybody should be able to pick up their phone and start working."
Wedo's business model operates from a banking model rather than from a 'middle man' model. Gregg says she had an epiphany: "If you want to beat the bank, you have to be the bank!" She started creating her prototype around this idea that the transaction fees would fund the company and enable Wedo to provide the essential applications freelancers need to get started with no upfront costs.
"I don't think that entrepreneurship should be treated in such a way where entrepreneurs have to pay to play," Gregg states. "We believe that entrepreneurship should be a human right. Access to entrepreneurship should be easy." Wedo is providing a platform that allows freelancers to collaborate, issue invoices, meet with clients and schedule consultations. It also functions as a social network where freelancers can demonstrate their expertise, create communities and market their services. The objective: making entrepreneurship accessible and a reality for more people.
"The freelance market is a 1.2 trillion dollar market in the U.S.," Gregg states. 2021 and the Great Resignation foreshadow that more and more office and tech jobs are going remote and flexible. Wedo reduces the number of 3rd party applications that freelancers need to get started, getting freelancers into the market and connected with clients faster. It seeks to promote a global community around freelancing without exploiting freelancers.
This project requires a team, both internal and freelance to move this project to the public. In 2020, Gregg started acquiring talent to boost the development, maintain diversity and create community around the new platform. When asked how she goes about finding team members, she said "Integrity is the anchor for other things in people's personality. We don't hire people who don't have accountability to the peers they work with." She strives to have a culture of empathy and collaboration, and to embed those values in the application itself.
With a widespread, international team, her team members hail from Spain, Germany, Ireland, the U.K., the U.S and more. Gregg met her chief diversity officer, Pattie Howard when she was active in the music industry. Howard had this to say about the Wedo team: "Indy has organized an extremely talented group of people unique in their area of expertise yet focused in the same direction with a common goal. Their skill set coupled with who they innately are is exactly what makes Wedo so unique… it's the sum of who we all are that equals the success that Wedo is". She met Kirsten Granzow, her chief marketing officer in France, who went on to help her market her album: Woman at Work. Working closely with both of these women and developing lasting friendships cemented trust and moved them toward shared goals. "I think respect for your teammates is really important." she said about the character of her team. She works very closely with them, bouncing ideas off of them and receiving honest, clear feedback.
Since her platform is on the cutting edge of the fintech industry, Gregg encourages her teams to develop themselves during working hours. "If you don't know something, take some time to go learn it," she says. "The more you know, the more you feel confident about the position you are in." She also provides flexibility for Wedo employees, using performance-based metrics instead of hourly. "We have days of the week where you don't take any meetings so that you don't get bombarded," Gregg says. "We have a 5-10 minute standup at the start of the day. The rest of the day, we don't bug each other with excessive meetings."
Wedo is poised for a limited launch in April to the first thousand users who have signed up on the waitlist, providing freelancers a platform to perform their services. The Wedo team have been conducting a private beta for the past six months. "It's important that you don't strap an engine to a bicycle and call it a motorcycle," she says "With fintech, when you are dealing with people's finances you want to be able to create something that is robust and secure."
These are essential features for freelancers and their clients, whose user experience will determine whether they stay on the platform or go elsewhere. "More and more companies will be working with shared and distributed workforces," says Gregg. "What I mean by that is you may employ that person for one third of their time basically they'll be sharing this employee with another business. What this does is it creates variety for the employee and helps them move between companies under confidentiality." Wedo works to provide immense value and ease of use to all users in order to continue to engage that market.
The tentative full launch for Wedo is set for September, where it will be open for all users, but the app is now available in most countries to download to pre-register. "Make sure you reserve your username," Gregg says. That way users can keep their social media handles and Wedo handle consistent for their brand. Gregg created Wedo to be a place that is good for collaboration and good for people. She seeks to empower freelancers with the platform they need to take control of their life and the way they work. "If you're not doing what you love, why not?" she asks people interested in freelancing. "How can we help?