Top 5 Trends of financial services sector to rule in 2021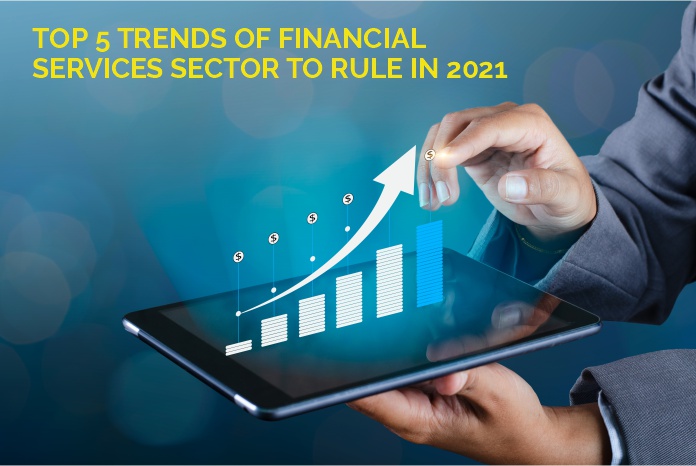 Today's era has brought tremendous digital transformation that has restructured the entire financial services domain. For the new decade of 2021, there has been a surge in paving the way for new advancements that will propel the industry towards a highly customer-centric industry. For that, many new trends have been witnessed that will be a breakthrough for this industry and aid in taking it further.
We will uncover these useful trends of the financial services sector in this article. So, let's get started!
5 Best Trends of financial services sector to rule in 2021
1. Robotics and AI
Advanced technology is now blending in all the spheres of our life. Incorporating robotics and Artificial Intelligence (AI) into different financial services will help this sector to refine its data protection and impart undaunted customer service. This will also prevent fraudulent activities and trigger more advancements in the financial sector. Some of it includes voice commerce, Robo-advisors as well as biometric-based authentications.
2. High-End User Experience (UXP)
Websites dealing with financial services require a high-level human-centered UX design that is more interactive and customer-friendly. Different companies must opt for design-thinking methodologies that will help them create perfect user interfaces. These will tap into experiencing a perfect digital interaction that is cherished by all users.
3. Hyper-Personalization
As the upcoming generation will be the future bank customers, they want stronger personalization in banking services. Unlike the current one-size-fits-all approach, they should focus more on offering each customer personalized features to help them select as per their own specific preferences. This will allow them to gain new customers in a jiffy and will be a delight for the old customers to get the hand-picked services in the best way.
4. Modernizing outdated core systems
The work-from-home environment in 2020 has put light on the outdated core systems that need a touch of new infrastructure to help them be of use now. Processing and approvals of different documents that took many days have now diminished to a few hours or minutes. This change needs to be addressed, and secure solutions are implemented to ensure faster and privacy-protected interactions.
5. Implementing Work-from-anywhere solutions
With the overnight shift to work-from-home last year, the financial services sector went into a complete reformation. At such time, there was a need for flexible hardware, seamless integration of mobile and laptop devices, high-internet connectivity, and a medium for the globally distributed workforce to stay connected, just like in an office. The financial services sector needs to come up with apt solutions that fulfill this need.
Some Last Words
We are sure that you are well aware of all the future trends governing the financial services sector in 2021 and beyond. These trends will revolutionize the entire financial services sector and add an additional layer of a more personalized experience with the customers. This will further aid in attaining a more loyal customer base and take the financial services sector to the next level.