MultiBank Group: Delivering innovative solutions to the financial industry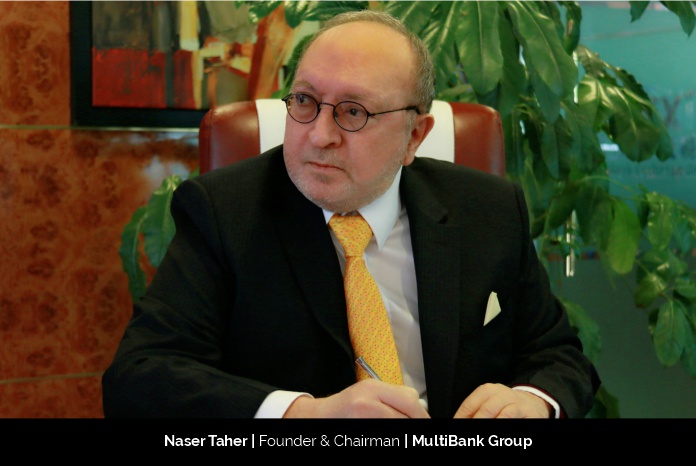 According to Mr. Naser Taher, Founder, and Chairman of MultiBank Group, success is a byproduct of hard work. He believes that strong determination plays a crucial role in steering the business in the right direction.
He states, "Today, we are one of the largest financial derivatives providers globally, which is a testament to our tenacity to succeed. Reaching on top is one thing, and maintaining your position is another. The challenges on the way up are different, and the hurdles to stay there are diverse. But a firm resolve, and hands-on experience trump every obstacle."
Foundation of MultiBank Group
The fire to work hard and persevere was always present in Mr. Naser Taher. He has always set high standards for himself and he completely trusts his skills and backs his belief.
His academic achievements include a Bachelor of Engineering degree in Mechanical Engineering and a Master of Engineering degree in Automatic Feed Back Control from The University of Sheffield. He believes that having a solid educational foundation helps create a rewarding professional career.
He joined Taher Group of Companies in 1977/8 and became Vice-Chairman. He progressed further in his career, taking the onus of different roles and gaining valuable experiences through them.
He states, "I have had the privilege to work and grow in the world's finest financial institutions such as BNP Paribas, Barclays, UBS, Merrill Lynch, and Credit Suisse. During my career, I have held several prominent positions worldwide, such as the Head of the Irish Stock Exchange Development Project in China, Senior Counsellor to the Board of Tradition Group of Companies, Head of IFX PLC China Development Project, and the Chairman of Air Via. I moved to China in 2002 to set up projects in the online financial trading industry."
In 2005, Mr. Taher decided to take the plunge, backed by his capabilities and the desire to venture on his own. He expresses, "Since 2005, the roadmap has always been to become a broker of repute, helping clients achieve their financial objectives. My extensive experience in the financial and commercial sector, leading major global financial institutions, combined with expertise in raising capital prompted and eventually propelled me towards venturing independently."
This marked the advent of MultiBank Group, which was all set to bring new ideas to the industry and serve clients with better services.
He adds, "The journey from California, the USA to this day, with 25+ offices in the significant financial hubs and emerging markets worldwide, has been inspiring. To see the vision being realized is possibly the most gratifying feeling. The growth has been stable, gradual, and rewarding. Having said that, with the recent acceleration in the rise of digital technology, we are expecting our double digits annual growth to continue in the years to come."
Overcoming various hurdles along the way
Mr. Naser Taher believes that challenges are nothing but opportunities in disguise. The key is not to be fazed by them. Rather, people should face the challenges and think out of the box to solve them.
One needs to approach a problem from various perspectives. Only then can a definitive solution be implemented. He comments, "The finance industry is relatively complicated and differs based on regions, nations, and cities. To successfully navigate through macro and micro barriers and establish ourselves, as a global entity serving over 320,000 clients is no small feat."
He states that having a bright team of experts and problem solvers, who are all set to take charge and head the challenges upfront, allows them to grab new opportunities. MultiBank Group is fortunate to have a seasoned team that tunnels through all the challenges and aims to go to the next level and beyond. With the hard work of every member of the team, the company has achieved a lot of milestones and is aiming to rise higher.
He focuses the point by adding, "As far as the company's growth is concerned, it is a collective that is at work. The MultiBank Group has benefited immensely from the contribution of every individual working with it."
Serving clients with innovative services
MultiBank Group enables the trading of over 15,000 financial derivatives, including foreign exchange, metals, shares, indices, commodities, and cryptocurrency CFDs, through its advanced online platforms. The team offers tight pricing for online financial products and facilitates 90,000 daily trades with a trading volume of over $ 7.2 billion.
Mr. Taher elaborates, "The combination of prime liquidity, cutting-edge technology, and dedicated customer service has been the hallmark of our service. By automating our trading process, we have added convenience and precision to our trading experience. We are closely supervised by over 11 financial regulators worldwide across various jurisdictions, guaranteeing investor protection, and the group is comprised of companies regulated by ASIC, FSC, DFSA, CNMV, FMA, BaFin, and CIMA – providing clients the highest level of funds security. "
MultiBank Group is built on four strong pillars: transparency, flexibility, innovation, and integrity. These four cornerstones have allowed the company to maintain its position in the world of online trading. These values are based on carefully thought beliefs and guide their every action.
Transparency is of utmost importance at MultiBank Group. Every aspect of its business is clearly defined, and clients are made aware of it from the onset. This virtue helps build trust and strong relationships with clients, retaining them in the long run.
Being flexible and proactive with their action allows them to serve their clients to the best of their abilities. The team likes to take control of the situation and create better results for everyone.
Innovation is the key to progress further and allows the company to stay ahead of the curve. The financial industry is evolving at a rapid pace, precipitated by technology. MultiBank Group hasn't merely adopted but pioneered technological advancements. It is evident in every aspect of its operation – from its platforms to its customer service.
Integrity is a crucial element that drives the team at MultiBank Group. It is cultivated through various processes and remains one of the key drivers that unites its workforce.
He adds, "While we deal with quantitative data including graphs, charts, and market information, our main focus is to serve the people behind the accounts. Our strong ethical values serve as one of our guiding principles and have become the MultiBank Group culture."
Mr. Taher further states, "We do not focus on what the competition is doing. Our primary focus is to ensure we are constantly at the forefront of the industry when it comes to technology innovation and regulations. We are seeing more of a global and synchronized move from the regulators that will not only further safeguard investors but also ensure that the financial derivatives industry is underpinned by a robust regulatory framework. We expect recent regulatory changes in Australia and other jurisdictions to accelerate consolidation in the sector leading to more opportunities for the growth of the group's business."
Moreover, MultiBank Group constantly invests significant amount of time and financial resources towards finding new and better ways to trade. From developing a new tech-driven solution that has never been applied to trading before to expanding its product range – no stone remains unturned. The award-winning MT4and MT5 trading platforms recognized for excellence in technology and liquidity support their clients to subscribe and execute on the tightest pricing and liquidity coming from top tier Banks and Prime Brokers.
MultiBank Group boasts a daily trading volume in excess of $7.2 billion and provides services to over 320,000 clients across 90 countries worldwide.
The core mission at MultiBank Group is to provide exceptional products and services to its clients. The group is keen to continue its heavy investments into technology and regulations to benefit its customers and the forex industry as a whole.
MultiBank Group comprises several licensed and regulated companies through relevant authorities, including ASIC in Australia, BaFin in Germany, FMA in Austria, CNMV in Spain, FSC in the BVI, and CIMA in the Caymans.
Being the catalyst of change within the industry
Mr. Taher believes technology has played a massive role in molding the world of trading. It has made innovation possible, executions precise, and platforms popular. In this digital world, time is of the essence, and the team at MultiBank Group understands the volatile nature of the market.
They operate in a high-intensity environment. Every millisecond counts in their business. They manage clients from across 90 countries who work the market round the clock.
He states, "Technology is crucial for our operations. Downtime can hurt the business, image, and our clients. We take immense care to ensure every aspect of our trading experience is seamless."
They make sure that they cater to the needs of their clients by encompassing the new trends in technology and creating better results.
He expresses, "We have been at the frontier of foreign exchange and have witnessed its exponential growth. In an industry-first, we launched a fully transparent electronic forex and financial derivatives exchange. Currently, we provide Forex trading in over 55 currency pairs, including all the major, cross, and exotic currencies."
Creating a high impact within the industry and leading from the front is the way MultiBank Group functions. So, whether it is launching unique platforms within the industry or developing innovative solutions, MultiBank Group leads by example.
Life as Chairman of MultiBank Group
The MultiBank Group is a conglomerate of several branches spread across five continents. As its Chairman, Mr. Naser Taher has complete oversight of management, marketing, and the group's growth strategy.
He has a clear vision and a sound strategy to expand MultiBank Group into a leading global financial institution. He adds, "We recorded an annual turnover of over $5 trillion in 2020, exceeding the 2019 annual turnover of $1.9 trillion; we are clearly doing something right. When the results match the goal, it means that processes are working. We trust the process and the culture of MultiBank Group and the rest follows."
MultiBank Group has been recognised by the industry on several occasions and Mr. Taher has been lauded for his impeccable leadership qualities. He has been the recipient of numerous awards over the years, and he is grateful to have received them. In 2012, the Chinese government appointed him as the Honorary Chief Financial Advisor. The Chinese Financial Government also awarded him Honorary Credentials for his contribution to the Chinese economy in 2014. Very recently, in 2021, he was recognized as one of the 50 Most Influential Figures at the Global Financial Markets Forex Traders Summit.
Future prospects for MultiBank Group
Mr. Taher expresses, "As one of the world's largest financial derivatives providers, we believe it is our responsibility to lead with purpose and grow collectively with our 320,000 customers from across 90 countries worldwide. 2020 was an exceptional year for us as we achieved a notional turnover of over $5 trillion."
The team is working towards a collective goal of becoming the largest online financial derivatives company in the world. They are striving to conduct an Initial Public Offering (IPO) with a value of approximately $3 billion in the upcoming years. The idea is to grow their customer base by providing full transparency on pricing and execution in the international forex market through a Pure ECN and automated trading desk.