Terry Crews: Building a Lasting Legacy in Elderly Healthcare Management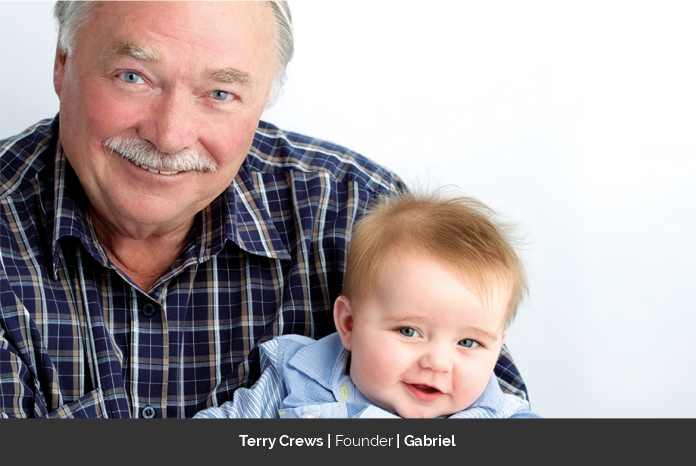 Giving the chance for seniors in our society live better for longer, Terry Crews was clear about what he wanted to do in his retirement.
As a whizz kid at 16 and building the first-ever laptop 40 years ago in 1982, Terry has had a celebrated life in technology and tech advancements, an achievement he honours. At 70, he decided to make a move that would surpass this milestone to a much more significant one, founding a health tech company focused on aging.
"I started Gabriel as I don't want to be a burden on my family," Terry says, loud and proud. Gabriel was created based on his own life experiences. From the ripe age of 10, he began his lean on healthcare witnessing his grandfather go through a slow death, fighting bowel cancer. It was when his grandmother, who was in fine health until then, died two years later from a broken heart that something very concerning dawned upon him. "It started me thinking about aging and what could have been done to prolong her life. When my parents and my wife's parents and sisters passed I really saw first hand the immense stress caring for them inflicted on the family. When I turned 70 I vowed to live independently in my own home but more importantly, I was not going to be a burden on my family. This started my quest to change the way we age and are cared for by creating new technology."
Terry believes that all technology should be passive and require no input from the aged person. It must be non intrusive, respect privacy and be secure. Gabriel redefines aged healthcare by providing passive technology to allow seniors to live in their own homes longer without being a burden on their family. "Families have peace of mind seeing that their loved one is going about their life in a normal way. They can see the reason why a phone call was not answered by looking at their dashboard. They know they will be alerted if something is not normal," explains Terry.
Know Gabriel
Gabriel is totally technology focused and poised to play a major role in the new healthcare paradigms. Our unique technology delivers solutions not previously available. There are 978 million people globally over the age of 70 and increasing each year. Ninety percent of these people are cared for by families until they need to be placed in care. Hospital systems are struggling to cope with an ever increasing patient load from an aging population. "COVID-19 has paved the way for a better appreciation of remote patient monitoring and care that will finally lead to a move to a hospital in the home. Similarly, aged care will become more home focused," Terry explains.
Gabriel primarily works on addressing three main concerns that have an impact on longevity. Feeling isolated, keeping on top of medication, and not being able to recover from a fall. Terry listed these outs when he founded Gabriel because they were things he witnessed first hand. For instance, he saw how his aunt's life was devastated after she had a fall due to the lack of timely attention. At Gabriel, they equip elders with the support of fall prevention and detection products to help reduce the number of falls in aged care residences and hospitals. In the case of a fall, they ensure getting help straight away.
Addressing the challenges of aging requires a special insight into the thinking of aging people that is only possible by being an aged person, explains Terry. " We fiercely protect our independence and will tell lies to protect that status. You are always fantastic when asked how you are and will not accept pendants and other devices that could be used to indicate that you are not coping. This is why pendants are only used when family visits or are flatly refused. To develop technology that will be used and relied upon requires understanding and experiencing the mindset and situations. For example, you need to experience a bad fall to understand the trauma and why people do not push the button. Firstly the trauma creates a survival response and you are strictly focused on getting back on your feet. At no time during my four bad falls did I even think of calling someone on my cell phone. The other concern is you do not want to be a burden on others."
The well-thought-after range of products under Gabriel supports the above claims. LifeWatch is a dashboard for families and carers that reassures them that their loved one is ok. It uses a thermal sensor to detect movement, activities, and accidents like falls. Adverse events are monitored and analyzed by Gabriel's monitoring center before alarms are raised. The center then continues monitoring until a recovery occurs. This is particularly important with dementia when people recover themselves and do not remember having a fall or injury. The history of events over time enables predictions of physical and cognitive decline to be acted upon.
LifeGuard is a unique sensor placed under the mattress to monitor attempts to get out of bed unassisted. If an attempt is seen a message tells them to wait as someone is on the way to help them. A bedside light is turned on in case they continue to get out of bed. Many falls occur from stumbling in the dark. It also monitors pressure points to alert carers when it is time to rollover to prevent bed sores. Both these preventable items cost the US hospital system close to $100B last year.
LifeProtect is a facial recognition system used to alert when dementia patients are about to elope. In many cases, it has allowed changes in activities for known elopers to stop their attempts to elope. It can also monitor mood, pain and indications of strokes. It can also be used at room level to dissuade intruders.
There is a range of new additions to the Gabriel suite of products which include passive vital signs monitoring. The technology has been developed and will shortly commence clinical trials. It is based on an improved version of ballistocardiography with sensors placed under the mattress or in chairs or sofas. This technology can predict an oncoming stroke or heart attack 30-50 minutes before the attack. The buck doesn't stop there, however. "Once I complete this phase of Gabriel technology I will return to my long-standing research of gut biomes and finding cures for degenerative diseases and improving life outcomes," he explains.
Understanding the Pulse of the Matter
Terry is one to seek solutions for a problem, and ask questions until he is able to find the answers. "At the age of 16 I spent a day one on one with Professor Jules Sumner Miller. He was a brilliant physicist and TV personality and had a famous saying of "Why is it so". After every experiment, this was his question and he persisted until you explained why. He also taught me that nothing is impossible and not to accept that everything that is written is set in concrete. Always challenge."
The next year he began his studies in electronics and the first thing the class was told was that all they knew about electricity was wrong! Current flows from negative to positive not as they had been told. "Jules' words resonated strongly that day and ever since I have followed his advice and challenged everything," he explains.
When asked about success, he defines it as the realization of a vision. "The road to success is long and winding and full of challenges. There is no such thing as an overnight success. Tenacity is the key to success when against all odds you persevere and achieve your goal. I have always tried to do the impossible and as such there are many detractors. The sweet success is when you prove the detractors wrong. Success in innovation is particularly difficult and requires many iterations to succeed. For example a quote from Thomas Edison after inventing the light bulb. "I haven't failed — I've just found 10,000 ways that won't work." The up-curve to success starts when challenges are at their greatest and you are alone to meet the challenges, he adds. "I never ever, ever give up. Follow your vision with tenacity and you will overcome all obstacles.
For these matters, Terry believes that Gabriel has been his greatest achievement. "In 1982 when I invented the first laptop I thought that would be my greatest achievement. Gabriel has shown me that Gabriel will be my greatest achievement. Detecting a serious fall and witnessing the arrival of emergency services and their ultimate recovery from the fall is among my proudest moments. Saving lives is the ultimate achievement."
Self-care is Essential
With huge responsibilities to shoulder, Terry is aware of the shortcomings of not having a strict routine. He is a stickler to habit, and his daily grill is an indication of how leaders learn and sustain successes.
"I rise at 3 AM each day and write down any insights my subconscious has come up with overnight. These are my AHA moments! At 4 AM I attend to emails and East coast calls. Breakfast at 6 AM. At 6.30 I ride my Segway to the office where I spend the day between being an inventor and running a company with offices in Hawaii, San Francisco, and Australia. Dinner at 6 PM and in bed by 8 PM," he narrates.
Terry is completely and totally committed to leaving a legacy for his generation and a better way of aging for future generations. This focus is all-encompassing and overrides the normal distinction between personal and professional life beliefs. "I am motivated by my necessity and my staff also are motivated by being carers for aging parents and realize one day they will need Gabriel."