Taiza Krueder: Bring You Closer to Nature and the Awareness of Sustainability and Healthier Living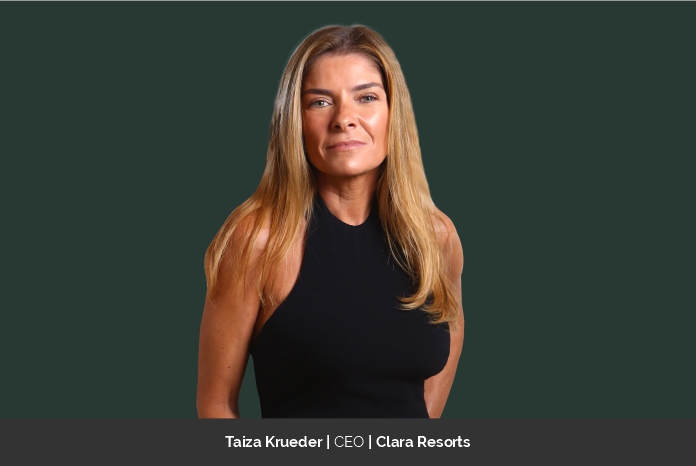 Passionate about the art of cooking and the pleasure of exquisite flavors, Taiza Krueder is the owner and CEO of Clara Resort, an award-winning reference in ecological hospitality for the leisure of high-end families. She received her cuisine training at Paris Ferrandi's Ecolle Superieure de Cuisine Francaise. Taiza teaches approachable and unique dishes to brighten different individuals and tables on her channel, Clara in Casa.
Taiza is an avid student of life and books, having been to many countries, hearing many tales, and making many friends. She strives to do her part for a better future by motivating individuals in their professional routes. She is an innate entrepreneur and positive 24 hours a day, 7 days a week, always providing fresh angles on the same problem and its solutions. Taiza believes in the services and tourism sectors' potential in Brazil, and her objective is to help create employment and more trained people.
Love and Passion for the Service Industry
Taiza's family has always worked in restaurants, so she was born into the service industry. She worked in this industry for two decades before deciding to dedicate herself to her husband's small hotel. She shares, "I fell in love with the hotel industry because I have more time with my client; in a restaurant, everything is speedy." She can build a longer-lasting enduring relationship with her visitors at her hotels since she and her crew have more time to surprise and captivate them, which fosters loyalty.
Taiza had the opportunity to work at some of the best hotels in France at the start of her career. She learnt virtues like punctuality, discipline, hierarchical respect, and determination, which she still practices today.
Taiza's career was highlighted by Tripadvisor's award for the second-best hotel in the world for families and the best in the Americas. Her mission is to provide people with exceptional experiences, and getting acknowledged for that was incredible.
A Home out of Home
Clara Resorts is noted for its outstanding customer service. "Serving is in Our Nature," says the brand's tagline. The team goes out of their way to make the travel of the guests more joyful and less stressful. Guests visiting with tiny children, according to Taiza, will be provided with complimentary strollers, baths, cribs, baby food, changing tables with diapers, and baby wipes throughout the hotel. In this example, the management considered everything that parents with young children could want for a pleasant stay. The hotel provides this level of service to all types of guests, making them feel cared for. Taiza says, "We have live music all the time, games, and games. Our hotel is fun; I like to say that Clara Resorts has a soul."
According to Taiza, the management is concerned about the environment and the surrounding area, and Clara Resorts is recognized for this. With a 97 percent acceptance rate, it has introduced an optional social charge that guests can pay throughout their stay.Taiza's team decides which partner actions they wish to support with this money. She says, "We invest in initiatives like monitoring the dam's waters, environmental NGOs, institutions that fight cancer, nursing homes, etc. Hotels in Brazil and worldwide have copied this initiative, which has significantly impacted our surroundings over the years."
The Routine
Taiza begins each day with a quick meeting with all of her superiors. They check in on how the previous day went in each department and what the daily schedule is. The staff looks through normal issues and keeps up with what's going on in the hotels. Taiza meets with each team on a weekly basis to discuss plans, purchases, and processes. She schedules these appointments throughout the week and attempts to meet in person whenever possible. Aside from that, Taiza has meetings with partners and suppliers outside of the company. She says, "I am very willing to perform multiple tasks with excellence, speed, quality, and purpose."
Being an entrepreneur and having your own network gives you the freedom to try new things at a faster pace. Taiza aspires to be able to continue influencing people, particularly women entrepreneurs, as a leader. She wants to expand her company without sacrificing the ideals she holds dear.
An Innovative and Inspiring Approach
In Brazil, starting a business is a continual problem. Taiza explains that her country has complicated rules and taxes, as well as a shortage of skilled personnel and security concerns. Because of this, she is tenacious and kind. She says, "We try to plan, prepare, train, and execute with much more effort and care in my hotels. We also have a quick response in case of errors and crises, and we analyze each problem to extract solutions and procedural adjustments, if necessary." Taiza further adds that she and her team love to innovate, and they do it all the time. She asserts, "I like our initiative to put water purifiers in 100% of our rooms. This way, we eliminate the use of more than 200,000 plastic bottles a year in our hotels. We gave up a vital recipe, but the purpose was worth it. In terms of digital innovation, we created Clara in Casa during the pandemic: a channel with content on gastronomy, games, and lifestyle tips." This program is a huge hit, with over 450,000 followers and a high level of involvement. With Clara in Casa, the resort attracted a large number of new clients and improved its brand.
Taiza is a huge fan of the hotel industry. Working on what she enjoys is her greatest source of inspiration. In her leisure time, she enjoys sports, reading, cooking, and socializing with her friends. She makes an effort to incorporate at least one of these activities into her everyday routine. Taiza believes it is critical for her to take care of herself. To keep her staff motivated, she makes every effort to be present to speak with them, provide feedback, and supervise them closely. Furthermore, Clara Resorts' commitment to training keeps the crew motivated.
Client Satisfaction is Real Happiness.
Taiza's definition of success is recognition. She expresses her gratitude for every favorable review, letter, and guest testimonial she receives, stating that they prove the team is on the right road. "The most significant proof of success for me is when my clients return to our hotels and prove that they liked them and want more," says Taiza. She goes on to say that success is also linked to outcomes. Taiza is proud of her company's prosperity, even in the midst of the epidemic.
Continue on Success Path
As CEO of Clara Resorts, Taiza's objective is to bring visitors closer to nature while simultaneously raising awareness of sustainability and better living. According to Taiza, Clara Resorts will continue to expand this year with the addition of 30 additional luxury apartments and a new restaurant. The resort will refurbish and add new rooms to another property next year. "We are already looking for locations to open a third hotel soon," says Taiza.
Taiza's goal is to keep growing and succeeding. The resort caters to a certain market with a lot of possibilities. She has a dream today, and the next day she puts that dream into action.