Ashok Dudhat – Helping Budding Talents In the Tech Industry To Work With Leading Corporate Firms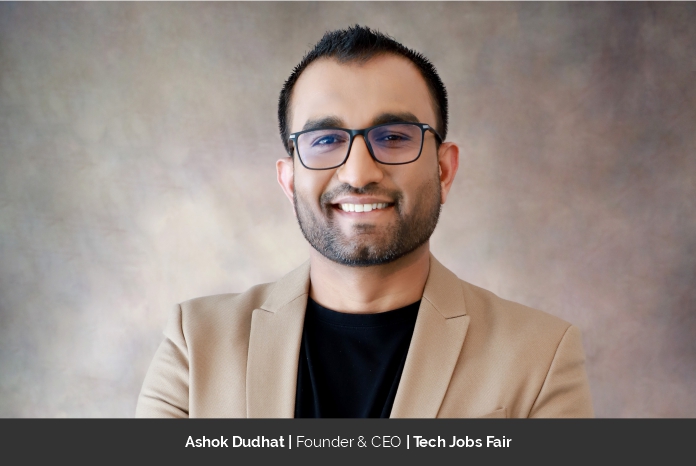 Human resource management and talent recruitment have undergone many changes over the last two decades, giving the sector an extremely important role in organizations today. Recruitment is the process of employing people, training them, compensating them, developing policies relating to them, and developing strategies to retain them. The goal for great recruitment is to use people's talent and skills most effectively within the job roles and companies they aspire to work with.
Ashok Dudhat, Founder & CEO of Tech Jobs Fair has built a company to expose budding talents to leading corporate firms without an investor and by simply following an apt plan and strategy. The company was single-handedly started by Ashok to upgrade his skills and market reputation from an individual employee to a whole new team. After engaging in outsourcing business for the first few months of his entrepreneurial career, Ashok established Germany startup jobs to connect the worldwide innovative and exceptional startup companies with the top talents out there. In an exclusive interview with CIO Views, Ashok graciously agreed to share his exceptional journey as a leader.
Every leader has a unique definition of success. Tell us about your thoughts about success and why do you feel that?
People are looking for a shortcut. It is completely understandable, there is one thing we can't run away from challenges. The foundation for any successful outcome is hard work. However, hard work without focus is useless. According to Wintley Phipps: "Don't worry about being successful but work toward being significant and the success will naturally follow." Many people start off working hard, however, oftentimes they disregard consistency and patience. There is no way you will achieve success if you don't plan, work hard or if you don't have a goal, and pray. To reach new heights and achieve your goals, you must go beyond just grunt work. Success rarely occurs by chance or by luck. As a matter of fact, success is the result of your continued dedication and patience toward your goals.
The road to success is not without obstacles and hardships, but it is inevitable. There are ups and downs to every journey. I think we must remember that mistakes and failures are not meant to be discouraging; instead, they only serve to teach us and make us better. Personally, my road map to success is to work hard, stay committed and leave the rest to God. I believe a strong leader leads and motivates his/her team to perform to their ideal constantly and drives authoritative achievement with courage and a clear vision to succeed. Team coordination, decision making, planning, and management are key factors and strongest attributes to TJF's success.
Leading a company to success is not an easy road to take. What inspired you to take the step of faith? What led you to the Staffing and Recruiting industry?
My inspiration comes from the willingness to build something based on my vision to help people find jobs. It sounds quite simple, but I guess many of us already experienced the frustrations that sometimes come with it and therefore can relate to the struggle.
What first led me to the staffing and recruiting industry was actually my own experience. When I was studying in Germany, I had a limited visa period to find a job in the country. While I was busy looking for a job, there were other things to take into consideration: keeping track of my expenses and reaching my professional goals in a limited period of time. I didn't want just any job, I wanted to start my career. So this idea came to me: to create a system where one can add their cv and automatically apply it to skill matching jobs. This made the whole application process faster and that's how I built my first project, the portal Germany Startup Jobs. Step by step, and as I expanded my network in Germany, this idea ultimately evolved until I reached the Tech Jobs Fair concept, and later the other two job platforms I created, Tech Job Wall and Hire Tech Talent.
Challenges make you stronger. What is your take on this? What were the roadblocks that taught you valuable lessons in your professional journey?
"Failures are the pillars of success." According to this popular saying, a successful person is one who faces challenges. Challenges should never be avoided no matter the reason… Instead, we should tackle them head-on. Success lies in facing and overcoming them. I think that trying to avoid challenges will not bring success. In order to overcome challenges and take over the world, one needs to make proper decisions, work accordingly, take responsibility, and speak out. Let us overcome challenges to become successful individuals.
I've faced several roadblocks that taught me valuable lessons in my professional journey. For instance, one can still run a company with limited financial capacity. He or she can take the vision of the company forward even with a small team. On the other hand, if the team lacks the right candidates for the right positions, this can very negatively impact the company.
Tell us more about Tech Jobs Fair and its services.
Shortly put, Tech Jobs Fair is a platform to empower brands and bring talent under a single roof. I founded it in Berlin back in 2017 and it has grown beyond my imagination over the last years. With a strong emphasis on IT and Digital domains, the Tech Jobs Fair made its mark in three important commercial hubs of Europe in 2019: Vienna, Zurich, and Lisbon. Last year, due to the pandemic, we added 8 more countries to our portfolio. And we plan to add a few more next year. At TJF, we strive to listen to our customer's needs and provide the best solutions to make their presence an exhilarating experience for them as well as prospects.
Just this year, TJF has launched another project that makes me really proud: the tech-focused reverse recruitment platform Hire Tech Talent, which allows companies to apply to individuals directly concerning a job, rather than the traditional application, which in effect often drains a person's time throughout the application process. Thus, people can accept or reject offers made by companies based on preferences and get hired quickly. Essentially, the idea is to have one profile that enables hundreds of opportunities with the addition of joining multiple TJF events in different countries.
Tell us about your contribution in redefining the Staffing and Recruiting industry?
This is something I've been working on since the beginning with my team. TJF supports German Startups through the Germany Startup Jobs platform with the aim to connect Germany's innovative Startup companies to the top talents out there. Staffing and recruiting are now more complex than ever. Candidates have different options, many companies need to adapt and find new strategies. As mentioned before, another way I've been trying to bring a change in this industry is by putting a great amount of effort into our latest project Hire Tech Talent. I see it as a revolution in the tech hiring industry, as it is made for people.
We often use words like 'candidates', 'talents', 'job seekers', but we should not forget that we're dealing with people here. Hire Tech Talent comes in to make their life easier and remove some of the most popular hurdles of applying to a new job: people find it time-consuming, lack motivation after a while, or even feel overwhelmed. Hire Tech Talent is very convenient as people can create a one-time tech profile, get access to multiple events and get the chance to be employed in 15 countries.
What is the significance of innovative ideas in the company?
The innovative ideas from my team and myself are building the revolution in the tech hiring industry that is Hire Tech Talent. It is the most popular top tech talent platform that connects tech hiring companies with experienced and skilled talent across the world. It's very convenient as you can create a one-time tech profile on our Hire Tech Talent platform which enables you to access multiple events at once and get a chance to be employed in 15 countries without losing your time by applying for a hundred different jobs offers our exhibitors will hire you.
Hire Tech Talent was built to bridge the gap between employers and employees through its simple, revolutionary portal Tech Job Wall, Germany Startup Jobs, and Hire Tech Talent has kept TJF at the top of the industry – heavily acknowledged for its innovative and modern efforts within its field of expertise. Improving an individual's job-seeking experience through the innovative developments of the TJF team.
Tell us what is your vision for the company and how do you wish to influence a change?
I want to build Tech Jobs Fair as a worldwide brand. My goal is to keep moving forward and, at the same time, remain aligned with our company's objectives. Together with my team, we want to gain the complete trust and support of our audience.
I see TJF as the preeminent career place model for planning and delivering comprehensive, innovative, and inclusive career and employment services. I will continue working on building TJF as an event where each client finds the best fit for their company or brand and also as an organization where my team finds enough room for career and interpersonal growth.
Change comes, whether we like it or not. I think we should keep our feet on the ground and continue learning as we go to be able to bring change. Diversity and inclusion are big words nowadays but there is a reason for it. Change should be for the better, and for all, not just for some. In fact, I believe this is the way we should move forward at TJF and I'm very excited about what the future holds.
Tell us what marked the beginning of your career? What has been the best recognition that you received as a leader?
I hold a bachelor's degree in Computer Science and a Master's in Software Engineering for Industrial applications. I have more than 15 years of experience in different IT industries, such as e-commerce, turbine materials, as well as in-service and medical sectors. I work with CadCam Solutions, and some other companies like Siemens, Cortado, Aideon, and Cubeware in Germany and abroad. On one hand, I am a tech guy, so I love technology and therefore I am always eager to learn about new technologies – and to work with them. On the other hand, I also have an entrepreneurial spirit.
I have always been motivated by creative and innovative ideas and projects. Teamwork and the possibility to draw a connection between my efforts and the organization's bottom line is my great passion. When my team and I have an idea that works, then it inspires me to go further. It might sound like a cliché, but it is true in my case: I love to be involved in projects that can have a good impact on the world.
My first start-up project was Germany Startup Jobs, which I started in 2014. It still exists today and it is a website that provides job seekers the opportunity to browse and apply to some of the fastest-growing startups in Germany. Later on, in 2017, I created another project called 'WP Event Manager", a lightweight, scalable, and full-featured event management plugin for adding event listing functionality to WordPress websites. Ultimately, this brought me to the Tech Jobs Fair.
I'm proud to have won several awards, such as the:
Best Technology & Digital Employment Opportunities & Networking Event 2020 by German Business Awards

Tech Event of the Year Award 2021 by German Business Awards

Best Tech Event of the Year Germany – 2022 by The Official Global 100

Best Tech Event of the Year Germany – 2022 by Lawyer International – Legal 100

Winner of the Tech Event of the Year Germany by Corporate Livewire Innovation & Excellence Awards 2022

World's Emerging Best Brands – Category: Business Consulting by WCRC Leaders

Startup City Spotlight 2022 by Silicon India

30 Fastest Growing Companies To Watch in 2022

50 Best Companies to Work 2022 by CIO Bulletin
This year, I was nominated for the Top 10 Indian Leaders in Germany 2022 by CEO Insights and also featured in the top 100 innovators and entrepreneurs magazine, the 10 Most Influential Business Leaders to Follow in 2022. I could not have imagined this 10 years ago.
What are your responsibilities as the Founder & CEO of the Tech Jobs Fair? Walk us through your regular day at work. Also, define yourself in one word.
I see myself as a result-oriented and self-confident persona with enthusiastic nature and positive attitude. I hold more than 15+ years of experience in different IT industries. I am quite confident of being capable of handling teams with any software development, platform system, domain, and programming language. I manage projects through the complex processes of technology development, deployment, software integration, operation, and all phases of the development life cycle.
I want to make Tech Jobs Fair a worldwide brand. My team and I want to gain the complete trust and support of our audience, which will motivate us to move ahead in our mission of contributing to everyone associated with us significantly.
How do you maintain a balance in your personal and professional life? How do you keep your employees and yourself motivated?
A good and relevant question, especially in the times we're living in now! I think each person needs to find what works best for him/her. To me, one of the most important things is to define your priorities and set boundaries. Running multiple events across several countries can get a bit overwhelming sometimes, so, after work, I try to spend as much quality time with my family & friends as possible, relax and exercise a couple of times a week. I like cycling, swimming and playing cricket. It's hard to disconnect completely from work nowadays when our phones ring all the time with emails, WhatsApp messages, and such, but this is what keeps our feet on the ground.
Other things that I find important are time management, delegating, and learning to say no sometimes. To keep motivated, I believe a good work-life balance is key and I try to foster this at TJF. In order to do that, we have flexible working hours. Valuing your teammates' work and opinions is another way to keep everybody motivated and is only fair – no one runs a business alone. Last but not least, a good old 'Thank you can be a great motivation booster as well.
What are your plans for the future of the Tech Jobs Fair? Also, tell us about your personal goals as a business leader. What is your message to aspiring business leaders?
We are planning the global expansion of the Tech Jobs Fair, starting with London, Paris, Barcelona, Amsterdam, and Dublin. My personal goal is to build a solid brand in the startup & tech ecosystem across the world. I plan to help, motivate and educate more people in tech through TJF's many initiatives.
My message to aspiring business leaders would be: work hard towards your goals, be persistent, stay focused and keep your motivation on high levels. In the end, what you give will be what you get.