Steven Conville: Revamping the cannabis industry with Kronic Relief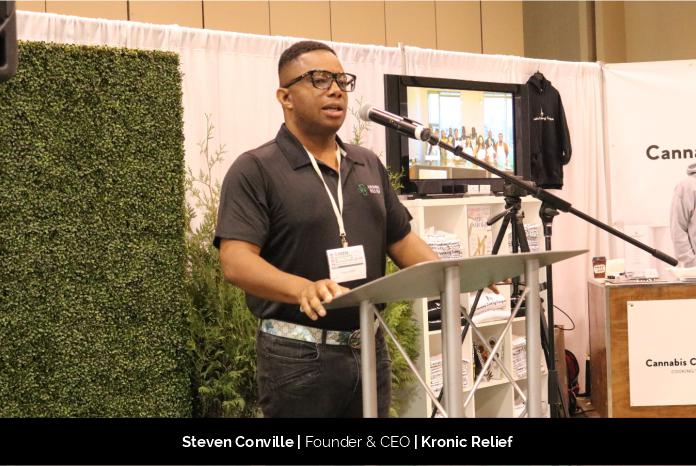 Being a driven and passionate individual, Steven Conville, Founder and CEO of Kronic Relief, is transforming the cannabis industry by bringing a different culture to cannabis farmers. He gets inspiration from the famous adage of Henry Wadsworth Longfellow, "The heights by great men reached and kept were not attained by sudden flight, but they, while their companions slept, were toiling upward in the night," so he works hard to achieve the significant milestones.
Climbing the ladder of success
Steven states, "When I was a young child, I wanted to be an ophthalmologist. By the time I was 14, I exclusively wanted to be a lawyer. In a million years, I never would have guessed this is where I would be today!"
On the educational front, he completed his BA, Hons. in Arts, History/Science, Technology, Cultural, and Society and B. Ed from York University in 1997. He went on to attain Post Graduate Diploma in Investment Management in the Finance and Investments domain from Concordia University. After this, he expanded his knowledge base by completing his MBA degree in Finance from Wilfrid Laurier University.
He believes that his education base has helped him attain the position he holds now in his career. The knowledge base has helped him structure his path and achieve success in his life. He focuses on this by saying, "My MBA degree offers me some sort of something that I guess as a first-time entrepreneur I can lean on. But the real key to my success is my Bachelor of Education. Forging a culture and achieving corporate goals comes down to educating your employees. Success comes when we are all on the same page. When everyone understands and buys in, that's when the magic happens."
The stepping stone into the corporate market was MPW, where he progressed his way up to grab the role of VP & PM. He explored different ventures and gained a lot of experience, and added new skills to his skill set.
In 2014, with the aim to offer the best benefits from the cannabis industry and transform its aspects, Steven founded Kronic Relief.
Transforming the industry with Kronic Relief
Kronic Relief is an amalgamation of cannabis growers with diverse backgrounds and experiences under one roof to create a unique philosophy, brand, and culture.
They are committed to satisfy the needs of medical patients by offering safe options and cater to the needs of recreational users by offering the best services. They are using advanced technology to innovate and bring new products that are safe for every individual.
The team is looking forward to harness the power of modern scientific technologies with their expertise to increase the variety of products in the cannabis industry.
Taking onus of the CEO role at the company
Steven adds, "I want to be recognized as one of the best to have ever done it, by the best who has ever done it. I am excited and passionate about anything to do with cannabis. For our medical patients, I want to provide a "Relief" that is synonymous with an end to the suffering that gives people their lives back. For our recreational clients, I want to be known as the possessor of the "Kronic"!"
He is the Co-Founder, Chairman, CEO, and Head of Horticulture at Kronic Relief Holding Corporation (KRH). KRH owns 100 percent of Kronic Relief Inc (less shares sold to private investors) and 49 percent of Kronic Relief Jamaica (KRJ).
Handling different roles at his dream project, he oversees everything and has a say in every aspect. He states, "My days are spent expanding my knowledge on cannabis, networking with like-minded individuals, and raising money to facilitate our future plans. There is no specific pattern or trajectory to my daily routine – I'm just laser-focused on getting Kronic Relief to the next level, each day seems to bring new challenges or milestones to be reached, and I just adjust accordingly."
Getting inspired by the quote of Winston Churchill, "If You're Going Through Hell, Keep Going," he fuels the growth of his company with all his might. He welcomes the challenges with a never-give-up attitude and works the way through them to accomplish the milestone.
He believes that determination, passion, and loyalty are the three sharpest arrows in his quiver that allow him to bull eye the upcoming milestones. These qualities allow him to understand the current situation and act accordingly to expand the growth of his business.
Having strong determination allows him to tunnel through every challenge. He states, "My determination has allowed me to continue pursuing my goals even during a pandemic which has caused so much economic unrest – not to mention the disastrous start the Canadian cannabis industry suffered."
Having a solid passion for his work, Steven keeps on growing individually and motivates his team to do so. He adds, "I've been told many times that my passionate approach towards reaching my goals has been very contagious and instills a great deal of confidence in the people I work with."
He believes that his loyalty towards the clients and his works allows him to build strong bonds that are very helpful in the longer run. He expresses, "My loyalty has been paramount to forming many solid relationships that have helped me progress towards success and allowed me to share my story with people I might not have had the audience with. Some of these relationships are decades old, and it humbles me to no end."
In the current position, he is all about achieving new heights with his business in the market. He adds, "I hope to begin to have a balanced life again once my business has achieved its first wave of real success. At that point, I will be in a position to hire people in key positions to take some of the load off of myself, which will naturally translate to more free time."
Future roadmap for the company
For future plans, Steven expresses, "We plan to bring our cannabis edibles and topicals to market and expand our footprint to 100,000 sq/ft indoors and 10-acre outdoor facilities in Canada. I would also like to bring our 12-acre project in Jamaica online and vertically integrate it into a few local dispensaries with an eye to exporting internationally once permitted."