Brian Jones: Living example of nothing is impossible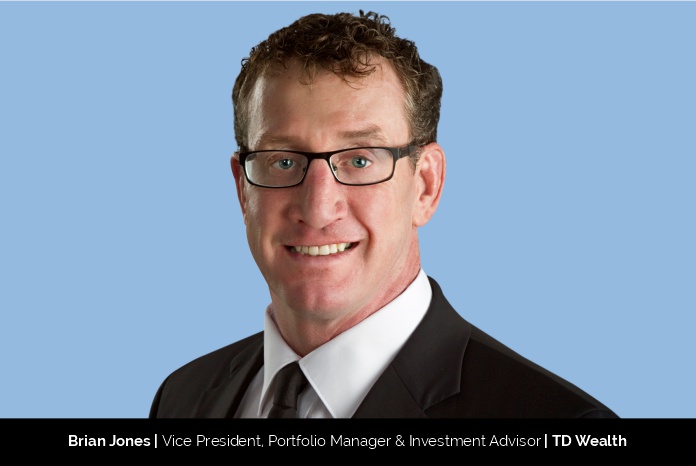 Brian Jones, vice president, portfolio manager, and investment advisor with TD Wealth, has totally eliminated the word impossible from his dictionary. He is the living source of the motivation for the aspiring leaders that if they believe in themselves and back up their skills, then they can fill true colors to every dream they are chasing.
Behind the curtains
In grade three, Brian's teachers told him that he would never excel in math. In sixth grade, his teachers told his mother that he would never attend any university.
His first year in the UNB, he majored in rugby but had a GPA of 1.8. Things were not good, but he never lost hope and gave in the outer noise. With the determination to change his destiny and prove all the others wrong, he burnt the midnight oil to expand his academic base.
He holds a bachelor's degree from UNB in economics and military history, and he is a graduate of the SIFMA program at Wharton School of Business, Negotiation Essentials at Notre Dame Mendoza College of Business, Advanced Risk and Investment Management at Yale School of Management and a graduate of Authentic Leadership Development at Harvard Business School.
He states, "Don't let people tell you can't, and if they say you can't use it as motivation to do it regardless. YES, YOU CAN!!! Don't let people tell you; you are not smart enough, not fast enough, not strong enough, not wealthy enough, etc. You can do anything you want to if you put your mind to it. YES, YOU CAN !!!"
He excelled at his professional and personal front regardless of his physical disabilities and all the demoralizing chatter around him.
Thrashing the curveballs outside the park
Life was never easy for Brian from the start. He was born blind with a large hole in my heart. Doctors told him that he would never be able to play sports in his life. He also had asthma and was teased relentlessly in school. He had the nickname "bones" due to his physical traits.
He adds, "When I was in high school, the assistant coach of the rugby team said I was too small and would never become an A-level rugby player. "
However, he never fell into the traps of these words. He pushed himself hard and became the team captain and an all-star player. He was the first player in NB to play professional rugby in France.
He states, "I played rugby for 26 years when my doctors said your knees are too bad you need to stop running, you can't run anymore."
On top of that, he skied to the North Pole and ran Ultramarathons in the Sahara, Gobi, Atacama, Jordan, and the Canary Islands.
No matter how many obstacles he had to face, he always tunneled through them with his strong will and determination. He expresses that life is too short of having any regrets. Dream big and back them up with the never-give-up attitude and solid efforts.
Serving clients with TD Wealth
Brian specializes in Tax-Efficient Wealth Planning. He is focused on planning for the future to help ensure the needs of the client can be met during each stage of life. Each family has different needs for their financial legacy, and Brian takes the time to understand those individual needs.
He has dedicated his entire 20-year career to helping people manage their wealth to achieve their goals and reach their dreams. As a wealth manager, he incorporates how the economy works with stocks and believes it's important to walk each client through everything to help them interpret and understand their investments.
His accolades back up his skills. Brian is a fellow in the Canadian Securities Institute, a Certified International Wealth Manager, and a Canadian investment advisor whose skill and commitment to the field has garnered multiple awards, including Advisor of the Year in Canada by Advisor Magazine and being twice ranked as a Top 7 Portfolio Manager of the Year in Canada by Wealth Professional Magazine.
Impacting people's lives positively
Committed to the community, Brian uses his success to contribute to the betterment of people's lives, taking much of the profits he makes and putting it back into the community. However, he not only commits money to causes, but he also gets involved hands-on to learn about the charities he supports, which include kids at risk, autism, The Hospital Foundation, and mental awareness and homelessness. To generate awareness of the plight of the homeless population, Brian spent a week homeless in his hometown. For other charities, he and a friend walked the length of New Brunswick for Liberty Lane, a second-stage housing program for women at risk, and spent a week on the top of transport for local food banks.
In support of charities, he has climbed Mt. Kilimanjaro and Mt. Vinson, Antarctica, and has run Ultramarathons in The Sahara, Gobi, Atacama, and Wadi Rum deserts. He expresses, "When I go to the Poles and these deserts, it's a large learning experience; a lot of grit and dedication goes into it. I get out to go share this with the kids I work with. I also take into consideration everything going, on such as racial issues and COVID."
Message for aspiring business leaders
No matter what the circumstances are, never give up and keep fighting for what you believe. Brian, himself is the living example of the famous adage, "When life gives you lemons, make lemonade."
He expresses that it is important to stay around smart and optimistic people to grow further. Whether it was achieving success at his professional front or philanthropy, he didn't let people limit him in any aspect.
He states, "The magic is in you! The only thing that can stop you from chasing your dreams is you. Anything is possible. Dream big! Don't let people tell you; you can't. Yes, you can !! and when you realize you can, you just might find that the people you help realize they can too."