Sinhue Noronha: Changing the Lives in Africa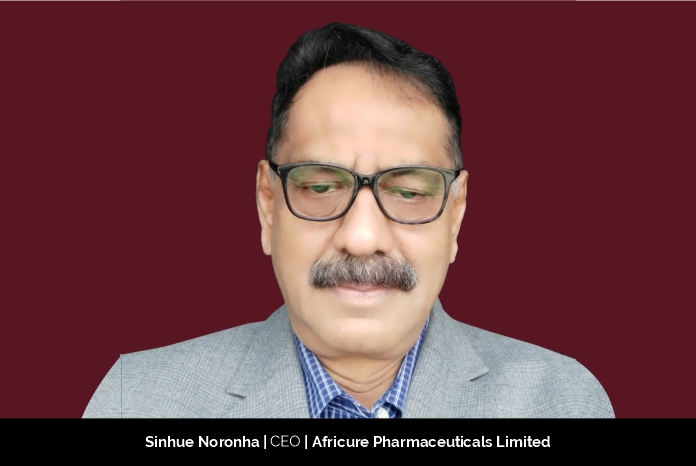 Being able to help anyone is one of the noblest deeds to carry out at this time. Sinhue Noronha is changing countless lives in Africa by revamping the pharmaceutical industry in the Sub Saharan Continent . As the CEO of Africure Pharmaceuticals Limited, he is creating new career opportunities, reducing the outflow of currency for medicine, and providing essential medicine in large proportion at nominal rates. He is a strong believer in the fact that if anybody sets a goal to achieve something, then no aspect can stop him/her from achieving it, especially the age.
The advent of Africure Pharmaceuticals Limited
Being passionate about the pharmaceutical industry, he gained all the marketing, manufacturing and finance skills required to reach new heights in the industry. He states," I have been in the Pharmaceutical industry from the age of 20 and started my career as a Medical Representative and thereafter rapidly moved through roles of Product Executive, Product manager Sr Product Manager, Marketing Manager, and Marketing Controller."
In the next ten years, he started his business of manufacturing and exporting pharmaceutical formulations to buyers in Europe and Africa.
In 2008 he received an offer from a Global Pharmaceutical Player based in India to buy his business and give me a bigger canvas to play on. They gave him the mandate to grow their African business. He excelled at the job and elevated the scales from USD 5.0 Mn to USD 65 Mn by 2017.
He further adds," In 2017, they looked at restructuring their businesses and offered to sell me their Africa-based manufacturing business, which I bought with the help of investors who believed in my capabilities. I sold them 44% of the company, and a colleague and I owned 56%. The company was called Africure Pharmaceuticals Ltd and headquartered in Mauritius with plants in Namibia, Botswana, Cameroon, Mozambique, Nigeria India and a new one coming up at Cote D Ivoire."
This marked the dawn of the company, which was all set to revamp the pharmaceutical Industry in the Continent
The pressure of the setbacks along the way
"Growing businesses do not always sit on a bed of Roses; there is always interruption by thorns!" he adds.
The team has faced challenges from regulatory agencies being very sluggish, banks not willing to provide working capital to start-ups, buyers running away with the goods and not paying, currency devaluations, etc. But none of the above were unpleasant surprises or shocks, as they were always aware and prepared for such contingencies, which certainly helped soften the blows.
Aim and goal of Africure Pharmaceuticals Limited
He aims at creating manufacturing assets and capabilities and training local Africans to be self-reliant and independent. He states," Africa over the years has been dependent on imports of medication from Europe, India, and China, this has resulted in draining of precious foreign exchange, non-creation of job opportunities and suffering the vagaries of Supply/Demand because of which the product pricing keeps on changing. Also, self-medication is one of the biggest challenges due to paucity of doctors, Hospitals, and low availability of income."
However, the governments in are becoming more supportive of health care. Moreover, Africure is strongly supporting the transfer of manufacturing knowledge to the local people and is also working with Pharmacy colleges to provide internships to some of their graduates.
He further adds," Africure is fortunate in getting Capex funding from Proparco of France who has additionally provided a grant with the help of which Africure has hired a renowned cGMP auditing firm to continuously audit all its facilities so as to be cGMP compliant and provide training not only to its onsite teams but also to other manufacturers and regulating agency's in countries where we have plants."
Sinhue Noronha has led his business to produce large volumes at low cost and sell the same sharp price. They make 10 Mn units every day and believe that they have almost mastered the art of low-cost manufacturing coupled with aggressive buying and robust supply chain initiatives, which will go a long way in ensuring that africure is always ahead of the curve.
Life as CEO of Africure Pharmaceuticals Limited
He plays a crucial role in the development of his colleagues across the group by sharing all that he has learned so as to get them future-ready. He does this by continually traveling to all key markets and having personal interactions with them. He spends over 200 days a year in Africa.
He is happy to do things differently and take well-calculated and informed risks. As an example, He approached a PE investor who had invested in a manufacturing company and was struggling to turn it around. His team offered to manage the entire operations under a management contract and committed their capital to the extent of USD 600,000 to provide input material and buy and resell the entire production.
He further adds," In 12 months, we have doubled the company's turnover, and they see a healthy EBITDA, and we have made a fairly ;arge amount from this opportunity. This was possible simply because my team believed that it could be done and did all that was required to make it happen. We monitored the performance on a daily basis which put a strain on our time resources but eventually, we got there. We ourselves got so excited about this achievement that we have agreed to buy 51% of this company's stake and found a partner who will buy the balance 49%."
He is a workaholic and spends a large part of my time is spent working. His family is quite supportive and understanding. He spends a tons of time leading and influencing teams. Being more of a recluse. He adds," I honestly do not interact too much with the Industry, But I indeed do repeat the story of my journey to young people I meet and very often see a sparkle in their eyes."
Future Face of Africure Pharmaceuticals Limited
Africure is committed to expanding its manufacturing initiatives in Sub Saharan Africa. They continue to look at putting up a new plant every two years and managing plants that are struggling, and turning them around into success stories. He plans to have a basket of 10 plants in the next five years.
He adds," Business is not a one-way street to success, but a two-way one and one of them leads to failure." He believes that one must remember, failure is a stepping stone to success, and when anybody is down, the only thing they should be doing is getting up and go and keep trying.
In the coming future, he proposes to list 5% of their equity on the mauratiuan stock exchange to establish a public domain valuation for their shareholders and move towards listing on one of the UK/European stock exchanges in a couple of years. He adds," Africure is doing a lot of good things for Africa and hopes that its Karma will do good to Africure."