Adam Fauvre: A Compassionate Leader Helping Others Achieve Dreams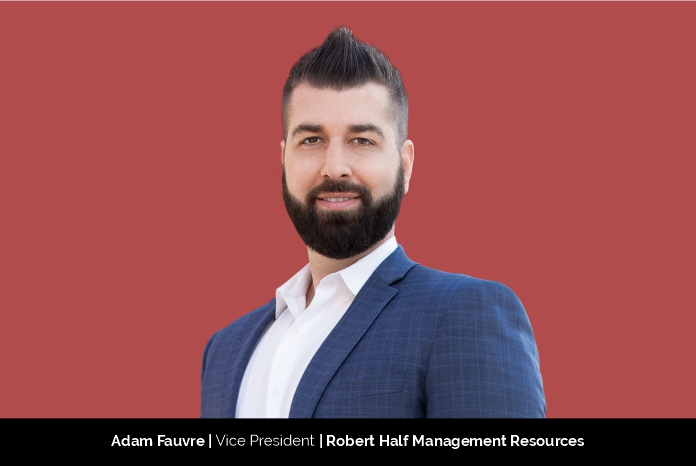 The three qualities that best define Adam Fauvre, Vice President at Robert Half Management Resources are his passion for helping others, work ethic, and positive mindset. If 2020 has taught us anything at all, it's that we need to have compassion for others, says Adam. For him, being able to understand, sympathize with, and help our fellow people is critical to our ability to make a positive impact on the world. "The ability to work smart and hard to drive to an end-result or solution is the missing link between wanting something and achieving it. And all the hard work in the world will not help you enjoy life if you don't take the time to smell the roses and enjoy the fruits of your labor. If 2020 has taught me anything, it's to continue to work hard, have compassion for others, and enjoy the ride every day," asserts Adam.
A beginning of different dreams and goals
Adam honestly had no idea that he would be where he is now. He grew up playing competitive tennis with the goal of being a professional. When Adam was in high school, his interest in the stock market grew, so he earned a master's degree in finance and pursued a career in the industry. After several years, Adam decided to work with a friend and his company as a Project Manager as they pursued seed funding. It gave him a great introduction to working directly with clients and customers, and it rounded my skills out as a businessman. Adam decided that he wanted to find a job in which he could utilize both his finance expertise and desire to help people achieve their goals. The staffing and consulting industry has brought him fulfillment in both, says Adam.
Adam's parents started day trading when he was in high school. Adam watched them having fun and being excited about their pursuit, and he wanted to feel those things in his future. "I received my master's in finance and felt ready to take on the world. However, the early part of my career in financial operations left me feeling tired, bored, and rejected. Becoming a professional trader seemed impossible! But I was finally given that chance by a regional broker-dealer, and I enjoyed the work so much. I felt excited to go to work each day, and like I was adding value to the world. I had finally realized the dream I had since I was a young boy watching my parents," recalls Adam.
But even as a Trader, life was not easy for Adam. The daily 3:30am wake up calls, difficult culture, and commute to and from San Francisco once again left him tired and unfulfilled. Adam says he was in my dream job, but at the same time, he wasn't enjoying it anymore. He wondered what to do with his professional life when he no longer wanted to do what he had wanted to do most of his life. He no longer felt like he was adding value to the world. Therefore, when he joined Robert Half, it brought him an opportunity to help people.
"After joining and leaving multiple companies in my early career, I understand the difficulty of changing jobs. When I find someone a job now, it makes me feel good that I can help them avoid the challenges of not having a job or a paycheck. Providing a team of consultants to help my client resolve a challenge that they couldn't resolve on their own provides a real tangible result that I can be proud of," shares Adam.
Recalling a memory lesson from childhood, Adam says, "When I was a child my parents had me take the Parachute Test, a test that gives insights into what career I might be best suited for based on what I was good at. The results were overwhelmingly leaned towards two; Finance and HR. My career is a perfect blend of the two. It's a perfect fit for me, and I love helping people."
Helping clients move forward professionally effectively and successfully
Adam loves helping people find jobs and giving them a sense of stability in their personal life, whether that means a steady paycheck or finding something new so they can grow their skills and keep themselves moving forward professionally. He also loves helping his clients solve their complex business issues in business, finance, and technology. He says he gets to learn about different business models and help companies grow through change. It's like getting a new on-the-job MBA each day, and it helps his clients sleep better at night.
Robert Half Management Resources is a division of Robert Half, a global staffing, recruiting, and professional services company. Robert Half made the Fortune 500 list last year and is the global leader in the staffing industry. Management Resources focuses on interim staffing of senior level finance consultants as well as consulting services. Robert Half's industry-leading services and its people allow them company to deliver real solutions to real business challenges on a global scale. As a Vice President with Robert Half Management Resources, Adam specializes in the assessment, planning, and execution of staffing and consulting engagements with his clients based in the SF Bay Area on a global scale. His areas of focus include Accounting, Finance, Audit, Compliance, Tax, Treasury, System Implementation, and Business Process Optimization.
Robert Half: An industry leader in staffing industry leading the way
According to Adam, there are a few things that really distinguish Robert Half from its competitors. The company has been in business for 75 years, and the brand is at the top of the industry as well as on the Fortune 500. This gives Adam and the team immediate name recognition and notoriety as the industry leader. Because of that, Adam says, "we have the largest network of any staffing firm. I can't think of too many times where I have mentioned to someone that I work for Robert Half without them having heard of us. Very often people will know one of my colleagues or have been placed in a job by us. I myself was actually placed by Robert Half twice at the beginning of my Finance career, which is a great success story to share. It shows that our services really work, and it builds trust and confidence in my relationships with clients and consultants. I have a lot to be thankful for being a part of this amazing organization."
In addition to Robert Half's world-class brand, the firm really hires great people. Most of Robert Half Management Resources employees either have an extensive Finance background or have been recruiting specifically for finance projects for years. "Our experiences allow us to add immediate value to our clients because we understand what they need from us to be successful. It was my amazing leadership and teammates who I have to thank for having helped me find so much success here over the years. Working for Robert Half Management Resources isn't just a job; it's a career," he further adds.
Making sure the clients are successful in running a smooth finance operation everyday
For Adam, each day starts by catching up on emails that may have come in overnight. Since Robert Half supports its clients with global initiatives, there will often be items that Adam need to address first thing in the morning coming out of other time zones. His team gathers around 8:00am to discuss priorities for the day and set up an action plan. This helps Adam and the team stay focused and productive throughout each day. Personally, Adam spends a good portion of his day reaching out to his current clients to assess how their projects are coming along and to see if any changes require us to adjust the approach. This could include adding or subtracting resources from a project, discussing tactics to achieve an adjusted business requirement with consultants, or a number of other things. It's all about helping make sure his clients are successful in running a smooth finance operation.
Adam also spends time throughout the week researching the current business market, reading up on new or upcoming IPOs, M&A activity, Venture Capital and Private Equity activities, quarterly and annual reports, and reaching out to prospective clients who he believes, based on his research, may find great benefit from Robert Half's services and solutions. At the end of the day, the team gathers again to discuss progress on open items, new items of importance, and share any wins they may want to highlight. The team keeps a very collaborative and positive outlook within the team. "After all, we love what we do."
A self-fulfilling prophesy that blends work and satisfaction together
When asked whether he has achieved what he desired, Adam replies, "I can honestly say I have achieved more than I ever thought possible when I started this adventure 4 years ago. From hitting the top of the weekly District rankings and making "Reach", the annual top-performers retreat, the last 2 years in a row, it has been an incredible journey. The beautiful thing about this job is that the sky is the limit for income potential and helping people. For me, the more I focus on helping the people I work with, the more satisfied I feel. It's like a self-fulfilling prophesy of sorts. I love helping my clients and consultants, and that keeps me motivated to work harder than ever before."
Adam has been working from home 100% since March of 2020 when the pandemic first hit. "I remember very clearly as I left work on a Thursday, preparing for my pre-planned trip to Hawaii on Friday morning, I turned around to look at our large bullpen and thinking "I wonder when I will see all of my amazing coworkers here in the office together again…". I haven't been to the office since," he says.
The pandemic and a road ahead!
2020 and the pandemic has taught us to be flexible, says Adam. In order to continue to be productive, "I put together my own work-from-home office, and over the course of the year there has been a continuous assessment by Robert Half on when and how to come back to the office safely. With the constant changes in regulations and stay-at-home orders especially in Santa Clara County, I learned how to be patient and assume that, at least for the time being, I need to be happy working from home, a big change from visiting my clients on-site at their offices multiple times per week."
Adam has been able to settle into working from home and take time to himself each day. To be honest, Adam thinks working from home gives him more freedom to have a work-life balance than being stuck in an office. Further, virtual meeting platforms have taken commute time out of the equation completely, saving more time throughout the day for things he'd rather do than sit in Silicon Valley traffic. It's been a welcome change for him, and he is interested to see what the future of work-life balance will look like.
Going ahead, Adam plans to continue his journey with Robert Half Management Resources as long as he is able to help more people. He has adopted the service mentality and it feels amazing. He will also continue to serve on the Boards of the local FEI and IIA chapters as long as he can continue to add value to the local Executive Finance communities. "Robert Half Management Resources continues to be the leader in providing workforce and business solutions to our clients, and with the Robert Half brand behind us, nothing will stop us from continuing to deliver the best service to our clients. Moving forward," concludes Adam.