Sebastian Mahut – A Dream that Led to a Pathbreaking Innovation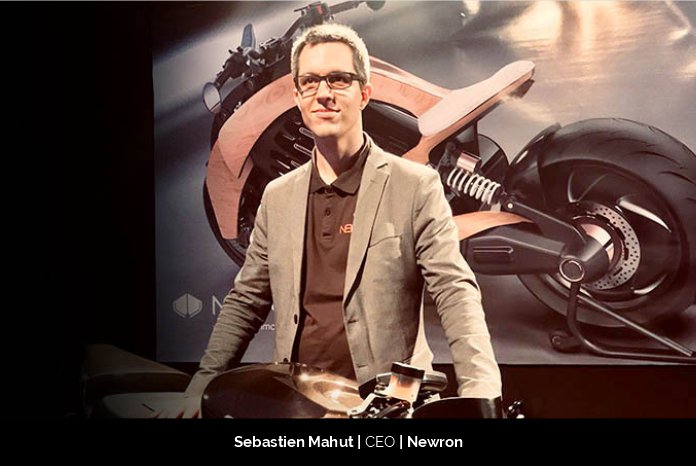 A dream is a result of your unconscious thoughts that flash when you are asleep or wide awake. Whatever you observe in your surroundings combines in a moving picture, and you can see it crystal clear. While this dream occupies the unconscious mind, the dream that successful people see is entirely different.
They have a dream that Martin Luther King Jr. once illustrated in his speech "I Have a Dream." Such people with their vivid dreams and goals intend to bring forth a massive change and emerge as leaders who inspire millions.
Today, one such leader is Sebastian Mahut, who, with his high-end dream of inventing and selling electric motorbikes, established Newron Motors and has influenced so many lives.
A Profound Love for Vehicles that Inspired the Entrepreneurial Endeavor
Sebastian had a profound love for cars and motorbikes since the time he was a school-going child. Upon attaining the age of 18 and getting a driving license, he bought his cars and adored them every time he rode them.
This love then took the shape of a future endeavor, which is now widely popular as Newron Motors, one of the top electrical motorbike companies. Sebastian was so fascinated with the engines, their working, and machinery, he looked no further and started this journey, which is so successful today.
He studied aeronautical engineering to reach the position he is today and covert his dreams into reality. Now he with his team at Newron motors company design the models and focus on enhancing the user experience. Had it not been for Sebastian's love and his ardent desire for cars, he would have never succeeded in establishing himself in the automotive industry.
Stumbling Blocks in the Uneven Path of Success
The most significant challenge that Sebastian faced was not the technology or the skilled workers but the project's finances. He had abundant technology and skilled people in hand but to start manufacturing the vehicle from scratch required a reliable person who could manage the funds.
He says, "It takes a lot of time to get money from local authorities, grants, … and traditional VC or angel investors are always scared about a project involving a lot of technology and industry process."
Moreover, he encourages the budding entrepreneurs by sharing his experience and learnings. He adds that one should stay firm with his vision to succeed. He heard diverse advice from people who knew the subject and even from those who were blocks away.
However, that advice did not match his vision, and hence he did what he desired to do. It was significant learning for him.
He also mentions, "We don't fear to think out of the box. Not using already existing technology or copying best practices but inventing ourselves. The motorcycle industry has a heritage of more than 100 years, it is not always easy to be disruptive."
A Game-Changing Service and Product that Provides the Automotive Industry a New Dimension
"The Newron EV-1 electric motorcycle is the symbiosis between French craftsmanship and future mobility," Sebastian adds to illustrate the services that he offers to his customers.
To stay abreast of the competitors, he uses skilled craftsmen and integrates his French know-how to bring a significant change and make his business stand apart from others.
"We try to develop a product with better performances using up-to-date equipment as well sustainable materials. The "sur-mesure" and user experience is our priority because every customer is unique." He mentions this statement to highlight what makes him ahead of the competition.
His key to success is his ambition to do something big and change lives. This strong ambition keeps him on the move, and he never gets tired of what he does. This ability makes him the most inspiring leader whom everyone should look up to.
Explaining his services, he adds, "The first emotion must come from the line. With its design combining precious wood, quality leather, and high-tech materials, EV-1 stands out from the current production. It imposes its style. The exo-skeleton surrounds the battery asymmetrically and prints a machine movement."
The Ingredients to Make an Entrepreneurial Journey Successful
Cultural integrity, long-term vision, and a well-planned roadmap are all that a successful leader needs to make his business big. All these three ingredients, as one would say, are present in Sebastian's venture, which is why he is at the epitome of success today.
He fosters the new talents and exploits their creativity to bring out the best designs to please the customers. The craftsmen primarily belong to only three fields, which are the aeronautic, motorsport, and automotive industries.
Since the automotive industry has witnessed a changing landscape over the span of 20 years, there are many developments in the engines, machinery, prices, and other factors. Considering all of them, Sebastian has a long-term vision regarding his company.
"Pioneering the motorcycle industry to leave an impactful legacy to future generations. We want to envision the future with a sustainable motorcycle without compromise, high performances, made for the real connoisseurs." He adds to outline his vision.
Sebastian was lucky enough to have found the right people at the right time. These people helped him climb the ladder of success and make his name in this industry. His greatest achievement to date is meeting such amazing, influencing people in his life who made all the difference for his benefit.
Years down the lane, he has planned out Newron motors' roadmap, which looks something of this sort.
First, reveal a working prototype of EV-1 for mid-2021.

Next delivers the first 12 bikes in 2022.

Ramp up to 100 bikes in 2023.

Develop services and a range of motorcycles in 5 years to sell worldwide.
A CEO in the Making
Being a CEO, Sebastian holds significant responsibilities and has to keep everything in check. Pleasing the customers and fulfilling their demands with utmost precision in the final product lies in his hands.
"My major roles are to manage the people and our talented team to work all together hand in hand to give their best. Our goal is our personal satisfaction to deliver the very best motorcycles to each consumer. We all love challenges. Every problem encountered is a new adventure to solve it and innovate." He says this to highlight what his day-to-day responsibility is and how he tackles all of them.