Simona Watkis: An Accomplished and Multitalented Executive with Domestic and Regional Experience in Sales, Business Development and Operations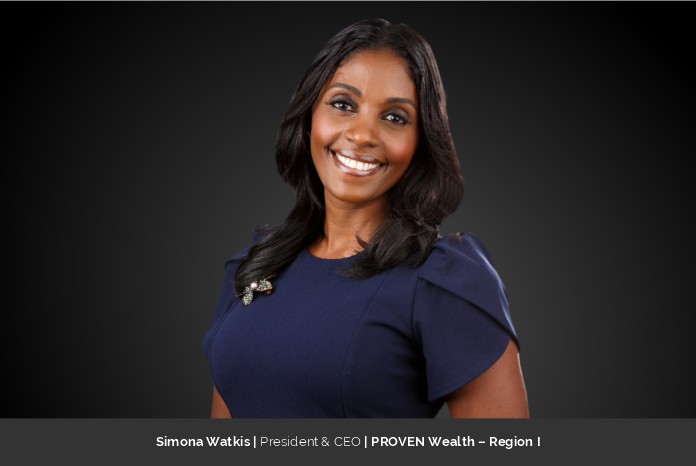 Simona Watkis, the President and CEO at PROVEN Wealth – Region 1 (Cayman, Bermuda, Barbados & BVI) is a highly accomplished executive with extensive domestic and regional experience in the Caribbean in various areas, including sales, business development, operations, P&L responsibility, multichannel product distribution, and marketing. She has worked with both start-up and growth organizations.
In her previous role as the CEO of NCB Capital Markets (Barbados) Limited, Simona was responsible for leading the business strategic direction, with a particular focus on local and regional business expansion and product development. She successfully managed a team of revenue drivers in wealth management, syndication, and investment banking, as well as mid-office teams in operations, compliance, and risk management. Additionally, she oversaw back-office functions such as finance, HR, IT, and marketing.
With deep roots in the Caribbean, Simona has the privilege of serving as a director of the Barbados Stock Exchange, where she sits on the Audit, Finance, and Viability Committees. She also previously served as a member of the Barbados Chamber of Commerce, where she was a council member and sat on the Finance Committee.
During her tenure, Simona spearheaded several transformational initiatives that helped scale the business, showcasing her leadership abilities and business acumen. Simona currently lives in the Cayman Islands.
"No one can be a great leader unless they genuinely care about the success of everyone on their team."
A Full Suite of Wealth Management Advisory Services
PROVEN Wealth Limited (PWL) is a wholly owned subsidiary of PROVEN Group Limited; and is one of the Caribbean's premier wealth management companies, managing billions of dollars of assets on behalf of the company's institutional and individual clients. Its primary focus here in Cayman is to provide individuals with a full suite of wealth management advisory services as well as institutional clients with private capital and other investment banking needs.
PWL brings together one of the most experienced teams in the local financial sector, who in aggregate have successfully managed billions of dollars of investments and capital market transactions for its clients whilst delivering consistent returns and expert financial advice over the past two decades.
The firm takes pride in helping people, businesses, and institutions manage, preserve, and build wealth, ensuring that client satisfaction is at the core of what the team does. With best-in-class financial advisory services, the firm helps lead healthier financial lives through:
• Always putting clients first
• Providing an excellent Client experience
• Building sincere human-centred relationships with our clients
• Great response time
• Providing solutions for every type of client – for Financial Planning, Wealth Management and Investment Banking.
Simona states, "To create a blueprint to deliver on the aspiration of building out the PROVEN Wealth Region number one brand across the Caribbean, making us the choice for wealth management and known for performance."
"Leadership and learning are indispensable to each other." – John F. Kennedy
Responsibilities with Leadership Role
As the President and Chief Executive Officer of PROVEN's Wealth Region 1, Simona Watkis is responsible for driving the company's wealth management and investment banking businesses' top-line performance across the Northern and Eastern Caribbean. She is also tasked with accelerating regional expansion and promoting the development of the secondary market to offer investors in these markets more investment opportunities, particularly in fixed income investments and structured financing.
Simona believes that aspiring leaders should exhibit the following five qualities:
Build emotional intelligence: Emotional intelligence enables leaders to keep their cool in tense situations and maintain harmony within their teams. Rather than reacting impulsively, emotional intelligence helps leaders to work through their emotions and communicate effectively in challenging situations.

Develop a growth mindset: A growth mindset allows leaders to view challenges and setbacks as opportunities for growth rather than obstacles to success. This mindset promotes innovation and a continuous drive for improvement.

Learn to listen: Active listening is a critical tool for aspiring leaders. It enables leaders to focus on what is being said and to respond thoughtfully, based on reason, rather than reacting impulsively.

Practice confidence: Confidence is essential for effective leadership. It enables leaders to make decisions confidently and communicate them effectively to their teams.

Practice good time management: Meeting or exceeding deadlines is a quality that sets a good example for a team. Aspiring leaders should practice good time management skills to ensure that they are able to meet their obligations and support their team effectively.
"Employees do not leave an organization they leave poor leadership."
Views on Constant Change in Industry
Simona has observed that the wealth management industry has undergone gradual changes in the past decade, largely due to evolving customer demands, regulatory requirements, and technological advancements. These changes necessitate that industry players be responsive and proactive in their solutions and possess the agility required to adapt to changing circumstances.
Furthermore, customers now have easy access to information, making them more informed and better able to plan their investments and set goals. As a result, advisors and industry players need to be knowledgeable subject matter experts who can guide individualized investment decisions in a proactive and innovative manner to achieve smooth and appropriately adjusted outcomes.
Moreover, it is crucial to provide customers with technologically enabled service channels, allowing them to access portfolio and related information at their convenience. Doing so is key to differentiation and achieving service excellence.
Values in Processes
The PROVEN Group strongly believes in the core values of Integrity, Performance, Teamwork, and Respect, which are embraced by every team member. These values serve as guidelines for "how we conduct ourselves and are the standards by which we are evaluated."
In order to ensure strategic success and performance, PROVEN has implemented a governance structure that effectively guides the company's outcomes. With the help of its Investment Management Committee, PROVEN proactively evaluates markets and opportunities to identify best practices and future-proof its goals. This approach allows the company to stay ahead of the curve and remain competitive in the industry.
Instilled with a Sense of Balance
Simona's family plays a crucial role in keeping her grounded. Growing up in a large family has taught her valuable life lessons, including the importance of helping others to grow, sharing and building each other up, and working together towards a common goal. These early experiences have instilled a sense of balance in Simona, allowing her to approach challenges with confidence and to effectively plan and execute her goals with the support of her team.
Simona understands the importance of having a singular goal that aligns with the team's objectives. Celebrating every win, both personal and professional, is a key aspect of creating a motivated and winning team. This is achieved through the implementation of effective systems, controls, and teamwork, which allow for the delivery of outstanding performance when required. By fostering a culture of alignment and celebration, Simona believes that teams can achieve great things together.
Every Challenge has a Valuable Lesson
According to Simona, challenges are accompanied by discomfort, which creates a sense of urgency to bring about change, make adjustments, or reconsider one's approach to overcoming them. Simona has faced various challenges, such as studying while parenting or moving to a new country, and these challenges have taught her valuable lessons. Although some of these challenges were due to external factors such as the environment or occupational health, they have made her more resilient. Simona has learned to plan and manage the things she can control, and she can quickly adapt to getting back on track when faced with unexpected obstacles.
Success for Simona
Simona acknowledges that success can be defined in different ways, but she personally views it as a combination of two factors. Firstly, by consistently surpassing your goals, and secondly, by maintaining this pattern of success so that your team is encouraged to adopt a similar mindset and make success aregular occurrence. Simona believes that working with a team of achievers leads to overwhelmingly positive results as everyone collaborates towards a shared objective.
"Leadership is unlocking people's potential to become better."-Bill Bradley
Setting Examples to Inspire Future Generations
Simona Watkis aspires to create a positive impact on the next generation by leaving behind a legacy of success and a blueprint for how to achieve it. She aims to make a meaningful contribution to her community and industry by actively participating in initiatives that promote sustainable development. Additionally, she seeks to use her voice to mentor and guide groups and individuals, empowering them to become agents of positive change.
Simona believes that becoming involved in one's community and industry is crucial to effecting significant changes that benefit society as a whole. She is committed to inspiring others to follow in her footsteps, promoting a culture of collaboration, innovation, and excellence. Her ultimate goal is to leave a lasting impression on the next generation, inspiring them to be leaders and change agents who can build a brighter future for everyone.