Simon Oldham – Reinventing the wheel in the talent acquisition industry using creativity and artificial intelligence.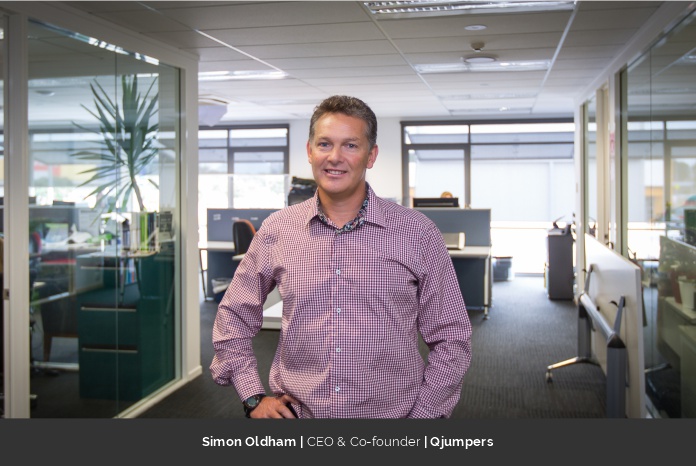 We are our choices, and we get to build ourselves a great story.
Simon Oldham is the CEO, and Co-founder of QJumpers Recruitment Software, which is a pioneer in artificial intelligence (AI)-powered recruitment software, that was started in his home country – New Zealand. QJumpers is managed by a driven team of professionals who want to improve the way you manage your recruitment by making the process simple, efficient, and easy to manage. Simon states that launching the company in 2006 was exciting and getting their first major client in 2008 was a turning point for the company. Another accomplishment was making the company profitable, which was a relief. Since then, they have been on a continual rise and have won awards as the most innovative recruitment software provider in the US last year.
Launching in the US was an achèvement, however, they are now on that difficult path to success again as if they are starting all over again in the US market. "The key to our success is that we place our customers at the heart of everything we do. We like them to know us personally if possible and to talk to us as often as they can. We like open and transparent conversations so that we can help them with anything that we can. Client feedback helps us to keep up to date with any changes in market needs and helps to give our clients want they want," says Simon.
Even their development team knows that they need to think about how each change in functionality is going to impact the use of their clients. They always think about how their users, not just the system administrators, can use their software easily. They are fast and nimble enough to change quickly when market dynamics call for it. "That's how I measure success by providing software to our customers that meets not just their current needs but their future needs. That's why we are so excited about our AI Talent sourcing tool, it fills a real need in our customer's recruitment process," he states.
Growing with a leap of faith in the competitive industry of talent acquisition
In 2005, Simon joined his business partner in what was to become QJumpers. They started building what was to become an Applicant Sourcing and Tracking System – although they didn't know that's what it was at the time! Since then, he has been looking for innovative technologies to help solve their clients' recruitment problems.
When they launched, Simon and his partner were trying to provide a talent pool-based matching system – matching candidates in their talent pool to jobs that their clients wanted to fill. They had a chicken and egg situation where they did not have enough candidates in the talent pool to match to jobs, and not enough jobs to help attract candidates to join the talent pool. Hence, they had to pivot and look at the problem from a different angle.
We they decided to add integrations to the major job boards to the talent pool system they started growing quickly. "By adding the job boards to the talent pool, we had solved the chicken and egg situation of which comes first – the talent or the jobs," Simon mentions.
Simon's life before QJumpers
When he was 10, Simon learned how to program and make his computer games. His first job involved using technology to automatically match colors for paper and textiles. He became the technical support for Ciba-Geigy Asia and spent 6 years based in Singapore traveling throughout Asia and was promoted to Asia South Divisional Manager.
"I felt that my ideas and energy were not being used to their full potential and decided to leave the corporate life," he states.
Redefining the talent acquisition industry with innovative ideas
The ATS is obviously at the heart of what they do at QJumpers. Having come from New Zealand where the recruitment process is more collaborative, their ATS has been developed to suit remote hiring and collaboration. Even before Covid-19 hit, this was where the mid-market was heading for recruitment. There are extra modules that can be added to the ATS, the most popular being the onboarding module which includes the digital signing of offer letters and employment agreements.
The second key decision that helped them to grow faster was to build in functionality to allow unlimited users to access the system for each organization. Previously, they only allowed one user to have access, and everyone was sharing the login. Finally, launching their Artificial Intelligence Talent Sourcing module as a separate product was another key point in their growth path. This opened up access to new markets such as enterprise-level clients and staffing agencies.
"We are always working on new and exciting services! There is an awesome addition coming to our AI Talent Sourcing tool which will help to differentiate it even further and we are releasing some new AI matching capabilities into the rest of our applicant tracking system and talent pool," exclaims Simon. The next release is going to significantly help streamline their clients' recruitment workflows by adding in their own marketplace of pre-integrated assessment, background check, and video interviewing services.
Responsibilities as the CEO of QJumpers
There comes a time when an entrepreneur also needs to become a leader. Simon is at that point. "I can no longer just look to innovate and create new cool toys – I need to think about the team, our clients, growth, and our bottom line. So now entrepreneurship is only 25% of my job," he explains.
At QJumpers they have a very flat organizational structure. Simon tries to make every employee know that they are as important as everyone else. Everyone contributes differently but in no less important ways. They have team innovation sessions. Everyone can submit ideas at any time. They also have different types of team bonding sessions. They promote well-being and work-life balance. They offer an annual payment to every employee for wellness activities. And everyone has an extra day of paid leave for their birthday.
"I like to hold everyone accountable for their area in the business. It's theirs – they know it better than the rest of us. They don't need anyone else to tell them how to run it. But at the same time, we are all available to help out anyone however we can," he says. The unique thing about their team is that they all feel like QJumpers is their baby. And it is. Everyone is proud of what they have built.
Plans for the future as a talent acquisition leader.
Simon's plan for the future as a talent acquisition leader is to continue to innovate software that helps their clients recruit in the best way possible and access the best candidates. They are also focusing on efficiency, with granular searches and other functionality that will allow passive candidates to be displayed to help recruiters meet all areas of the recruitment market.
It is important to make a life while making a living
"I do activities that help me to stop thinking about work and keep me grounded. Like surfing, fishing, playing the guitar, and kayaking. Or reading fiction. It is really important to step away to keep the mind refreshed and focused," says Simon.
He shares his favorite quote that speaks to the possibility of entrepreneurship:
"The only way that we can live is if we grow. The only way we can grow is if we change. The only way we can change is if we learn. The only way we can learn is if we are exposed. And the only way that we are exposed is if we throw ourselves into the open." — C. Joybell