Shawn Terlson: A Compassionate Healthcare Leader Improving the Lives of Seniors at Shepherd's Care Foundation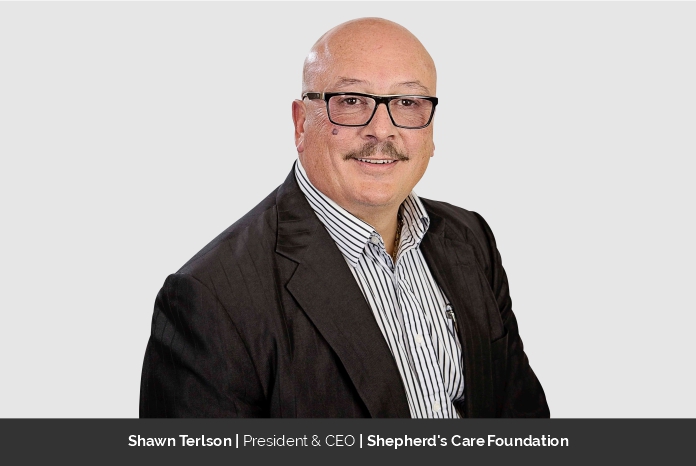 Shawn Terlson, President and CEO of Shepherd's Care Foundation, believes in leading with compassion.
An experienced Healthcare CEO, he has a proven track record of living the Mission, Vision and Values of organizations, while promoting efficiency and effectiveness to ensure that they remain sustainable and relevant to deliver on their resident and client accountabilities.
With extensive leadership experience in the field of healthcare, Shawn is committed to making a better life with dignity and caring for the beloved seniors they serve through the Shepherd's Care Foundation (SCF).
SCF is a faith-based, not-for-profit registered charity established in 1970, by a small group of exceptional people who wanted to provide a home for seniors where they could be cared for and have comfortable housing in a caring, Christian environment.
Offering care and dignity for seniors through SCF
Shawn describes SCF as an extraordinary organization with extraordinary people who come to work with them because they believe in Christ's Healing Ministry which is supported by their Mission to "Live Life in a Caring, Christian Environment."
Shepherd's Care Foundation owns and operates seven care homes in the Edmonton area, with a full spectrum of care, including independent living options, home care, supportive living, dementia care, long-term care, and complex care.
With an annual operating budget in excess of $63 million and over 900 full-time, part-time, and casual staff, it operates 564 funded care beds and provides home care services to over 300 clients.
Through their wholly-owned subsidiary Shepherd's Gardens Trust, SCF also owns and operates 348 independent senior's rental apartments, and have constructed 438 condo units and bungalow dwellings specifically for the 55+ community.
Learning the Christian values of service early in life
Raised by a loving mother and grandmother after his father died when he was seven years old, Shawn stayed with his grandmother when his mother had to work in the hospital laundry to support their family.
He saw how his grandmother always volunteered to provide recreation activities and general help to seniors, even when she was a senior herself. "This is where I learned that our seniors built our country and deserved to enjoy their remaining years with respect and dignity," he recalls. "I hope I am successful every day in some way, to achieve this.
Faith was important to Shawn's grandmother and growing up he attended church with her every Sunday. He credits her with always reinforcing the importance in believing in something greater than yourself, because "whatever you want to accomplish in your life, you can't do it alone."
"My Christian faith has always been important to me – so much so I was re-baptized in 2018 to reaffirm my faith as a Christian," says Shawn. After completing his education as a CPA, he started his career as Commodity Tax and Senior Financial Accountant with a national retail gas chain and was promoted to Vice President of Finance.
In 1997, Shawn began his career as a healthcare leader by returning home to the community he grew up in when he became President and CEO of the Swift Current Health District in Saskatchewan.
In 2002, he moved to Grande Prairie, Alberta, to become CFO, and later President and CEO, of a large Regional Health Authority, Peace Country Health. In 2013, Shawn entered the faith-based not-for-profit sector in Edmonton, Alberta, first with the Good Samaritan Society, and since 2018, with Shepherd's Care Foundation.
Redefining quality care and accommodation at SCF
For SCF, quality care and quality accommodations are more than simple words. Rather, they are a philosophy, a way of doing business. "Our approach to redefining care encompasses multiple factors. We have a vision for a seamless, age-in-place care stream, and we work to lobby governments and stakeholders to help embrace that vision," Shawn explains.
SCF values innovation and delivers on this through a focus on quality improvement and staff empowerment. They are also a learning organization and have made strategic investments in technology to help provide data for ongoing improvements.
"We live our Christian Mission, Vision, and Values in everything we do, and ensure everyone in the organization is modeling those values of faith, trustworthiness, integrity, and transparency," says Shawn. "Quality accommodations are critical to our success because, for the beloved seniors we serve, this is their home."
For SCF, quality accommodations are about creating an environment that works with the residents, and takes into account their unique wants and needs – all under one roof.
"First, quality accommodations are accessible in their design and incorporate the entire facility, including our residents' personal space. At Shepherd's Care, our residents feel safe, loved, and share a sense of belonging as part of our family," Shawn elaborates. "Days are filled with wonderful choices – such as what and when to eat, whether to dine in or venture to our dining room, and if they want to watch a recreation program or participate. A true quality accommodation is a community."
"Quality care and quality accommodations are more than simple words; it's a philosophy, a way of doing business."
A compassionate and insightful servant leader
As the President and CEO of Shepherd's Care Foundation, Shawn is responsible to the Board of Directors. He believes that the role of President and CEO at Shepherd's Care Foundation requires a compassionate and insightful servant leader who is dedicated to the seniors and other residents, and clients under their care, builds on the organization's spiritual foundation, and nurtures the organization's Christian beliefs.
He also believes that an effective President and CEO mentors and supports the development of their management team members, identifies and encourages other potential leaders in an organization with a diverse, inclusive, and positive work culture, and develops and articulates a compelling vision for the organization's future state.
"An important part of my position is constantly developing and maintaining vital relationships with key external stakeholders, including families, founding churches, SCF members, governments, donors, professional, financial, community, and industry association partners and leaders," he says.
Shawn's vision for Shepherd's Care Foundation is remaining true to their Faith Statement and Mission, Vision, and Values. "My vision is to grow our organization to expand our care and accommodation offerings to serve even more beloved seniors within an efficient and effective organizational structure, to support their needs while ensuring quality, respect, and dignity are at the heart of all we do," he says.
No Margin, No Mission
Even though SCF is a not-for-profit, Shawn understands that achieving financial targets is vitally important to ensuring ongoing organizational sustainability. "I often say to my team 'No Margin, No Mission', meaning we won't be in business long if we don't have a healthy bottom line that will allow us to have the financial resources to maintain and grow," he says.
He considers his greatest achievement as developing an Organizational Excellence Framework focused on Accountability, Leadership, Integrity, Stewardship and Transparency to guide organizational success.
"The Organizational Excellence Framework measures accountability, with my direct reports signing an Accountability Agreement (AA) with me each year. The AA lists key projects to be accomplished over the upcoming year, with project deliverables measured and evaluated every quarter," he says.
Shawn explains that the SCF's Leadership Team AA's are rolled up into the President and CEO Contribution Agreement (CA), which is signed off with the Board of Directors annually, and each project is tied to the Board's Strategic Plan and the Annual Budget. "The process repeats every year prior to formalizing the annual operating and capital budgets – a constant cycle of continuous quality improvement," he states.
"No Margin, No Mission."
Listen and learn from everyone
One of the most valuable lessons in Shawn's professional journey was learning as a young man that no matter how hard you work, no matter how hard you try, you can't please everyone.
"That was a hard lesson to learn because you think if you do well, you will be appreciated," he says. "Learning about personality and 'small p' politics in organizations can create roadblocks to future success of organizations. What you learn is to be principled and do what's right for those you serve and the majority will see that you are true to the Mission, Vision, Values, and your commitment to service."
Shawn believes that challenges not only make you stronger, but smarter, and that we must learn from every challenge to ensure they do not repeat themselves.
"Challenge not only makes you stronger, but smarter. You learn from every challenge to ensure they do not repeat themselves."
Shawn recalls how when he was 17 years old his Mother said to him: It's only an arrogant man that can't learn from a fool. "I didn't respond at the time and thought about my Mother's statement for two days," he says. "I humbly went back to her and asked what she meant. She laughed and replied, 'You're 17, I thought you knew it all'."
He reminisces how a very wise woman born in Austria that only had a grade 6 education said, "Shawn, everyone you come in contact with has a whole range of experiences. If you listen more than you talk, you will learn from everyone. Everyone has life experiences that you don't, so listen and learn."
"Listen and learn from everyone you come in contact with. It's only an arrogant man that can't learn from a fool"
Making a better life for seniors with care and compassion
Describing himself as compassionate, Shawn admits that like most CEOs, it is sometimes difficult to find a work-life balance. "I love to work, and how could you not when your job is to make a better life for our beloved seniors . . . my loved ones and yours," he says.
Shawn's day starts at 5:30 AM with an email review. "I have a firm rule of shutting my phone off at 9:00 PM the night before. I set aside time between 7 AM and 9 AM for document review, editing, and approval. After 9 AM, and usually until about 6 PM, I'm generally in various meetings with my team members and key stakeholders from across our organization," he says.
In addition to his SCF duties, Shawn currently serves as the co-chair for the Alberta Continuing Care Association (ACCA), which is the largest continuing care advocacy group in Alberta. These duties also require meetings and other high-level discussions.
"When I can, I fit in lunch between 11:30 and 1 PM for 30 minutes. I have supper at 6 PM for 1 hour with my wife of 32 years (who is a great cook!). From 7 to 9 PM I review emails that accumulated during the day, and I shut my phone off at 9 PM," he says.
Shawn also instituted a "no email" policy from 6 PM to 6 AM so their leadership team can spend quality time with their loved ones in prayerful hopes of work-life balance for the talented group that he works with on the Strategic Leadership Team (SLT).
"The daily cycle repeats Monday to Friday," he states. "I usually try to tidy up anything lingering from the week Saturday morning, which protects the rest of Saturday for running around on personal business, fulfilling projects on the 'Honey Do List'. Sunday is strictly protected – Church in the morning, then the rest of the day for just me and my beautiful and loving wife, Colleen!"
Shawn also considers his vacation time away as very important for his wife and himself, enjoying escaping the winter chill for warmer climates and spending summers at his lake house.
"I still work when I'm on vacation, but just for a couple of hours in the morning to stay on top of things," he says. "We try and go away on a tropical vacation twice a year, over Christmas and again in February, to escape the frozen North in hope of shortening the winter. Every long weekend in the summer is extended to be at our lake house in Saskatchewan where I grew up. The summers are so beautiful there."
Shawn's plans for the future of Shepherd's Care Foundation are to ensure that they always maintain their Christian faith-based ministry, ensuring their beloved seniors "Live Life in Caring Christian Environment" as they grow in bed size and capacity. As a person, his hope is to continue his everyday continuous learning, so he can lead from what he has learned.
Shawn measures his personal success one day at a time, by asking himself, "Do I have the love of my family, and have I made them proud as a husband and father?" He measures career success by answering the question, "Have I made a difference in the lives of the beloved seniors I serve?"