Securing the Cyber Sphere, Praesidio Makes it Easier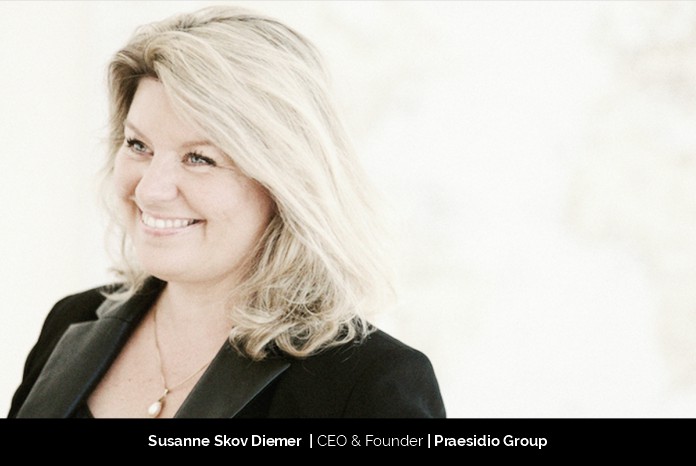 With cyber-crimes and general security threats on the rise, it is essential to have a safe security system in place that will eradicate the risks of theft or hacks giving you the peace of mind to work. Risk Mitigation and Security Specialist Susanne Skov Diemer was driven by a similar mindset to create a professional security company who has the knowledge of various parts of security, intelligence, investigations, risk and crisis management but at the same time understand discretion and are trustworthy. She founded Praesidio Group in 2012 and led the company with passion and a will to bring about a change in the industry with her experience and knowledge. Praesidio Group is one of the leading companies today and sharing her journey of struggles and success is CEO & Founder Susanne Skov Diemer who aimed high.
The Rising
The initial days for any startup are always a struggle as it was for Praesidio. What made the path more challenging was the field that they chose; security, crisis and risk management. Firstly, dealing with people and companies who have a problem is not an easy task. These problems need to be prevented and require a huge amount of trust as there is confidential information at risk. Secondly, since Praesidio gained most of their customers from word of mouth, it took a while to spread the word and make a prominent existence in the field. Susanne was patient and knew that she needed to pursue the field with perseverance to thrive. This passionate spirit kept her and the company going leading them to some very interesting, professional, dedicated and forward-thinking clients around the world – who are within philanthropy, corporate & private sector, royalty and private families. With honesty and patience, Praesidio Group always delivered what they committed maintaining a good professional relation with their clients and maneuvering in a good network of professionals with understanding and this kept them moving ahead despite the challenges.
The Competent Control
As an entrepreneur and thought leader, Susanne is a highly motivated Risk Mitigation & Security Specialist with a broad international experience based in Copenhagen, Denmark. She has extensive Risk, Security, Consulting and Management experience gained over her 25+Year career working in many parts of the world and lived permanently in Washington D.C. & London and has received various U.S. Government awards for her work with the U.S. Department of State – Diplomatic Security Service (DSS).
Susanne has a broad network and remarkable client base at the top level in both the private, corporate and public sector across the world. She is a specialist within: Risk & Crisis management, Corporate and Personal Security, Staff Vetting, Surveillance, Corporate Investigation, Investigative Interviewing, Counterintelligence & Event Security Coordination. She has gained vast knowledge in the field spending most of her years initially exploring the industry and seeking the right business opportunities. She has lived and worked in Washington DC and London as well and has always been on the road for her job. When she established the business one person said to her, 'if you are here in 4 years' time, I will do business with you'. Well it was not long before he phoned Susanne back after 6 months and said he was wrong and if she could meet him at his office. With her impeccable discretion she sought the right business opportunities and has always had the blessings of being surrounded by good mentors.
Her contribution to the company as the CEO is to understand every aspect of the business. Susanne has put in her best efforts to grow the company from scratch to the where it is today. She has always maintained a good reputation that fostered the growth of Praesidio to a large extent.
At the same time maintaining a perfect balance between professional and personal life Susanne shares; "As I also have a family, I enjoy the flexibility in being my own boss. It also means that I am never completely 'off' as clients and staff know they can always call me, and due to the time zones, we always have something going on. But I am very structured with my time and planning is everything, so I am not stressed." She believes that in her business it is better to talk and hence if she needs to be contacted for an urgent situation at work, her people know that they need to call or text her. She keeps herself away from social media distraction and has deactivated email usage on her phone which has worked well for her saving a lot of her time.
The Customers' Say
It is important to understand, that if there is a security breach there is often more than one area of an organization where there is something wrong. This also includes cyber and IT security – there is often a physical security breach in that connection. Either an employee who has failed some of the security procedures or corporate espionage. With a team of varied skill sets, Susanne has made a prominent market presence offering services like security, intelligence, investigations, risk and crisis management. The nature of the business is such that they never talk about specific projects or clients and every one of their clients and projects are special.
They have built a great reputation attracting a huge client base and long-term customer relations which is the reason why they draw most of their clients by word of mouth. Customers choose Praesidio as they have a reputation for delivering results and information in a timely, discreet, accurate and professional manner.
Customers appreciate their efforts to understand them, their problems and are not selling them services which they do not need. Susanne will rather walk away from a potential project if she can see that they are asking something Praesidio are not the best to deliver on, or they do not need what they think they need. Many customers also like the fact that Praesidio is not a big company which helps the company in gaining the client's trust to share their data and give them access to personalized data.
Over the course of the past years, Praesidio has received mixed responses; namely a request to expand and scale at an uncomfortable rate. The business is based on trust & quality, and too many of their competitors dilute this service by scaling too quickly. This continues to motivate them to slowly build trust in other markets to ensure Praesidio's reputation does not falter.
The Adept Advice
'Be careful, you do not want so much that you end up with nothing', was the first piece of advice Susanne received from her mentor 25 years ago when she first made contact with the security & Law enforcement profession. At the time her mentor said it in context with a project, however the advice stayed with Susanne for all these years and has helped her in numerous ways. "Starting a company takes a lot of time, energy and brainpower. It can be compared with having an additional child. It brings worry, concerns but also a lot of happiness and meaning", says Susanne. She is an achiever and believes that it is essential to strive for more, not necessary from a financial perspective, but more from a personal, client and project perspective. "From a security and intelligence point of view you can NEVER sit back and be comfortable. The world is in constant change and I will have to change with it. Always be informed about the latest within global risks, terror, cyber and general threats to our clients and world in general", Susanne adds.
Sharing her inspirational thoughts, Susanne believes that security is about thinking smart and that security does not make your money – but it does prevent you from losing them. It motivates her to talk about the importance of security as a business enabler and that security is so much more than IT or Cyber security.
Business leaders needs to understand that Security is, at the end of the day, their responsibility. It will not only safe their staff and assets, but it will also safe their brand and reputation. They need to invest and make sure that they are also looking at the full supply chain.
The Motivating Mantra
Earning trust through high performance and consistent action forms the center of the core values of Praesidio that keeps the team motivated. The gloating assets that the company possesses are the closely-knit team, strong reliable network, clear priorities, focus of privacy and calculated risks. The company's reputation is based on two things; credibility and trust. Their clients know that the team puts confidentiality first and will not stop until all aspects on the information is vetted or a project is solved to the highest standard. Hard work, trust and instinct are the key factors that shape the company's road map.
The Secure Future
In future the company will continue to do exactly what they are doing today and will keep evolve as they move ahead. They have received many interesting approaches from both external investors, businesses about collaboration, governments seeking advice, Think Tanks and others seeking collaboration. "All very interesting and an indication that I am taking the company in the right direction both as a business owner and a thought leader within my industry", asserts Susanne. Praesidio leads the way in many social awareness and CSR activities which inspires the business.
There must have been a plethora of challenges when Susanne started her journey, but that did not stop her from doing what she dreamed of. Her zealous spirit and vast product knowledge have secured a promising presence for Praesidio Group with a bright future full of innovations and beyond.