A cognizant leader with a driving force, paving the way for new perspectives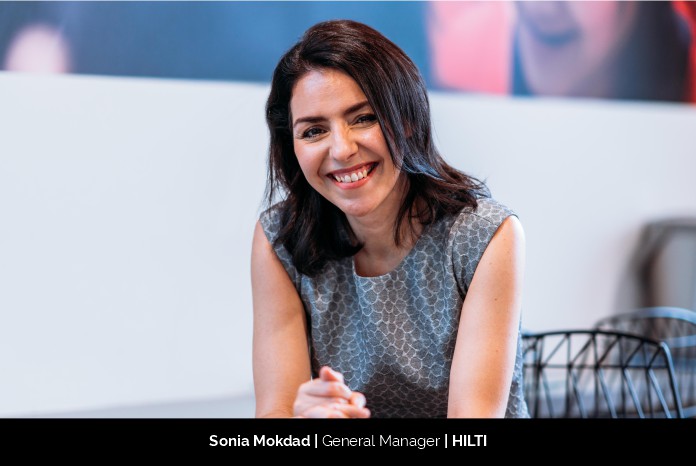 Since January 2020, Sonia Mokdad has been working out a growth strategy for Hilti Singapore. Along with the management team, Sonia is leveraging the strategy to pull out the full potential and strengths of the country. She makes a point that with the combined efforts of her team and the initiatives, Hilti Singapore will triple its revenue by 2024.
General Manager at Hilti Singapore, Sonia has been working with Hilti for over two decades. Through her journey from supply chain to marketing and sales she has developed a compassionate, honest, and authentic leadership style that continues to inspire those working with her.
Sonia's goal has always been to positively change and influence her environment. "I always wanted to contribute to success, be part of a successful team or show a team the way to success," she points out. Additionally, she adds that being in a certain position at a certain age has never been her goal. Her vision has always been to see other people grow and make them flourish.
At Hilti Singapore, Sonia and her team create a collaborative work environment, underpinned by teamwork, innovation and transparency. Hilti Group makes and designs leading-edge technology, software and services that power the construction industry.
The multinational group makes high performing products and services for their clients' construction projects – from design software, tools for the jobsite to training, repairs, testing and consultancy. A central theme in every solution provided, is to make clients' work at the construction site faster, easier and safer.
Present in over 120 countries with more than 28,000 employees, Hilti Group has become one of the most reputed companies in the world. Whether its construction, civil, energy, mechanical, electrical, steel and metal or interior finishing, Hilti develops and delivers complete solutions from products and software to services, specifically designed to fit clients' applications.
The company's products range from powder-actuated fastening, drilling and demolition, diamond coring and cutting, measuring, fire stopping through to screw fastening, adhesive and mechanical anchoring. "Hilti is an absolute pioneer and role model beyond the construction industry in both business and cultural aspects," adds Sonia.
In the 20 years Sonia's been with Hilti, the Group has always shown consistency in living a people and performance-oriented culture, according to her. Research and development is in the DNA of Hilti, she quickly points out.
"We launch 60 new products every year. We work in product application systems and solutions to drive and influence product quality and digitalization in the construction industry. In 2021, we will come with the first Over Head Drill Robot Solution in combination with BIM which will be a revolution in the construction industry," Sonia shares.
Even now in the crisis, she is proud of the way the Group is leading – 'calmly and consistently without rash decisions.' "A group that is geared to the long term and enables customers and employees to align themselves with Hilti in the long term."
Sonia always entertained the idea of going to abroad. For her, getting to know other cultures was one of the major drivers in order to be a world and culture-open person.
When the offer came to join the team in Singapore, Sonia didn't take much time to make a decision. Although, she never imagined she would go on to live and work in Singapore, she is having a great experience in the island state.
"My son loves it to be here, my husband enjoys the climate. But sometimes it is emotionally difficult for me to be so far away from family and friends, especially since the beginning of the pandemic where travel opportunities are very limited," says the Austrian native about being away from her home.
She feels proud to say that Singapore is among the first countries in the Hilti Group who went live with Sales Force this year in July 2020. "With Sales Force, we can strengthen cross-functional teamwork and thus we can support our customers much faster and offer high-quality solutions to improve their productivity journey and support them on their way to digitalization," she asserts.
Having been trusted by a global leader in construction for over 20 years, Sonia has had sincere dedication to her work and the industry. Her passion to recognize potential in other people and to support them in recognizing their own potential is testament of her character. "It is exciting and motivating for me to see how people grow beyond their beliefs. My goal is to establish a local vision and mission statement with a clear and holistic action plan to drive this organization to a leading market for the Hilti Group," Sonia enthuses.
Upon arriving in a new country, culture, team and role, Sonia had to navigate the business through a global pandemic. Talking about her role, Sonia says, "As I just started a few months ago, most of my time is spent in 1:1 conversations to get to know most of the Team Leaders and Team Members and Customers, Associations and Authorities to understand perspectives and needs all across the market, internally and externally."
She spends the other half of her time in alignment calls and meetings to take the best decision – sometimes also tough decisions – together with her leadership colleagues for her team, which navigates the company to excellent partnership with its customers and contribute to a successful development of the productivity journey in Singapore.
"Yesterday for example, I spent my whole day in an All Employee Meeting and training the whole organization on understanding our strategy and about our key initiatives for 2021. Today, I am invited to a Webinar about Female Leadership in Hilti India to answer questions and share thoughts about the journey of female talents and leaders in Hilti and in the construction industry," she says.
So, has Sonia achieved all that she desired? To answer this question, she says she is definitely not at the end of her achievements. "I would like to be the driving force to pave the way for new perspectives and to recognize the full potential of people and markets and thus achieve disproportionate results."
Sonia's colleagues consider her to be a humane leader and she is known for her warmth, for inspiring other people to take a direction and for being consistent when it comes to making decisions, even if the decisions are unpleasant.
"All three help to convince my team members to fight for the best solution and to go the extra mile for our customers. I act on the ideas of our team members. I believe a top down decision needs to be the exception and the involvement of team members is the rule."
Talking about the pandemic, Sonia says, "Covid-19 gave us a hard hit in Singapore as the jobsites closed down for several months. On the other hand, a lot of new doors opened up for future initiatives. We accelerated our journey on robotics, BIM and our productivity and new ergonomic series."
Sonia believes in maintaining a culture of innovation and creativity in the company. "The best thing is to catch someone doing something great. It is important to give the stage to the employees who bring and implement good ideas into the organization. We have a culture where we celebrate successes, cheer people on and celebrate when they bring great experiences to our customers," she says.
When asked to advise young entrepreneurs entering the startup landscape, she says, "Believe in your vision and your idea. Do not let obstacles stop you and never lose sight of the goal. Bring experts to your side where you yourself are not the expert."
Going ahead, Sonia has a clear vision in mind, which is to triple their sales by end of 2024 and become a leading organization in her Group. "We will be in South East Asia, the role model when it comes to future initiatives to transform the construction industry in terms of productivity and digitalization," she concludes.