Robert Gauvreau: Transforming the Accounting Industry with Innovative Solutions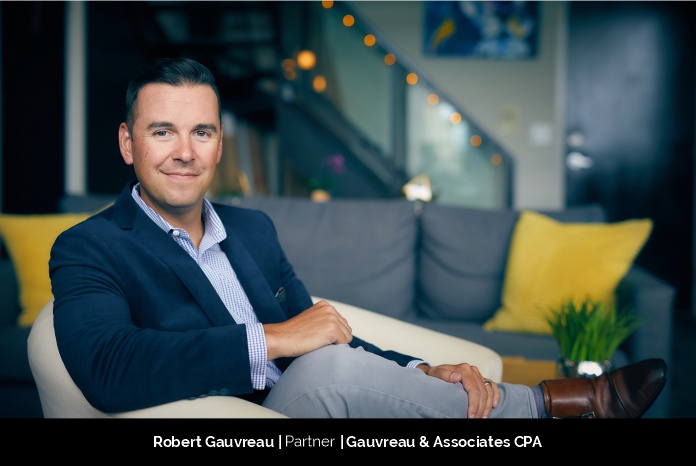 The public accounting industry is a largely well-respected, global industry with lots of large and small competitors that are all slightly differentiated in how they approach their business and the solutions they offer. Robert Gauvreau, Founding Partner at Gauvreau Accounting Tax Law Advisory, decided to break the traditional shackles of the industry and bring forth progressive solutions to change the landscape of the whole industry.
As per Robert, they focus on working exclusively with business owners, and continue to impart innovative solutions that will help advance their future success. Since their team follows a proactive approach and aims to take the company further to new heights, this acts as a prime differentiator among Gauvreau and other firms.
A spark to do things differently
When Robert started his studies at university in Business Administration, he realized that he would be graduating with 2,000 other people who had the same experience and education as him. So, he decided to mark his own unique identity in the industry to stand out from the herd. Even, when he started working at a global CPA firm, he experienced firsthand how traditional the accounting industry was, which reinvigorated his desire to create something innovative, contribute more to the success of others, and go for extraordinary things.
Tapping into his skills of accounting and finance, backing up his natural ability in helping others, and focusing his energy on entrepreneurship, he created a unique opportunity to enter, energize and make a difference in the accounting industry.
Gauvreau was established in 2008 as a CPA firm built to help entrepreneurs advance their business through proactive financial services. In addition to traditional accounting firm compliance solutions, the team enhanced their offering to encompass the strategic financial advisory services and leadership coaching needed to help entrepreneurs take their business to the next level.
Robert adds, "In essence, our business was formed out of a massive need in the market for proactive solutions that didn't focus on historical figures but rather focused on helping entrepreneurs take their existing numbers and turn them into something better."
At the advent of the company in 2008, Robert never imagined the impact they have made today in the industry. He stresses the point by saying, "We've had the great pleasure of growing something incredible and becoming the industry leader across North America. Certainly, there have been some great moments and some challenging moments throughout my journey, but to now be here with a team of more than 35 professionals is an incredible accomplishment. The fact that these 35 incredible people are helping so many entrepreneurs fulfill their journey and maximize their impact is proof that we are accomplishing what we've wanted so far, with so much more to come."
He believes that the journey has been successful till now, and they are all set to rise further and bring wonders in the industry.
Setbacks- A part and parcel on the way to success
Robert believes that setbacks are 100% a vital part of growth and becoming stronger. He expresses, "For those in our coaching program, we often discuss their feelings associated with taking two steps forward just to inevitably take one step back. Whether it is a delivery issue, a team issue, a cultural issue, or a financial issue, that step back comes with a feeling of defeat. But the longer you are on your entrepreneurial journey, the more you come to understand that the greater the advancement you aim to make in your organization, the greater the risk of challenges you will face. The learnings you encounter in overcoming these challenges make you wiser, stronger, more resilient, and better prepared for future challenges ahead."
However, there are ways to mitigate risks and future setbacks to ensure that net positive growth can occur and that future goals and growth can be accomplished if a person has the right plan in place. Any entrepreneur on their journey to grow or create something new would be in denial if they said setbacks hadn't taken place. For sure, on a daily, weekly, monthly basis, there will be challenges that feel like colossal mountains to climb, but these learning opportunities are the real experiences that allow entrepreneurs to grow further and evolve into mature and experienced leaders.
Robert states that while helping entrepreneurs grow and scale their businesses, having these setbacks regularly helps the team to understand the best advice and guidance they can provide to those they work with. He mentions, "Over the years, we have certainly had challenges related to growing a team, establishing a culture, facility constraints, adaptation to different technology, the global pandemic, increased competition, and cash flow constraints through continuous investment. These are all setbacks we have faced, and so to have many entrepreneurs and the resiliency shown in overcoming them is a key characteristic of a successful entrepreneur. You need to be resilient to continue to grow and strive for future success."
Introducing futuristic Accounting solutions
At the core, Gauvreau is an entrepreneurial CPA firm that continues to be innovative and offer solutions to help advance entrepreneurs on their journey towards realizing financial freedom. As part of being a CPA firm, the team offers accounting, bookkeeping, tax, and other compliance services. Nevertheless, the firm has expanded its roots beyond that to offer more specialized services that truly support the needs of entrepreneurs on their journey.
One of their newest creations is an online coaching program, The Ascent Peak Performance Program, to scale their ability to instill business owners with the knowledge and confidence they need to achieve success. Entrepreneurs can engage this program through independent, on-demand, self-paced courses or through our Virtual CFO program, which consists of group coaching, training, and a personalized business adviser helping map out an entrepreneur's journey to financial success.
They have also recently expanded their suite of professional business services (specialized tax, wealth management, and business financing) to offer legal services such as corporate restructuring, real estate acquisition, wills and estates, and more.
Their offerings revolve around three things, namely people, passion, and integrity. The team keeps their clients as the first priority. They want to work with people who are excited about advancing their business and contributing to the advancement of entrepreneurs. While doing so, they aim to maintain the highest quality of service and never compromise their professional integrity.
Creating a revolution in the Accounting industry
With business finance reporting witnessing an inclination towards becoming a more automated process, the future lies in the hands of upcoming innovation, and technological advancements continue. Robert adds, "Looking at the current scenario, the experience, advice, and knowledge that public accountants have on how businesses operate and how they can maximize their financial success will be the focus and more widely sought after. From my perspective, if you are in the public accounting industry and you are not focused on providing proactive advice, then you are missing a great opportunity to be ahead in implementing what the majority of firms will offer in the future."
Gauvreau breaks new ground in the accounting industry with out-of-the-box solutions and offerings that are desired by entrepreneurs to fast-track their success and develop huge financial wealth for the future.
Further, following a uniquely innovative culture and conventions has paved a way to proffer the best solutions to their clients to keep them above their competitors. He says, "Where traditional public accounting firms had the same thing to offer and work inside a perceived box of calculating numbers, trying to figure out how to minimize taxes, or uncovering complex problems that happened in the past, we invest in innovation that has already brought a huge metamorphosis in the industry." But now, people have also started noticing their innovative business culture, and their success stories prove their efficacy and bright future growth.
Strong Enabling Leadership
As the Founding Partner of Gauvreau, Robert is a visionary leader who kickstarts each day with a team group call together to discuss their progress, status, challenges, and different ways they can get support from the leadership team. It is because, as a true believer in the essence of leadership, he knows that leadership starts with communicating vision, demonstrating passion, giving direction, and leading by example.
After that, his day includes a gamut of varied strategic and growth-oriented initiatives. Explaining his routine tasks, he states, "My day could include collaborating with community partners, creating new strategic relationships, helping support my leadership team, completing quality control on ongoing work in the firm, reviewing client acquisition, developing new resources/training, facilitating one-on-one or group coaching calls or any number of public relations commitments including speaking at events, podcasts, within online communities or contributing articles to business publications."
Super proud of his recent recognition, he shares, "Receiving the 2021 Canadian SME Magazine's National Award for Best Professional Services is an honor which has helped in gaining nationwide recognition and across all professional industries after all the hard work our team put in over the last 12-months."
Finding the true balance
Since the olden days, the accounting industry has been well-known for focusing on maximizing the number of hours worked to witness higher growth. However, now that everything has evolved with time, Robert and his team believe that maintaining a perfect blend between professional and personal life is key to amp up performance. Due to this, the company has eased up on the flexibility quotient to support life outside the office.
He adds, "One way that we have established what we perceive to be a positive work-life balance is to minimize the requirements for working long hours, although it does happen occasionally, and eliminating working on weekends. We also allow team members to complete tasks on modified schedules if they have a family obligation during regular office hours." This had helped the team to grow and work exceptionally well, beefing up their performance by a notch.
The establishment of a Work-family balance is crucial as the office is considered to be the second home. Thus, they have even created a social committee that will organize team celebrations, charitable events and strengthen the company culture further.
Pearls of Wisdom for aspiring entrepreneurs
Facing a challenging success journey, Robert hardly had time to embrace the little joys. Now that he is more experienced, he feels that if he had known some of the following priceless pieces of advice, he would have enjoyed the process of business establishment more. He mentions, "Never be too hard on yourself and give yourself a break once in a while. There are going to be times when things don't turn out as planned and you may feel discouraged by these failings or setbacks, but that's all part of the experience. Embrace it. Learn from it. Focus on making small incremental, and positive progress as you continue to move forward. It's a marathon, not a sprint, so brace yourself for the journey and continue to find new ways to keep yourself inspired."
For all upcoming business leaders, Robert has a special message to share with everyone. He states, "Always strive hard to create a company that gets you excited to go to work. Find something that is meaningful to you and surround yourself with collaborative experts that share your values. Keep things exciting, fun, and build something you can't imagine not being part of."
Aiming for a Limitless Future
Gauvreau holds a promising future ahead with their chief goal to help the entrepreneurial community become as successful as possible in creating a significant impact in the world. Robert adds, "Our future growth trajectory continues to evolve, and as we continue to strive to be the #1 financial expert that entrepreneurs turn to, countless opportunities exist to expand into other disciplines to provide the greatest value possible to our clients."
Personally, he wishes to form the ultimate team of reliable professionals that have a common goal and passion so that he can jointly establish a superb business that even runs without him.