Cinthia Portugal: Leading Humio Marketing at CrowdStrike to Reach the Next Level and Beyond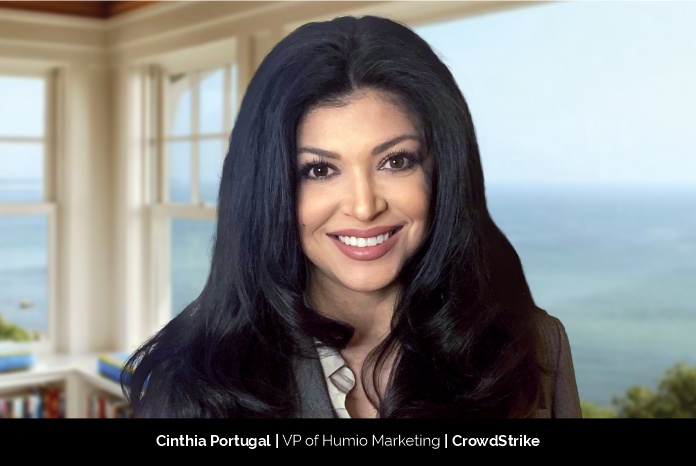 Cinthia Portugal, VP of Humio Marketing at CrowdStrike, defines success through results and obtains those results through conviction. She believes that leaders must have conviction and be purposeful in their efforts to deliver value to their team, company, and ultimately their customers. To work with conviction, leaders must be self-driven and proactive. Moreover, the conviction must be balanced with flexibility.
She adds, "Strong leaders aren't defined by how they plan for expected objectives and goals. The ability to harness industry shifts and become the disruptor can be the difference between leading a category and sliding down the innovation curve."
Leading with the customer
Cinthia has always been fascinated with customers. They inspire her and motivate her to lead with the customer perspective in all of her efforts and campaigns.
Cinthia started her marketing career at Sun Microsystems. In the early stages, she was in an international marketing role. As she traveled extensively, she saw different expectations for those working in the field. She learned the practice and art of listening with an open mind while also developing a good sense of conviction. This conviction structured her path and allowed her to evolve as she progressed in her career.
She states, "I have worked with early-stage startups focused on security, developer, and cloud-based technologies in developing go-to-market strategies, product positioning, and leading major launches and announcements. Throughout my work, I remained steadfast focused on the value the products and services were delivering to the customer."
In 2019, she joined forces with Humio as she resonated with the core mission of the company. She mentions, "I jumped into the journey with Humio to drive their marketing efforts because of Humio's commitment to continue to innovate for customers' future observability needs."
Humio enables customers to do transformative work by enabling enterprises to log everything in real-time. She adds, "We're fundamentally shifting how businesses and organizations think about and work with their log data. For example, where organizations have traditionally only looked at batches of log data, with Humio, they can log all data in real-time, allowing them to easily and quickly identify issues and root causes to more efficiently meet business needs and gain more value from their logs."
Learning valuable lessons from the challenges along the way
While progressing through her career, Cinthia understood the value of having a good mentor. Having fantastic colleagues and strong managers is excellent, but a mentor is a very different resource.
She believes it's very valuable throughout one's career to have good conversations with leaders and also with mentors to talk through challenges and career choices. It's through those conversations that one is able to gain real advice and insights.
She stresses the point by adding, "Having a mentor who was an experienced leader to help guide me in my journey in technology marketing would have been helpful. I always advise women starting in tech careers to find senior mentors to guide them along the journey and to remember that a path to a career in technology isn't always a straight journey – embrace the zigs and the zags."
Revamping the market with Humio
Humio is disrupting a well-established market of log management by changing how companies think about and use their log data.
She mentions, "One example is with SpareBank 1, they increased their data consumption by 10X allowing them to reduce hardware and resource requirements and move faster with increased precision at a lower overall cost."
Another form of disruption is the commercial approach of the company to a product. She adds, "At Humio, we have developed an approachable pricing model that reduces friction for adopting our platform at a fraction of the cost of traditional solutions. It's not just customers that are taking notice. We are proud to have been recently named a Gartner Cool Vendor in Performance Analysis."
The team understands the needs of the customers and aims to stay with them in the long run, providing them the best solutions. Every campaign, each event, all of their content is about making the customer the hero within their organization. To do this, they actively listen to the customer, understand their pains, and determine how Humio can solve them.
She mentions, "We include customers in nearly all of our content, including blogs, case studies, video testimonials, technical briefs, webinars, our 'The Hoot' podcasts, and more. We are very fortunate that our customers love the product and are willing to speak about how Humio was able to solve problems and create great value out of the data they've been ingesting through Humio."
Now Humio has joined CrowdStrike through a recent acquisition. The team is excited to deliver the most advanced data platform at unrivaled speed and scale to customers.
Fueling the growth of the company as a visionary professional
Cinthia believes in hiring leaders, of all levels, into an organization. One must have the conviction in the approach to build a team that includes employees with the necessary skills and expertise to create better results for the company. Moreover, every team member should have the drive to grow individually and take everyone together to the next level.
She expresses, "As a leader and head of a business area, you aren't expected to know everything, but you should build a team of colleagues that are experts in their field and empower them to go out and accomplish great things for your organization and company."
Her vision for Humio's marketing organization is to inspire, empower, and motivate the teams to innovate and create continuous growth and shape the company's future success through a deep sense of trust.
She adds, "I aspire to hire high judgment, self-driven employees and manage by starting from a place of trust – trust employees to make decisions in the best interest of projects and the company and if they fail, they will fail fast, learn from failures and keep growing and producing. In doing so, employees are given more room to be creative, solve problems independently, and contribute more directly to the growth of the organization and company as they too become leaders."
Future prospects for the company
Over the past year, Humio experienced strong momentum with a Series B round of $20M, growth of its ecosystem including an IBM OEM partnership and inclusion into AWS marketplace, additional enterprise customers, and acquisition by CrowdStrike.
Cinthia expresses, "Being powered by CrowdStrike, I would like to see our marketing team reach and engage with even more customers to educate them on the value of Humio's streaming observability at scale."