Kevin Angell: Developing Groundbreaking Apps to Solve Law Enforcement Challenges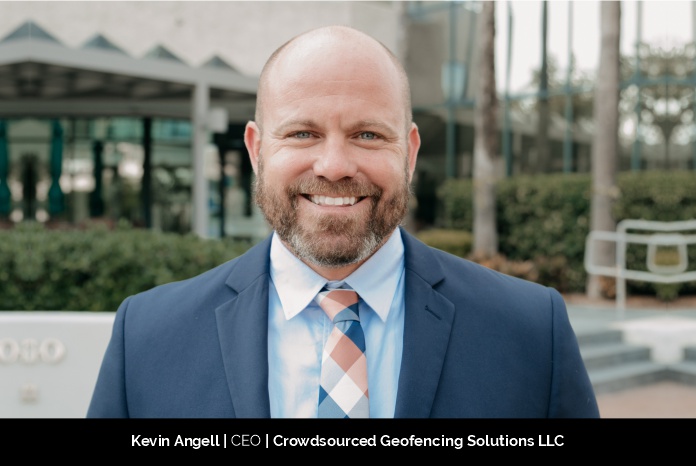 Kevin Angell is the CEO at Crowdsourced Geofencing Solutions, LLC, an iOS and Android development firm that uses geofencing, crowdsourcing and other smart device features to make life easier, more efficient, faster, more profitable and safer. The company primarily develops apps and web technology for use by the government, large corporations, and non-profit organizations.
Kevin's background in leadership started as a detective overseeing the Sheriff's Office Internet Crimes against Children Unit. The task force is responsible for multijurisdictional long-term investigations that are specific to the use of technology. Following the events of 9/11, he joined the United States Coast Guard's Port Security Unit and found leadership roles as part of his unit's deployments and assignments overseas. Kevin says, "While those personal experiences have fed my background in being a leader, I credit a majority of my successes to the mentoring I have received from law enforcement executives across the country."
Kevin Angell has the twelve year career in law enforcement with an assignment as an Internet Crimes against Children Detective, four years as a Port Security Specialist assigned to Port Security Unit 307 (St Pete, FL) during Operating Iraqi Freedom and four years as a government consultant on Body Worn Cameras and the use of sUAS in law enforcement.
Crowdsourced Geofencing Solutions, LLC.
Crowdsourced Geofencing Solutions (CGS) was created as the parent company of the See it Say it Send it app in 2017. Initially, the suspicious activity reporting platform was in response to events like the Route 91 shooting in Las Vegas, the riots in Charlottesville and the Marjory Stoneman Douglas School shooting. It has grown to more than 1.2 million users in 25 states and is responsible for the location of a murder suspect, recovery of $10,000 in stolen property and the identity of a courthouse bombing suspect.
CGS later released Tap Out Now, the Take Stock app and Parked Close. Tap Out Now is a revolutionary platform that allows the release of non-violent offenders into the app for monitoring, The Take Stock app supports a Florida non-profit organization's mission to provide mentoring to students in need, and the Parked Close app is the 'bed and breakfast' platform for venue parking sales.
Scaling up against the Challenges
CGS is a technology development firm among thousands. Kevin says, "While we compete for government business through Requests for Proposals, we are proud to mention that we have never been turned away based on price, experience, customer service or references."
In the beginning, Kevin's biggest challenge was starting this business without borrowing a penny. He says, "I levied my law enforcement retirement to build the See it Say it Send it app despite warnings from fellow business owners." According to Kevin, the first year was really tough. From competing against other SAR providers to very slim sales margins, every possible lead counts and needs to be a sale. However, the company's relationship building, customer service, and transparency helped it outshine its competitors. Most recently, it has expanded its development relationships to include gaming, restaurants, e-commerce, and the cannabis industry.
A Caring Leader
Due to the pandemic, CGS' staff are working on a "work from home" style business model. Kevin's mornings are usually spent giving and receiving updates from team members over video conference calls. He meets with his development team daily, following staff updates, and generally keeps the afternoon available for clients that need attention. His role mirrors his responsibilities as a parent. Kevin makes sure his staff has what they need to be successful. He opines, "I pay the bills and yes I even feed them on occasion. I don't see my position as a CEO boss but more like a Chief Success Officer."
As per, his proudest moment was when he was first interviewed on TV regarding his creation of the 'See it Say it Send it app'. He says, "It was hard to believe that something I created had made it so big that people wanted to hear my story."
Work life Balance
"The work-life balance is essential," says Kevin. Kevin's every work day begins in the gym and ends with dinner with the family. He asserts, "Every year, days before Christmas, my son and I hike a portion of the Appalachian Trail. It helps offset red eye flights for business meetings and missing the occasional football game."
Kevin also ensures his employees maintain a good work-life balance by providing flex time off, encouraging health and wellness activities through company covered memberships and proactively recognising burn out.
The Driving force behind the Work
"Success is important. But so is failure. I have learned more from the mistakes I have made than the money I've earned from success, "says Kevin. For Kevin, success has allowed him the room to make more mistakes so he can achieve more successes. According to him, the driving force behind his success is a desire to produce technology that makes life easier, safer, and more productive.
Advice for Novices
Kevin's advice to fellow entrepreneurs would be to not tell everyone their own idea. He further adds that it's not because they might steal it, but because not everyone will see the vision and, in turn, will try to dissuade them from taking the leap. He recalls the time when people he had trusted, other entrepreneurs, and friends, told him not to build the 'See it Say it Send it app. They said it would never make money, there were too many competitors, and he was risking his whole retirement. Kevin opines, "Instead, take on a business mentor. Someone who can help you overcome these objections and help you draft a successful business model. "
Vision for CGS
In the future, Kevin wishes to see CGS continue to develop platforms that keep up with newly released technology such as LPRs, Artificial Intelligence, and IoT devices, while also supporting non-profit organisations that promote first responder safety and philanthropic endeavors.